Subscribe to the Guild's newsletter here.
This every-other-week newsletter is packed with a lot of news. My hope is that we help communicate all the fights of our members through this newsletter and build solidarity within the Guild. Can you do me a favor and forward this newsletter to at least one of your colleagues and ask them to subscribe?
Folks can subscribe right here.
We've got two new staffers! I'm thrilled to announce them after a lot of work to make it happen. Danielle Newsome (she/her) joins us as a new staff representative, with a focus on the jobs that used to be part of the Guild's director of collective bargaining. This comes after all of our discussions last year to increase capacity and provide more support to our locals. And while CWA still has a hiring freeze, this position was created after the passage of the SMART resolution at CWA's October Convention.
And Hil O'Connell (they/them) has joined us as a new staff organizer. Hil previously worked at Access Matters and then became a member organizer and now they'll get to focus full-time on helping organize new workers into our union (which is already organizing at a record level).
Please join me in welcoming both Hil and Danielle to the Guild! Read more about them on our staff page.
In addition to Hil and Danielle, Marian, the executive council and I have worked hard to build more capacity into our locals by supporting 75/25 organizers and local staff through Guild funds and CWA's Strategic Industry Fund. Since January of last year we've created 11 new positions (and there were three 75/25 organizers before that!) That's been a direct answer to the calls for more capacity across the Guild to help us get first contracts and successor agreements — but also to build our own power.
BuzzFeed News workers were shocked last week when the company announced plans to cut a third of its newsroom by offering buyouts. "Not so fast b—" was the vibe inside the unit as they pushed the company to bargain over the buyout proposal as part of a larger collective agreement. The workers have been bargaining for more than two years and this latest missive from the company amounts to illegal bad faith bargaining. Tomorrow the whole newsroom plans to attend bargaining and demand a fair contract now. "Buzzfeed management and @peretti are still learning a fundamental truth about our newsroom: now that we have a union, the era of them unilaterally making decisions about our work and livelihoods is over. We have a say." Will Jonah Peretti be there? The workers and I will.
Check out this 4-minute clip of Stripped for Parts: American Journalism at the Crossroads, a documentary about Alden Global Capital, "the secretive hedge fund that is plundering what is left of America's newspapers, and the journalists" – including us – "who are fighting back." While you're there, please make a contribution if you can.
Workers at Duke University Press are celebrating a big win after the NLRB rejected the company's challenges to their June 2021 vote last week. (Management has until April 4 to appeal the ruling, but we fully expect the board's decision to stand.) The company has fought the workers every step of the way since they announced the formation of the DUP Workers Union one year ago.
Gannett CEO Mike Reed visited West Palm Beach this month, but journalists never saw him in the newsroom. Was he unwilling to face his staff?
Workers at unionized newsrooms across Florida were undeterred! They sent him postcards to let him know what it's like to work for #TeamGannett: Low pay, no raises and unfair mileage reimbursements.
Here's a sample: "I can't afford rent!!!" And another: "Instead of an employee appreciation email, please increase the wages of our employees across the board so we can work with dignity, instead of fear over our precarious finances." And one more: "It's difficult for me to stay here, despite the fact that I love this paper and want to continue doing good work here."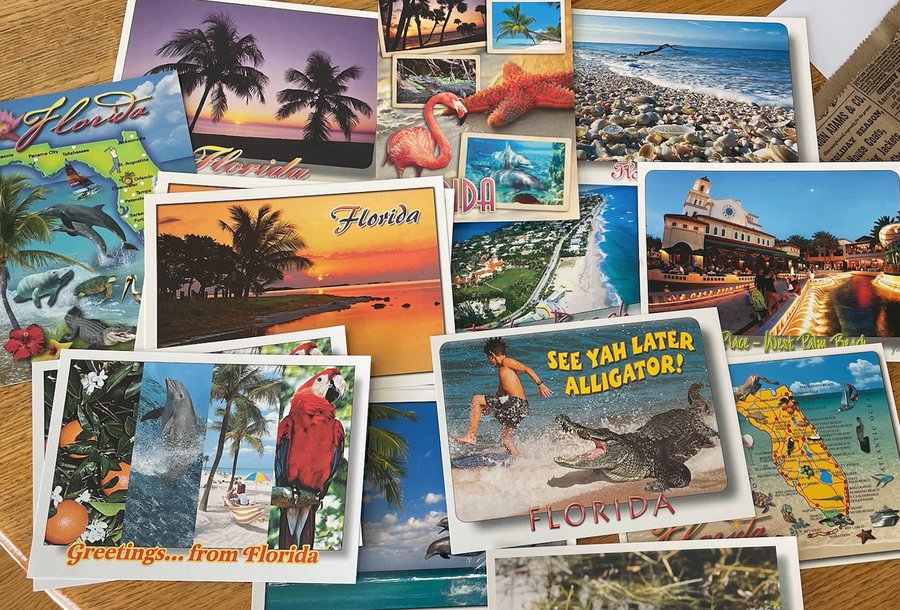 The NewsGuild of Greater Philadelphia has filed two discrimination grievances against the Philadelphia Inquirer since mid-February, protesting the fact that specific Black members were paid less than less-experienced white colleagues who were performing the same or similar jobs.
The veteran employee who was the subject of the more recent grievance had asked the company to correct the inequity over a period of several years, but management refused. The earlier grievance was filed just two days after the Inquirer published a damning look at its own history as a racist institution, Black City. White Paper.
"Past Inquirer leadership has quite a lot to be ashamed of," Local President Diane Mastrull said. "It now has an opportunity to truly establish a course and culture it can be proud of. But that involves far more than making apologies to the community and its employees. Time will tell how truly sorry and committed to change they are."
Journalists at the Island Packet and Beaufort Gazette ratified their first contract this month, 18 months after they won voluntary recognition of their union, the Packet/Gazette Guild.
The new collective bargaining agreement establishes a salary minimum of $45,000, which will raise pay for most members of the unit, including new people who were hired under McClatchy's $42,000 salary minimum for "low-cost" markets. The three-year contract also guarantees two 2% raises.
Fed up with parking fees that run as high as $3,000 per year and management's refusal to consider bargaining proposals to address the issue, journalists at the Fort Worth Star-Telegram boycotted a morning staff meeting in mid-March. "We should not have to pay to work," they told McClatchy, which owns the Star-Telegram. Support their effort by signing a letter here.
Workers at Avodah, a Jewish social justice organization, won voluntary recognition of their union on March 23. They will become part of the Washington-Baltimore News Guild Local 32035.
Members of the Longview NewsGuild have ratified their first collective bargaining agreement with Lee Enterprises, which manages Washington state's The Daily News, winning a guaranteed wage increase, more bereavement leave, protections for severance, just cause, and an employee integrity section. Congratulations!
Tragedy in The NewsGuild family: Sierra Jenkins, a 25-year-old reporter at The Virginian-Pilot, was killed by gunfire in the early hours of March 19 as she exited a Norfolk night spot.
As the Tidewater Media Guild said, "We're heartbroken to hear about the death of such an important member of our union and community."
Sierra was taken from us way too soon. We get into journalism because we are hardwired to listen to and tell the stories of our communities. It's clear that Sierra cared deeply for her colleagues and her community. The Guild's collective heart goes out to her family, friends and community.
The horror of the war has taken a heavy toll on journalists over the last few weeks. Brent Renaud, an American journalist and documentary filmmaker, was killed in Vladimir Putin's war of aggression against the people of Ukraine on March 13. Fox News cameraman Pierre Zakrzewski and Ukrainian journalist Oleksandra Kuvshynova, who was working for Fox, were killed the following day. Several other journalists also died while covering the fighting.
Meanwhile, Russian forces are hunting down journalists to try and prevent the facts from getting out. Mstyslav Chernov reports for the AP in "20 day in Mariupol: The team that documented city's agony."
"With no information coming out of a city, no pictures of demolished buildings and dying children, the Russian forces could do whatever they wanted. If not for us, there would be nothing… I have never, ever felt that breaking the silence was so important."
That says it all. Our work is crucial to civil society. It's why journalists frequently run to danger to make sure our communities are informed.
Members of the Meredith Union took their concerns about the company's failure to comply with the health and safety provisions of New York's HERO Act to the state legislature earlier this month and got a resounding response: 22 state lawmakers wrote to the company, asking management to "ensure immediate compliance with the required health and safety standards," and adding, "We expect a prompt reply to these concerns."
Last week workers filed Unfair Labor Practice charges, citing the company for unilaterally imposing a return-to-office date, denying unionized workers annual raises, inhibiting collective action, and asking job applicants about past union activity.
The Timesland News Guild says last year the Roanoke Times "lost about 25% of its reporters — not to layoffs, which also slashed our ranks, but to new jobs elsewhere. To thrive, we need to be able to compete for talented, dedicated people." Help them tell Lee Enterprises, which owns the paper, to invest in its staff. The workers bought an ad in their own newspaper calling for better pay just yesterday.
We've some great training sessions set to begin in April. Check them out! The Guild's six-part Stewards Training series begins April 5, and the Labor Notes three-part series on Secrets of a Successful Organizer starts on April 4.
Steward Training Module 1 – Steward Basics, 6-8 pm ET, Tues, April 5.
Review the roles stewards play in our union and the best practices for having effective organizing conversations.
Register here.
Steward Training Module 2 – A Workplace Organizer, 6-8 pm ET, Tues, April 19.
Discuss how stewards maintain effective union structures and assess power in their workplace.
Register here.
Steward Training Module 3 – A Communication and Educator, 6-8 pm ET, Tues, May 3.
Learn how stewards drive the exchange of information and uphold an organizing culture throughout their union.
Register here.
Steward Training Module 4 – A Problem Solver, 6-8 pm ET, Tues, May 17.
Outline how stewards turn workplace issues into organizing issues, then practice planning and evaluating collective action.
Register here.
Steward Training Module 5 – A Union Representative, 6-8 pm ET, Tues, May 31.
Build confidence in asserting your rights and contract, then role play through Weingarten and grievance meetings.
Register here.
Steward Training Module 6 – Anti-Harassment Workshop, 6-8 pm ET, Tues, June 14.
Join the effort to improve our readiness for, and response to, harassment in our workplaces and union.
Register here.
April Training Sessions: Secrets of a Successful Organizer – Sponsored by Labor Notes
7:30-9:30 pm ET
Mon. April 4 – Beating Apathy
Mon. April 11 – Assembling Your Dream Team
Mon. April 18 – Turning an Issue into a Campaign
There is a $15 registration fee, which the Guild will cover for members who commit to attend. Space is limited, so if you're interested, act quickly.
Register for all three sessions here.
Finally, Guild members have been in the news a lot in the past two weeks — here's a roundup of different articles covering our fights.
In solidarity,
Jon Schleuss
President, NewsGuild-CWA