The NewsGuild's members are the driving force of our union. They set our goals and determine how we will fight for them.
Our members include journalists at newspapers, online publications, magazines, news services and in broadcast in the U.S., Canada and Puerto Rico. They also include employees in advertising, circulation, business offices and other departments essential to the operations of media enterprises. (Scroll down to see a list of workplaces the Guild represents.)
Social justice workers, the staff of nonprofit organizations and spoken-language and sign-language interpreters and translators are also Guild members.
Our members' work is essential to our nation's democracy and the ongoing fight for justice.
"Organizing from the Guild has been deeply rewarding.

"It has built a strong sense of unity at our magazine, and we have been able to harness our power to make meaningful changes at The New Yorker."

— Natalie Meade, editorial staffer, The New Yorker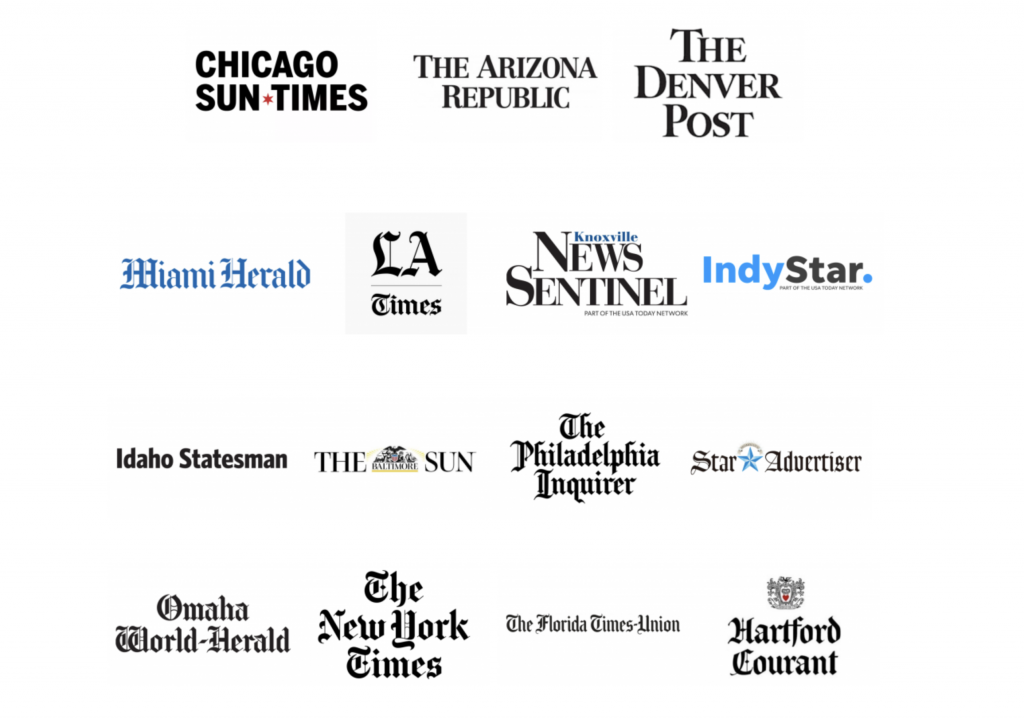 Media Workplaces
Aboriginal People's Television Network
Agence France Presse
Akron Beacon Journal
Albany Times Union
Allentown Morning Call
Allure
American Prospect
Amsterdam News
Architectural Digest
Arizona Republic
Ars Technica
Asbury Park Press
Associated Press
Atlantic Digital Optimization Team (DOT)
Atlantic
Austin American-Statesman
Bakersfield Californian
Baltimore Sun
Bangor Daily News
Bay City News Service
Bergen Record
Billings Gazette
Bloomberg Industry Group
Bon Appétit
Boston Globe
Boston Herald
Bozeman Daily Chronicle
Bradenton Herald
Brockton Enterprise and Times
Buffalo News
BuzzFeed News
BuzzFeed News Canada
Canadian Broadcasting Corporation
Canadian Press & Broadcast News combined with Pagemasters
Canton Repository
Cape Breton Post
Capital Gazette
Casper Star-Tribune
Catholic News Service
Center for Public Integrity
Charlotte Observer
Charlottesville Daily Progress
Chicago Reader
Chicago Sun-Times
Chicago Tribune
Citizen-Ottawa Sun
City News Service, California County
CKOF Radio
Condé Nast Entertainment
Condé Nast Traveler
Consumer Reports
Corus Quay
Corus Shaw Television (formerly CW Television)
Courant Community
Courier News
Cowichan Valley Citizen
Crosscut / KCTS-9
CTV Ottawa
Daily Beast
Daily Kos
Daily Record (New Jersey)
Daily Hampshire Gazette
Dallas Morning News / al Día
Dayton Daily News
Delaware County Daily Times
Delaware News Journal / Delaware Online
Denver Post
Detroit Free Press
Detroit News
Detroit Observer & Eccentric
Duluth News-Tribune
East Bay Times
EFE News Service
El Diario La Prensa New York
Entertainment Weekly
Epicurious
Erie Times-News
Eugene Register Guard
Everett Herald
Fall River Herald-News
Financial Times US
Florida Times-Union
Forbes
Foreign Policy
Fort Worth Star-Telegram
Fortune
Fredericton Daily Gleaner
Fredericton New Brunswick
Freemont Argus
Freeport Journal-Standard
Fresno Bee
Gary Post Tribune
Glamour
Glenview Pioneer Press
GQ
Grist
Halifax Chronicle Herald Limited
Halifax Radio Hub (MBB)
Hartford Currant
Hazleton Standard-Speaker
Hilo Hawaii Tribune-Herald
Hinsdale Doings
Home News Tribune
Honolulu Star-Advertiser
Idaho Statesman
In These Times
Indianapolis Star
Inside Higher Ed
Insider
Island Packet / Beaufort Gazette (SC)
Jacobin
Jersey City Journal
Jewish Forward English Language Edition
Journal News
JTA-MJL New Corp. / 70 Faces Media / MyJewishLearning.com / Kveller.com
Kansas City Star
Kenosha News
Kingston Daily Freeman
Kingston Whig-Standard
Kitsap Sun – Newsroom
Knoxville News-Sentinel
KSDK TV
La Opinión
Lakeland Ledger
Law360
Lawrence Journal-World
Lethbridge Herald
Lexington Herald-Leader
Longview Daily News
Los Angeles Times / Hoy
Loveland Reporter-Herald
Macomb Daily
Manchester Union Leader/New Hampshire News
Martha Stewart Living
Massillon Independent
MBS Radio – includes K-100,The Kool 98 and 93 CFBC
Medicine Hat News
Memphis Commercial Appeal
Miami Herald / el Nuevo Herald
Miami New Times
Milwaukee Community News
Milwaukee Journal Sentinel
Minneapolis Star-Tribune
MinnPost
Modesto Bee
Moncton Times-Transcript
Money Magazine
Monterey County Herald
Montreal Gazette
Naples Daily News / Fort Myers News-Press
NBC News Digital
New Jersey Herald
New Republic
New York Daily News
New York Magazine
New York Times
Norristown Times Herald
North Bay Nugget
Northumberland News
Norwalk Hour
Omaha World Herald
Orlando Sentinel
Palm Beach Post / Palm Beach Daily News
Palm Springs Desert Sun
Pekin Daily Times
People Magazine
People TV
People's World
Peoria Journal Star
Peterborough Examiner
Philadelphia Inquirer / Philadelphia Daily News / Philly.com
Phoenix New Times
Pitchfork
Pittsburgh Post-Gazette
Politico / E&E News (Energy & Environment)
Portland Press Herald
Pottstown Mercury
Poughkeepsie Journal and Times
Providence Journal
Public News Service
Pueblo Chieftain
Quartz
Quincy Patriot Ledger
Radio Free Asia
Raw Story
Record-Courier
Red Deer Advocate
Regina Leader Post / Sunday Sun (Saskatchewan)
Rewire News
Richmond Times-Dispatch
Roanoke Times
Rochester Democrat & Chronicle
Rockford, IL Register Star / Freeport Journal-Standard
Sacramento Bee
San Francisco Chronicle
San Jose Mercury News
Santa Rosa Press Democrat
Sarasota Herald-Tribune
Sault Star
Scholastic Magazine
Scranton Times-Tribune
Seattle Daily Journal of Commerce
Seattle Times
Self
Shape
Sioux City Journal
Skagit Valley Herald
South Bend Tribune
Southern California News Group
Southern Illinoisan
Sports Illustrated
Springfield News-Leader (MO)
St. Louis Post-Dispatch
St. Louis Review
St. Paul Pioneer Press
Stage 29 Productions Daily Mail TV episodes
State Journal-Register (Ill)
Sudbury Star-Editorial
Tacoma News Tribune / Olympian / Bellingham Herald / Tri-City Herald
Teen Vogue
Telemundo TV-NBC Network
Terre Haute Tribune-Star
TFOntario (French)
The Appeal
The Atlantic (Business & Technology)
The Guardian U.S.
The Hill
The Markup
The Nation
The New Yorker
The Real News Network (TRNN)
The Sheboygan Press
The State
The Trentonian
them.
Thomson Reuters
Thomson Reuters of Canada
Time Inc digital
Time Magazine
Times Herald-Record
Toledo Blade
Tribune Content Agency
Tribune Design & Production Studios
Tribune Suburban Papers (Chicago)
Truthout.org
TVOntario (English)
Utica Observer-Dispatch
Vanity Fair
VICE Studio Canada Inc.
Victoria Times-Colonist
Virginia Gazette Tidewater Review
Virginian-Pilot / Daily Press
Vogue
VT Digger
Wailuku Maui News
Wall Street Journal
WAPA TV-Satellite Network
Washington Post
Washingtonian
Waterville Morning Sentinel
Waukegan Lake County News-Sun
Wilkes-Barre Citizens' Voice
Windsor Star
Wirecutter
Wired
WLII TV-Satellite Network (Tele-Once)
Woonsocket Call / Pawtucket Times
Worcester Telegram & Gazette
WPIX TV-The CW Network
Wyoming Tribune Eagle
Yakima Herald-Republic
York Daily Record
York Dispatch
Ziff Davis
ZoomerMedia formerly S-VOX Vision TV
Nonprofits
AccessMatters
ACLU Kansas
ACLU Minnesota
ACLU Missouri
ACLU North Carolina
ACLU Virginia
Advancement Project
America Votes
Avodah
Beacon Interfaith Housing Collaborative
Black and Pink
CASA of Maryland
Center for Popular Democracy
Centro de Trabajadores Unidos en la Lucha
Change.org (Canada)
Change.org (U.S.)
Clean Water Action
Color of Change
Colorado Immigrant Rights Coalition
Colorado Jobs with Justice
Colorado Peoples Alliance (COPA)
Common Cause
Democracy Works
Fair Vote MN
Hope Community
Indivisible
Institute for Policy Studies
Jewish Voices for Peace
Jobs with Justice
Justice at Work
Labor Network for Sustainability
Lambda Legal
League of Conservation Voters
Local Progress
Louisiana Budget Project
Massachusetts Jobs with Justice
Michigan Healthcare Project
Missouri Health Care for All
Missouri Jobs With Justice
Missourians Organized for Voter Engagement
National Abortion Federation
Minnesota Council of Nonprofits
New Era Colorado
One Fair Wage
Opportunity Partners
Organization United for Respect
Out Front MN
Planned Parenthood PA
PhilaPOSH
ProVote
RAINN (Rape, Abuse & Incest National Network)
RAICES
Southern Poverty Law Center
Student Action With Farmworkers
TakeAction Minnesota
United Way
Labor
Aero Mechanic
AFL-CIO
AFT NEROP Project Staff
AFT Organizing/Chicago Metro Project
AFT-MEC
Alameda Labor Council, AFL-CIO
Alliance of Health Care Unions
American Center for Labor Solidarity (Solidarity Center)
American Nurses Association
American Postal Workers Union
California Labor Federation
Change to Win
Colorado Wins
Denver Area Labor Federation
End Citizens United
Fairfax County Federation of Teachers Workers Guild
Florida AFL-CIO
Florida Public Service Unit Organizers
Georgia State AFL-CIO
Health Care, Warehouse, Mail Order, Office, Technical and Professional Employees Union, Local 743
Illinois Federation of Teachers Organizers and Support Staff
ILWU San Francisco Adm. Staff
ILWU San Francisco Clerical Local 6
ILWU San Francisco Organizers
Kaiser Permanente Unions Coalition – Staff
Labor World
Metropolitan Washington Council AFL-CIO
Minneapolis Labor Review
Minnesota AFL-CIO
National Association of Social Workers Staff Union
North Carolina State AFL-CIO
Peninsula School District #401 Tech Support Dept.
Restaurant Opportunities Centers (ROC)
SEIU Local 1
SEIU Local 26 – Minnesota Field Staff
SEIU Local 73 Staff
SEIU Local 99 – Los Angeles
SEIU Local 100 – Chicago (Professional Staff)
SEIU Local 105 – Denver (Field Staff)
SEIU Local 500 – Montgomery County
SEIU National Fast Food Workers' Union
Sheet Metal Workers Local 10 – Office Staff
St. Louis Labor Tribune
St. Paul Federation of Educators – Organizing Staff
St. Paul Union Advocate
Tennessee AFL-CIO
UAW Community Labor
UFCW
UNE (formerly with the IWW – Industrial Workers of the World aka Wobblies)
Unite HERE Local 17 Staff
United Faculty Staff Union
Warehouse Workers for Justice
Worker's Interfaith Network (WIN)
Working America
Other
(AICE) Association of International Comedy Educators
A. Maciel Printing
Alliance for Justice
Brooks Marketing Resources
California Federation of Interpreters
Concerted Action
Cook County-Court Interpreters
Democratic Socialists of America
Design Action Collective
DLR International & DLR International (French)
Dow Jones – Bowling Green, OH Production Plant
Duke University Press
EF International Language Center Boston
Focus Federal Credit Union
Foreign Policy Association
Hennepin County Medical Center Interpreters
Hudson News
Humphries Printing
Kaplan International Centers
Kinark Child & Family Services
Language Bureau – CDN Translators
Lehto Printers, LTD (Thunder Bay)
Los Angeles Daily Racing Form
M+R Communications
Mackay/Mitchell Envelope
Madison Street Press
Mail-O-Matic
Oxford University Press
Pageant Media
Pagemasters North America combined with Canadian Press
Pierce County Radio Communications Department
Point Park University Professors
Political Research Associates
Postmedia printing plant
ProVote
Renton Printery Seattle
RLM Arts (formerly Northland Poster Collective)
Roosevelt Institute
Seven Corners Printing Co.
Smart Set
Standard and Poors
Temple Association of University Professionals
Trade Printery – Composing
Verso Publishing
VisiPrinting
Wellred USA