Feb. 11, 2019 – Journalists of the award-winning Hartford Courant have taken a major step toward forming a union, the Hartford Courant Guild, part of The NewsGuild-CWA.
Organizers for the union filed a petition for a union election with the National Labor Relations Board Monday and requested voluntary recognition from Tribune Publishing, the paper's parent company. If their request for voluntary recognition is granted, organizers will withdraw the NLRB petition.
Members of the union organizing committee presented local management with the request for voluntary recognition after more than 75 percent of eligible staffers signed cards signaling their desire to be represented by the union.
The Hartford Courant Guild will cover approximately 60 reporters, editors, and photographers, and will become part of the Providence Local.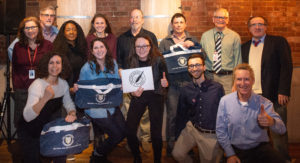 Kathleen McWilliams, who has been a Courant reporter for three years, said, "In my short time in the newsroom, I've seen our staff decimated and demoralized by buyouts and layoffs. I've watched our workloads increase without commensurate compensation, and I've grown deeply concerned as my colleagues and I struggle to maintain the quality of our publication while corporate managers take home $5 million bonuses.
"It has become apparent that it is time for our newsroom to stand united and demand changes that will not only benefit our workers, but our readers, who rely on us to bring them the news."
In a statement distributed throughout the newsroom Monday morning and presented to local management, employees wrote that accomplishing their mission "has grown harder with each passing day." Declining revenues and decisions by corporate managers who have little regard for or knowledge of their communities and the work Courant employees do to serve them have led to deepening cuts to their resources and standards, they said.
"We've practiced patience and waited for change. Now, we aim to do our part to guarantee that the high-quality, responsible and independent journalism the Courant has always stood for survives and remains a healthy, vibrant force in our community."
Patrick Raycraft, a visual journalist who has worked at the paper for more than 20 years, said he envisions "keener dialogue, greater diversity and a renewed sense of purpose in our newsroom" that "will benefit our dedicated Courant subscribers who we serve every day."
Dominic Amore, a Courant reporter for more than three decades, said employees care deeply about the paper's 254-year history and its future. "We hope to move forward with a relationship based on mutual trust and respect and to secure the necessary tools to succeed."
The union campaign at the Courant is part of a wave of NewsGuild organizing in newsrooms across the country. The Guild is the largest union of media professionals in the country, representing more than 20,000 journalists and other news industry employees
in the U.S., Canada and Puerto Rico. More than 1,400 industry employees at more than 20 print and digital publications joined the Guild in 2018.
In January, employees at New York Magazine voted to join The NewsGuild as part of the New York local. Other recent additions to the NewsGuild's ranks include publications large and small – Maryland's Capital Gazette (December 2018), Massachusetts' Daily Hampshire Gazette (December 2018), The Chicago Tribune (May 2018), and The Los Angeles Times (January 2018).
NewsGuild President Bernie Lunzer said, "Across the country, journalists are taking a stand in defense of journalism and their own livelihoods. We are extremely proud to welcome them to our ranks."