Nov. 29, 2018 – The staff of Hoy Los Angeles petitioned the Los Angeles Times for union recognition as part of the L.A. Times Guild, a local of The NewsGuild-CWA, on Nov. 28.
Fewer than 10 Hoy employees develop and translate content, manage social media channels, and create photography and video for Hoy and for the Los Angeles Times en Español, workers say. They are paid by the L.A. Times.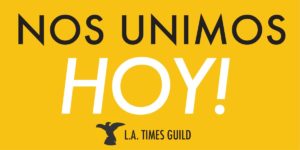 They are effectively L.A. Times employees, staffer Andy Nguyen tweeted, and they deserve to be recognized as part of the union that represents L.A. Times employees.
In a city that is nearly 50 percent Latino, "these journalists play a vital role in serving L.A.'s Spanish-speaking communities, and they deserve a voice of their own," wrote Kristina Bui, an L.A. Times Guild activist.
"We join @latguild to support the cause for equal and fair pay," Eduard Cauich tweeted.
"We welcome the staff of Hoy Los Angeles to The NewsGuild family," said President Bernie Lunzer. "Journalists across the country are standing up for a voice in the newsroom and a seat at the bargaining table," he said. "They are standing up for the future of quality journalism."