April 1, 2019 – On April 2, Equal Pay Day, members of The NewsGuild-CWA will ask a tough question of news industry employers: Why are women and people of color, on average, paid less than their coworkers at news organizations across the country?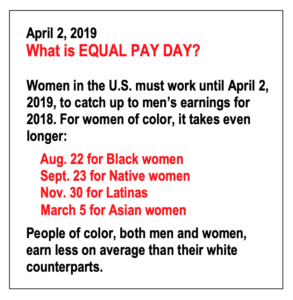 "It was stunning news," said Melanie Burney, a 19-year employee of the Philadelphia Inquirer, after learning that her pay was significantly lower than similarly situated white, male colleagues. Initially she considered it a personal concern, but she soon began to see it as part of a bigger fight for equality and civil rights.
Ms. Burney is not alone. Study after study conducted by The NewsGuild show that unfair pay practices are rampant at news organizations, including some of the nation's most prestigious publications. (The NewsGuild of Greater Philadelphia has made strides in narrowing the gap at the Inquirer, Daily News and Philly.com through negotiations with management, but is still working to resolve Ms. Burney's complaint.)
And in an industry that demands transparency and accountability from government and business, that's simply unacceptable.
On April 2, 2019, the day women's earnings catchup to men's earnings from 2018, NewsGuild members will demand:
EQUAL PAY
TRANSPARENCY
HIRING POLICIES THAT PROMOTE DIVERSITY

NewsGuild members will highlight the disparities in pay by displaying desk signs at work, posting on social media, issuing statements to the press, and demanding that their bosses eliminate the pay gap for women and people of color.
Ready to Join the Fight for Equal Pay?
On April 2, post a sign, a tweet and a Facebook message. Then:
Have the Conversation
Talk with your co-workers. If you suspect there are disparities in pay – and there probably are – #HaveTheConversation. Share pay information with your colleagues.
If you work at a NewsGuild-represented publication, talk with unit leaders. Let them know your concerns.
Get the Information
The NewsGuild-CWA encourages all union locals to request pay information from management. (See Moving Forward on Pay Equity for guidelines on the specific information to request.)
Using the information provided by management, conduct pay equity studies – or seek assistance from the national union.
Analyze the studies and report results to NewsGuild members and the national union.
Take Action
Wherever pay inequities are found, organize a public pressure campaign to expose and oppose them.
Offer wage assessments to individuals who believe their pay is unfair.
Highlight pay disparities and propose contractual remedies, including wage adjustments, ongoing monitoring, establishment of hiring practices that promote diversity, and formation of diversity committees. Negotiate robust anti-discrimination language that protects women, people of color, transgender and gender nonconforming people.
Keep the pressure on!
If you work at a non-union publication and want to get organized, contact The NewsGuild. 
Pay inequities have contributed to a surge in unionizing at news organizations over the last few years, including at publications as varied as the Chicago Tribune, the Hartford Courant, the Los Angeles Times and the Daily Hampshire Gazette in Massachusetts.
Reporters, editors, photographers, and other news industry employees have learned that one of the best ways to fight for equal pay is to join a union. Collective bargaining gives workers a way to stand together, share information, and address inequality in their workplace.
Union locals have gained access to pay data, noted discrepancies, armed NewsGuild members with the analysis needed to win raises, and negotiated salary increases and hiring practices that promote diversity. Although management rarely admits that pay disparities exist, they often grant raises when confronted with the Guild's analysis of the data.
The NewsGuild has a message for workers at non-union companies: If you want to take a concrete step today toward equal pay at your news organization, talk to your colleagues about joining together in a union. Our power to win equal pay and fair employment practices rests on our ability to stand together and demand transparency, expose unfair pay practices, and demand that management address the problem across the board.
Here's what some NewsGuild members are saying about the fight for equal pay: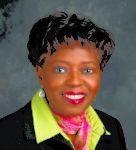 "It was stunning news to find out that my pay isn't comparable to some of my colleagues. Absolutely stunning. Initially my concern was personal. But this is one of the most pressing civil rights issues of the day for women and journalists of color. We want to be paid based on the content of our journalism and not the color of our skin. We're still fighting."
— Melanie Burney, education reporter, Philadelphia Inquirer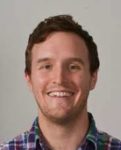 "A female co-worker seemed uncomfortable when she approached me in the parking lot and asked me how much money I made. I made a lot more than she did, even though we had the same educational experience and she had more work experience. Similar conversations with the same results sparked our union campaign. Fighting for equal pay is going to be a priority for our new union."
– Dusty Christensen of the Pioneer Valley NewsGuild
"The whole issue of pay is shrouded in mystery. That's an advantage for the company. It's hard to assess if we're being paid fairly and whether there are discrepancies based on gender. Not knowing is the big issue."
– Daniela Altimari, politics reporter at the Hartford Courant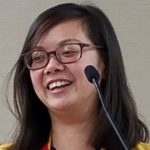 "The union gave people a way to prove that everything they had suspected about inequity was true."
– Kristina Bui, multi-platform editor, Los Angeles Times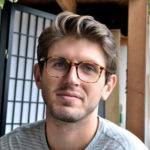 "When I learned a union had the right to pay data during the bargaining process — and that said data could be scientifically analyzed to determine if pay discrimination exists — I was floored. Why weren't people talking about this? It seemed like half-a-reason to unionize in and of itself."
– Charlie Johnson, homepage editor, Chicago Tribune