Subscribe to the Guild's newsletter here.
I just came back from Minnesota for Pride at Work, an organization that builds the power of LGBTQ+ members in the labor movement. It was a total blast and the convention honored AFL-CIO Secretary Treasurer Fred Redmond and me with their Solidarity Awards.
Chris Serres, a reporter at the Star Tribune, introduced me at the dinner, telling attendees about our conversation after police shot Chris with rubber bullets while he covered protests after the murder of George Floyd. That conversation was a big reason why we joined the ACLU of Minnesota to sue the state and the city for interfering with journalists' First Amendment rights. We settled with the state earlier this year and journalists won more than $800,000 and an injunction that prohibits state police from interfering with journalists doing their jobs.
Chris's moving speech brought me to tears and when I took the stage I had to compose myself.
I dedicated the award to NewsGuild members and spoke about the power of our media and non-media members, like the workers at the Southern Poverty Law Center who won a very strong first contract just last month. And then celebrated the great bargaining committee at the Dallas Morning News, who invited me to their bargaining on Friday. And the millions of dollars won by workers at the Los Angeles Times to correct pay inequities based on race, ethnicity and gender.
The day prior to getting the award, I talked about our amazing movement, which was created by workers. Our union has grown so much, with more than 7,500 workers joining us from 163 workplaces in the past five years. Not many other unions are growing at that rate. And it's because of you.
I also got to see some of our other Minnesota Newspaper Guild members at a happy hour and a picnic and it was so lovely! (Check out the union drip of Santiago Morgan, who came to both events!)
I really am humbled to be in this position to work on y'all's behalf.
Ok! Now for some more wins!
Congratulations to the journalists at the Miami Herald, el Nuevo Herald and Bradenton Herald who voted unanimously to ratify their first contracts with McClatchy last week. Members of One Herald Guild, which represents workers at the Miami Herald and el Nuevo Herald, voted 71-0; the Bradenton Herald Guild vote was 5-0. Turnout was strong – in Miami it was 93% of Guild members and in Bradenton it was 100%.
The agreements capped 984 days of bargaining and mobilizing by workers at the unified newsroom of the Miami Herald and el Nuevo Herald and workers at the Bradenton Herald, who began negotiating in June of 2020.
Throughout the bargaining, union members engaged in escalating actions. They participated in a one-day work stoppage in April. Last December they organized a press conference and rally, where they accused the company of stalling on contract talks, perpetuating pay disparities, and using a pregnant staffer as a bargaining chip in negotiations over parental leave. They also launched other mobilizations, including a letter-writing campaign and work-to-rule campaigns.
Among the top features and new rights in the contracts are:
Minimum salary of $52,000 for Miami; $45,000 for Bradenton
5% wage increase across the board in Miami; 3% wage increase in Bradenton. Bradenton workers will share in a new $10,000 "equity pool" to correct salary inequities going forward and will receive a $1,000 ratification bonus.
One-time retroactive payment equal to 5% of salary or salary minimum in Miami to March 1, 2021, or subsequent hire date, and 3% in Bradenton.
2% wage increase in August 2023
$25 weekly differential pay for language certification
No dismissals except for reduction of force and discipline when management has "just cause."
Two weeks advance written notice of layoffs that must include reasons for the layoff
Laid off employees will be placed on a rehire list
All employees will receive a minimum of four weeks of severance pay based on their current rate of pay with a maximum 26 weeks.
The contract will switch workers to a better and cheaper health care plan administered by the United Furniture Workers Insurance Fund, which uses the Blue Cross Blue Shield network. The new plan covers abortion and gender-affirming care.
For the first time: Paid parental leave will be guaranteed, including 6-8 weeks of maternity leave and 10 weeks parental leave, retroactive to Jan. 1, 2021.
New holidays
For the first time, all employees will have the right to file grievances and seek arbitration to enforce the provisions of the contract.
In an email to newsroom employees, members of the Bargaining Committee wrote, "Let's stop a moment and consider where we've been: Our company declared bankruptcy and transitioned to new ownership with new leadership. The pandemic took its toll, on our revenues, your physical newsroom, and the cohesion that comes with it.
"We kept working through it all, covering political turmoil, and social unrest, chronicling heartbreak and hardship and, yes, catastrophe. Still, we never stopped producing – as the stream of awards, and a Pulitzer Prize has shown!!
"We also remained strong. When our employer continued to delay negotiations, treating us unequally, we became the first Guild to conduct a one-day strike outside of NYC in 20 years! This was a powerful show of unity and strength that proved we were serious about a fair contract. The collective power of that message led to a robust wage agreement. And now, a final contract agreement."
Congratulations to the members of TIME Union, who voted unanimously last week to ratify a new contract after 3 years of bargaining.
This is the first contract that covers all TIME editorial employees — ending the divide between the "print" side of the magazine and the "digital" side and TIME for Kids. TIME digital and TIME for Kids workers organized in 2019; their print colleagues have been unionized for about 80 years.
Unifying all editorial employees under the protection of a single contract is a big deal that will enhance workers' power at TIME.
Following soon after Supreme Court decision that ended abortion rights, this agreement is one of the first Guild contract to secure language protecting reproductive and gender-affirming health care. Union negotiators also secured the right to re-open bargaining to address reimbursement for travel expenses once legalities around this issue become clearer.
The new contract raises the salary floor to $60,000 this year and to $63,000 in March 2023. In addition, all workers will get a $3,000 raise.
The contract also includes strong Diversity, Equity and Inclusion language, which will help ensure that staff reflects the world they live in and that the company invests in journalists from underrepresented groups. It also bans the use of nondisclosure agreements in cases of sexual harassment or discrimination.
Workers mobilized throughout the contract campaign. They sang Contract Carols during the holidays, organized a No Contract-aversy Party, held lunchtime rallies, sent letters to management and "reply all" emails to the newsroom, and organized questions for company Town Hall meetings.
"Everything we won is a testament to the solidarity of our newsroom," said Jennifer Schiavone, the unit secretary who is a copy editor on the print side.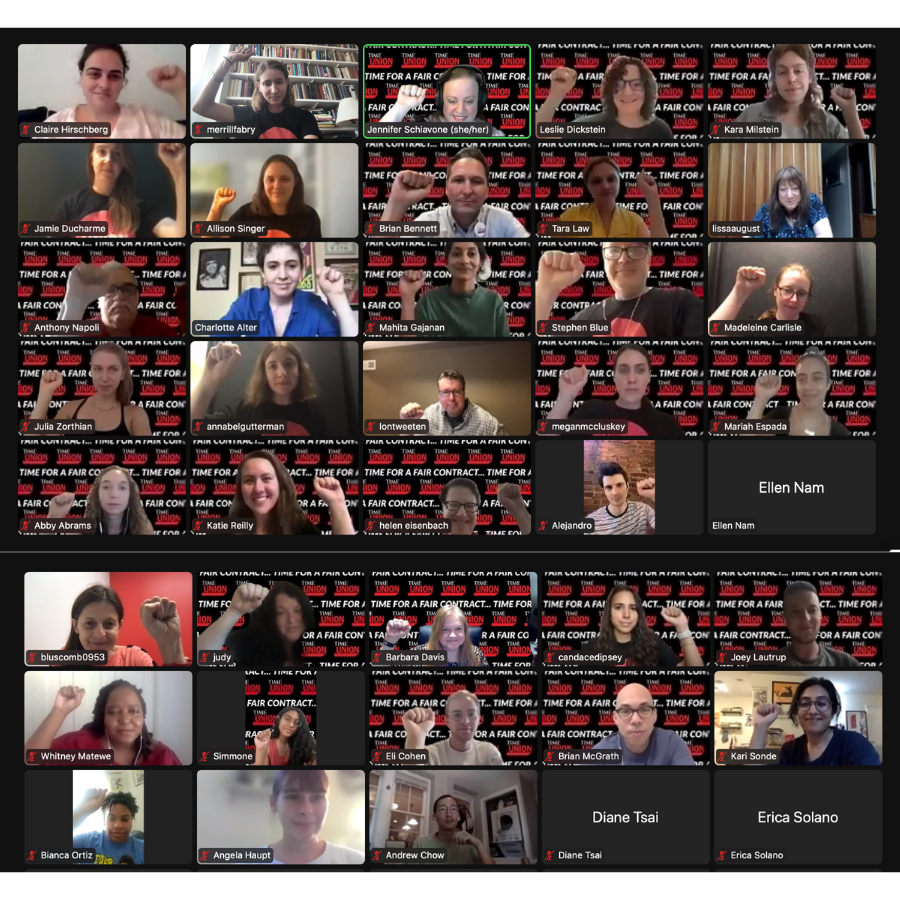 Members of IAPE Local 1096, which represents workers at the Wall Street Journal and other Dow Jones properties, reached a tentative agreement on a new one-year contract last week.
Highlights include a 4% raise retroactive to July 1 (with a minimum of $40 per week), 1% lump-sum payment (with a minimum of $1,000), and a 0.5% raise effective Jan. 1, 2023. Healthcare costs for employees will be frozen through 2023. The total compensation for lower-paid members will increase by up to 11.5%.
"The pay increases won't fully offset the effects of inflation for all employees covered by the IAPE contract," local negotiators pointed out. They also fall short of union proposals that were drafted in response to members' contribution to the company's recent stellar financial results. But the compensation agreement will provide a greater benefit for lower-wage earners. "That's important to us," they said.
Other key points: physical fitness reimbursement increase to $700 per year, agreement to make contract language gender neutral and the inclusion of Juneteenth and Truth and Reconciliation Day holidays for employees in the United States and Canada, respectively.
Congratulations!
Members of the Austin NewsGuild won back their retirement benefits – and then some – after Gannett tried to cheat them out of their 401(k) match.
In July 2020, Gannett announced it would temporarily halt its 401(k) match for all employees. In January 2021 the company said it would resume the match beginning in July 2021, but told the Austin NewsGuild they would have to bargain to regain the match. The Guild, which had been certified in March 2020, maintained that this was a violation of their "status quo" protection.
The Guild filed an Unfair Labor Practice charge.
In December 2021, the National Labor Relations Board approved a settlement agreement between the Austin NewsGuild and the Austin American-Statesman, ordering the company to reinstate the employer's 401(k) match and make restitution.
Under the terms of the settlement, the company was ordered to "make whole" all bargaining unit employees not only by reinstating the match, but also paying the contributions they failed to make on employees' behalf, plus the investment growth the amounts would have experienced beginning on July 5, 2021.
The company reinstated the match for the members of the Austin NewsGuild in April 2022. Austin NewsGuild members received the back pay in two disbursements, with the first arriving in January 2022 and the second in July.
"It's definitely gratifying to see the NLRB posting in the breakroom, but it just goes to show that Gannett has no qualms about breaking the law or cheating employees," said Veronica Serrano, the Guild's bargaining committee chair.
We joined the Reporters Committee for Freedom on the Press and more than 50 other media and press freedom organizations to file a brief in support of an NPR journalist who is being prosecuted for trespassing related to her reporting on a city's eviction of a homeless encampment in a public park.
The brief argues that the First Amendment prohibits the prosecution of April Fonseca Ehrlich, a reporter for Jefferson Public Radio, for news gathering while she was covering the eviction by the city of Medford, OR, of homeless campers from a public park. On Oct. 12, 2021, the Guild joined dozens of organizations to call on Medford to drop all charges against Ehrlich. The city refused.
In December 2021, Forbes published its annual Year in Press Freedom: '10 Most Urgent' List, highlighting attacks on journalists around the globe. Ehrlich's prosecution was the ignominious example from the United States. This case is serious and we look forward Ehrlich being cleared.
We lost two big names in media coverage in the last week. Margaret Sullivan wrote her last column for the Washington Post, focusing on the dangers ahead for our democracy in upcoming elections. She wrote, "I hope that newsroom leaders are thinking hard about moving outside their long-standing practices as the presidential campaign approaches. This will not be a traditional contest, and the stakes are high. We simply have to get it right."
And CNN canceled Reliable Sources and host Brian Stelter has left the network. Stelter said he would root for CNN for the rest of his life. He spent his last show on Sunday reflecting on the changes in media since it premiered in 1992. He said, "It's loony to say the media is the enemy of the people. The media is the people."
We wish Margaret and Brian well in their next ventures.
We've got lots of great training sessions scheduled through September. Upcoming events are listed on our calendar, with new events added frequently.
Defending Our Rights – 6:30-8:30 pm ET, Thurs, Aug 25
Register here.
Organizing Around Grievances – 6-8 pm ET, Mon, Aug 29
Register here.
Contract Campaign Training – 6:30 pm ET, Wed, Aug 31
Register here.
Beating Back Bullying Bosses – 7-0 pm ET, Thurs, Sept 8
Register here.
Steward Training Module 6: Anti-Harassment Workshop – 12-2 pm ET, Sat, Sept 10
Register here.
Labor Law 101 – 6-8 pm ET, Sat, Sept 13
Register here.
Grievance Handling: Best and Worst Practices – 6-7:30 pm ET, Thurs, Sept 15
Register here.
Defending Our Rights – 1-3 pm ET, St, Sept 24
Register here.
Organizing Around Grievances – 6-8 pm ET, Tues, Sept 27
Register here.
NewsGuild members have been making news! Here are some clips.
In solidarity,
Jon Schleuss
President, NewsGuild-CWA