"The last few days have been wild!" is what I reply when people ask how things are going or how folks are doing in Pittsburgh. I'll get into more down below, but the TLDR is that our members are on strike right now in Pittsburgh and they need your help right now!
Here's what you can do right now:
Donate to the striker fund. We worked with our amazing family at The NewsGuild of Greater Philadelphia and CWA to set up a strike supporter fund. This will help any worker on strike (Guild-CWA-Teamsters) who faces hardship and needs help above and beyond the strike benefits workers get. Your contribution will help someone cover rent or mortgage, take care of a family member and make sure they're fed. Donate what you can here. Note, we cannot accept contributions from any employers whose employees are represented by TNG, CWA or IBT.

Show your love on social media. Striking is hard work and we build our power by using it and it's strongest when it comes from a place of love. Show it on Facebook and Twitter right now. Follow and send love to the Pittsburgh Guild on Twitter, Facebook or Instagram. Share your picture and this graphic. Are you on TikTok? Check out this amazing video done by Guild members at the AFL-CIO.

Follow the strike paper. Just this morning, our members launched the Pittsburgh Union Progress and you can read articles at unionprogress.com. It's a digital-first publication that will focus on what's happening during the strike and provide a voice for the people of Pittsburgh and anyone who cares about fighting for our fellow worker. You should also follow and boost @thePUPNews on Twitter. Let's make their first tweet go viral.
The last few days have been challenging, but so inspiring to see what you can do when you work with your colleagues to build and take control of your future. But how did we get here so quickly?
Last Friday I got word that the CWA Executive Board, of which I am a vice president, was holding an afternoon emergency meeting to discuss the ongoing strike at the Pittsburgh Post-Gazette that began on October 6. Workers at two CWA units and two Teamsters units went on strike over unfair labor practices and a unilateral change to their healthcare. The workers' health insurance was terminated on October 1 after Block Communications, the owners of the Post-Gazette, refused to pay an additional $19 per employee per week to maintain the existing coverage.
That awful moment had its origins years ago when the two brothers — John and Allan Block — who run the newspaper hired an anti-journalist and anti-worker law firm called King & Ballow. For years that law firm argued on behalf of the Blocks telling our Guild folks and all other workers the same thing over and over again: No. No. No.
The firm — and the brothers who hired them — want complete control to outsource jobs away from Pittsburgh and away from journalists. They want to be able to cut salaries at the drop of a hat. They want to increase healthcare costs on a whim. Or cut retirement. And they want to bust our union.
These brothers fired a cartoonist over an editorial cartoon they disagreed with. They sidelined Black journalists from covering the protests after George Floyd's murder. One of them pulled his daughter around the newsroom in a wild rant railing against the journalists. And the brothers promoted a man who penned the racist "Reason as Racism" editorial. And in 2020 the company illegally imposed conditions on our members. The NLRB sided squarely with us.
But the journalists have stood firm and done exceptional work under wild circumstances.
The journalists received a Pulitzer Prize in 2019 for "immersive, compassionate coverage of the massacre at Pittsburgh's Tree of Life synagogue that captured the anguish and resilience of a community thrust into grief."
The journalists jumped into action when a bridge collapsed. The journalists are doggedly covering a contentious race for the U.S. Senate. And more. So much more.
At Friday's CWA Executive Board meeting a motion was put forward to order the Newspaper Guild of Pittsburgh out on strike to join our siblings out on the line already.
I argued about how difficult this decision was going to be, how it would all force everyone to make a decision on very short notice. How it could end our union there.
But it's been clear that there are no great options in the drama with the Block brothers over the years.
Going on strike in solidarity with other striking workers is the right thing to do. It's part of our duty as union members. As workers. And it's written right into CWA's Constitution.
We have a duty to hold the line, fight injustice and to hold power to account.
The Executive Board's decision was unanimous.
Standing with each other and fighting the boss is the right thing to do every day. We must fight to protect our work and we can't let a boss attack hard-working journalists. The boss will not defeat us when we stand together.
So, we quickly built an army and spent hours and hours on the phone with our leaders in Pittsburgh.
I arrived in Pittsburgh at 2 a.m. Sunday. I've essentially moved here away from DC and I am focusing all of my energy on a campaign to win with our union family here.
Marian Needham, our executive vice president, is out here, too, along with Nolan Rosenkrans, who's a staff rep with the NewsGuild of New York and formerly the president of the Toledo Guild. Stephanie Basile and Kevin Brokt, who head up our organizing, are also out here. In addition, national and local guild staff from around the country are pitching in remotely, joining calls with workers and throwing their weight behind this fight. Our fight.
They're sending food. They're sending money. They're sending support and adopting workers on strike.
And the workers are on strike.
The local strike vote was contentious and some people are still working. But more people are standing on the line and demanding respect. Demanding a fair contract. Demanding labor peace. Building love for each other.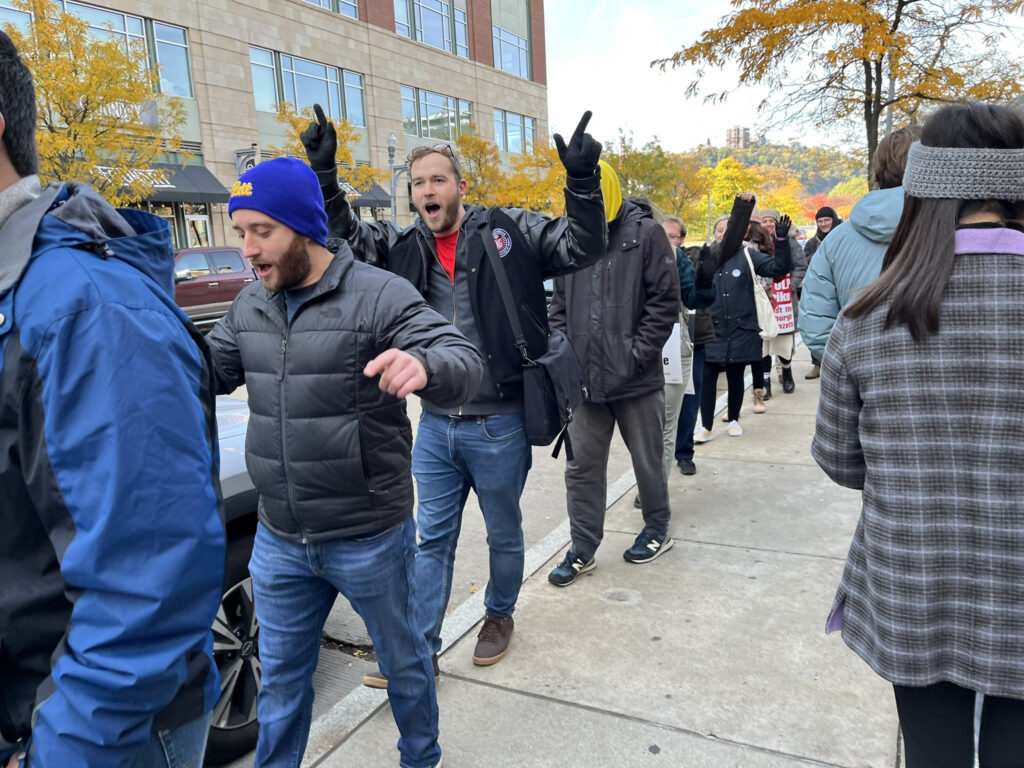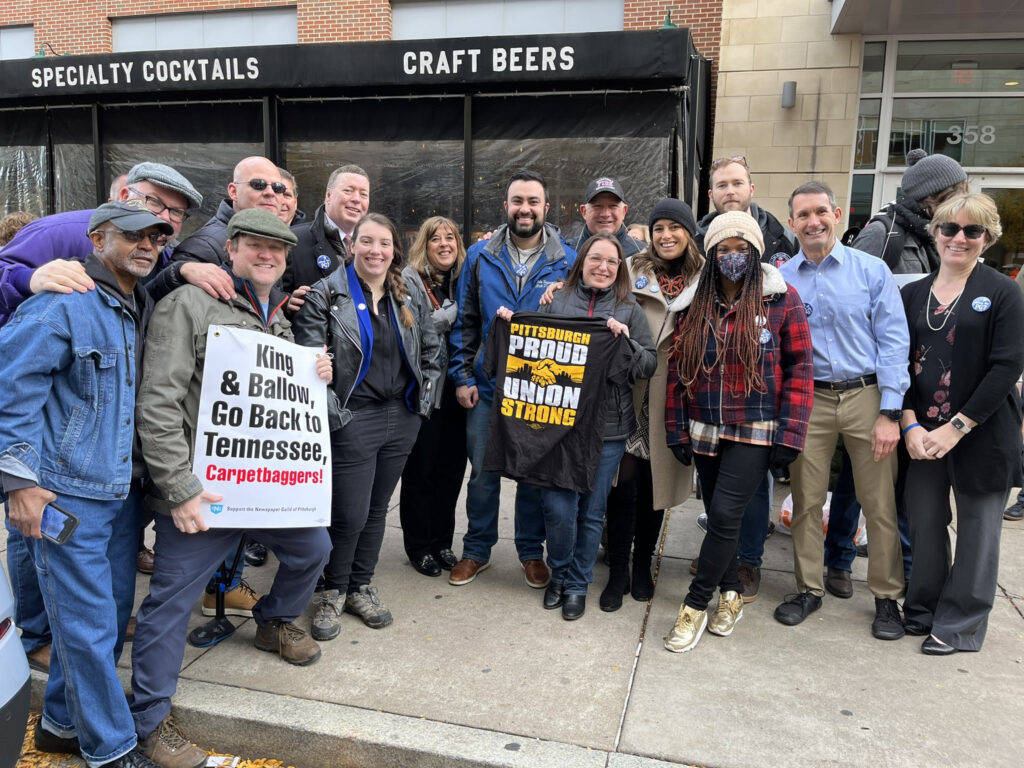 Here's what a few folks on strike told me in the last few days:
Noelle Mateer: I'm a reporter at the Pittsburgh Post-Gazette and I'm striking for a fair contract because Pittsburgh deserves a great newspaper.
Natalie Duleba: I design the front page and make it look pretty and get news up on the website. I'm striking because I love what I do and I want to be able to build a future for myself and my family.
Bob Batz Jr.: I'm a longtime feature writer and editor and currently editor of the Goodness section of the Pittsburgh Post Gazette. I'm on strike because I love the Post-Gazette. I have dedicated literally 30 years of my life to the Post-Gazette. I love it and I love the craft of journalism. I just want it to be done as well and as legally and as good as it can be done.
John Santa: I'm on the news desk, I'm a paginator, doing A1 design. I'm out here because I want to show my son that it's important to fight for what's important to you. We're all fighting for each other.
Karen Carlin: I'm a copy editor at the Pittsburgh Post-Gazette. I've worked for the paper for about 25 years. I would rather work for a paper that has a union than a paper that doesn't have a union. Nobody ever wants to strike, but sometimes you have to go to these extremes to be heard and to get what you deserve and what you've earned.
Striking is hard work and we need to rally around Pittsburgh. Donate. Tweet. Send love. Send solidarity.
When we fight, WE WIN.
In solidarity from Pittsburgh,
Jon Schleuss
President, The NewsGuild-CWA