Subscribe to the Guild's newsletter here.
Four units won first contracts last week! That's an amazing number — one that reflects our intensified focus on getting agreements and building escalating actions.
The Wirecutter Union triumphed after a dramatic five-day strike that ran from Black Friday through Cyber Monday, the busiest period of the year for the product review company. They won substantial raises immediately of 2-2.5% with some of the lowest paid members getting up to 18% raises.
Prior to the Black Friday strike, NY Times management had offered just 0.5% raises, despite the fact that Wirecutter has added thousands of paid subscribers to the Times and continues to bring in record revenue.
The agreement also includes a ban on non-disclosure agreements that reference harassment and/or discrimination, a cap on health care cost increases, just cause protections, an appeals process for performance evaluations, enforceable contract language on the company's commitments to diversity, equity, and inclusion, and other benefits.
Members are voting on whether to ratify the agreement tonight!
Members of the VTDigger Guild unanimously ratified their first collective bargaining agreement with the Vermont Journalism Trust, which operates the nonprofit digital news site.
The contract guarantees minimum salaries and overtime pay, establishes consistent standards, rewards longevity, and continues to solidify the organization's commitment to improving diversity, equity and inclusion.
"It has been a long and at times difficult conversation, but we had it as equals, and the organization is much stronger for it," said Lola Duffort, co-chair of the VTDigger Guild. "I am delighted we have arrived — unanimously — at such a robust agreement."
Members of the MinnPost Union unanimously ratified their first collective bargaining agreement with management of the nonprofit digital site, less than seven months after winning voluntary recognition.
The agreement sets minimum salaries that will give most members big pay increases, expands parental leave to include full pay, includes "just cause" protection and establishes a grievance/arbitration procedure and creates opportunities for union members to review supervisory and managerial employees.
And the workers at Asian Americans Advancing Justice secured a first contract as members of the Chicago News Guild. The agreement sets new minimum salaries and some members will get up to a 20% raise!
Members of M+R Union capped off the spate of new contracts, unanimously ratifying a much-improved second collective bargaining agreement. They won a new compensation structure with a $62.4k floor, which will result in a median raise of $10k and a median bonus of $6.5k at ratification. The new contract also replaces their for-profit insurance plan with union insurance, with the company paying 100% of healthcare premiums.
Contract negotiations went relatively smoothly until money was on the table. When things got contentious, workers responded with a work-to-rule campaign, creative use of email autoreplies, and appeals for support from clients of the firm, which works for nonprofits "fighting for a just and sustainable world."
Once again, collective action got the goods!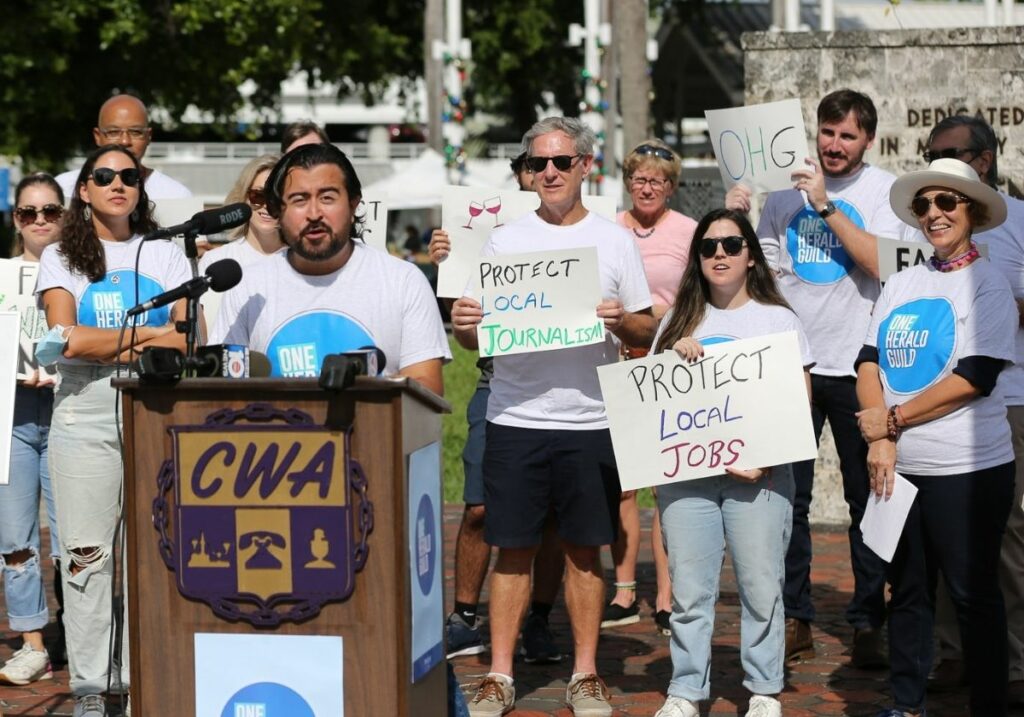 Journalists of the Miami Herald and el Nuevo Herald condemned the publications' parent company at a press conference this month, calling out McClatchy for stalling on contract talks, perpetuating pay disparities, and using a pregnant staffer as a bargaining chip in bargaining over parental leave. Contract talks began almost two years ago after workers at Florida's largest newsroom union formed One Herald Guild.
Veteran journalists at el Nuevo Herald, some with several decades of experience, earn far less than their counterparts at the Miami Herald. "McClatchy needs to do better," said Joey Flechas, co-chair of One Herald Guild.
Management claims that they can't afford to pay decent wages, but that's just not true. McClatchy secured a $10 million grant from the Paycheck Protection Program in February and stands to receive about $127.5 million over the next five years in tax credits.
Both of those windfalls are the result of NewsGuild's support for specific provisions in the Paycheck Protection Program and the Local Journalism Sustainability Act. The money should go to support local news jobs and invest in local news.
You can support the journalists at the Miami Herald and el Nuevo Herald by sending management a letter.
Also in Florida, dozens of journalists rallied outside five Gannett-owned newspapers, seeking support for fair contracts and for local news. Members of the Palm Beach News Guild, Ledger News Guild, Sarasota Newspaper Guild, Florida Times-Union Guild and Southwest Florida News Guild took part.
They stood on busy street corners near their offices holding signs, making noise, and talking to passersby about the crisis facing local news: extremely low pay, staffing that's insufficient to properly cover their communities, a push toward regional – rather than local – coverage, and unending rounds of cutbacks.
"When people think about the South, they don't usually think about organized labor," reporter Katherine Kokal said. "But so many people gave us a thumbs up. They notice the changes in their newspapers. 'Support local journalism. Support local journalists.' That's a message so many people can get behind."
The events were the first coordinated action among the state's unionized Gannett papers and signals more good organizing to come.
Workers at papers owned by Lee Enterprises got some good news this month when the company's Board of Directors voted unanimously to reject a takeover attempt by Alden Global Capital, better known as "the destroyer of newspapers." The 12 unionized newsrooms of Lee Enterprises have implored the Board of Directors to oppose any Alden offer.
But the vulture is still circling. Alden responded by filing suit against Lee. Clearly, Alden isn't giving up on its plans.
Alden's takeover bid demonstrates why we need to reimagine local news and support more locally owned newsrooms that are accountable to and invest in the communities they cover.
There's still time to apply for two NewsGuild job openings. The first is for a staff representative, who would play the role of director of collective bargaining. The person who gets this job will review contract language, stay on top of trends in our bargaining and coordinate our bargaining program. It will be a huge asset to our locals, who have asked for more support. Read more here.
The second job is for a new external organizer to support more union campaigns. More than 2,100 workers have joined the Guild this year and many more are interested! We need to keep building our capacity to bring in new members. Read more about the job here.
There was news over the weekend that Sen. Joe Manchin (D-WV) is against passing the "Build Back Better" bill, which include a key provision of the Local Journalism Sustainability Act. We have done a ton to support LJSA, including increasing the cap, better defining a local journalist and making sure it supports full-time local news jobs. The LJSA would give employers up to a $25,000 tax credit for up to 1,500 local journalists on staff. And the Guild at large has done a lot to push the legislation.
While the latest news is frustrating, it means we have to plan to redouble our efforts in January. Remember, the last support for local news passed under the Trump administration. We are not negotiating with Steve Mnuchin this go around. And Manchin's a co-sponsor on LJSA.
We heard this morning that Kathy Mulvey Brennan died today after a brief illness. Kathy started working at the Guild in 1997 and served as a coordinator and support for contract administration. "Kathy was a friend and mentor to many local leaders across the Guild," said Marian Needham, the Guild's executive vice president. From talking with former Guild staff today, it was clear Kathy cared deeply for Guild members and had a big heart.
Two Steward Training sessions are scheduled for January.
Module 4: A Problem Solver, 6-8 p.m., Wed., Jan. 12, 2022.
Learn how to identify and address important workplace issues. Work through a group exercise practicing the planning, execution, and evaluation of collective actions.
Register here.
Module 5: A Union Representative, 6-8 p.m., Wed., Jan. 26.
Learn the rights of a steward and how to assert them, practice the role of union representative in investigatory or disciplinary meetings, practice the basics of preparing and presenting a grievance.
Register here.
Finally, check out this beautiful tribute to Claudia Levy, a NewsGuild pioneer and champion of women's rights who passed away earlier this month.
In solidarity,
Jon Schleuss
President, NewsGuild-CWA