Nov. 20, 2019 – The journalists of the Miami Herald, El Nuevo Herald, and Miami.com have won union recognition by a vote of 66-24. In-person voting was held on Oct. 30, but a handful of mail-in ballots were due were on Wednesday, when the vote count was held.
The newly minted union members of One Herald Guild streamed out of the offices of the National Labor Relations Board, which supervised the election, triumphant. "We have a union!" they declared, cheering and applauding.
Columnist Linda Robertson tweeted, "We have a union at the Miami Herald & el Nuevo Herald. Landslide victory for our staff, for journalism."
The vote is the latest in a wave of NewsGuild-CWA union organizing wins in recent weeks. In October, workers at the Arizona Republic, the Daily Progress in Charlottesville, Virginia, and the Columbian in Vancouver, Washington all voted overwhelmingly to form Guild units.
"The effort to unionize has already made the El Nuevo Herald and Miami Herald stronger by bringing reporters, copy editors and producers together in support of journalism and each other," David Smiley, senior political reporter for the Miami Herald said in a press statement. "With today's results, we can continue that work in cooperation with management."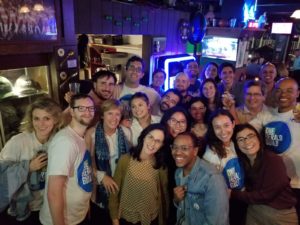 Parity among the journalists who work for the Miami Herald, the English-language publication, and those who work for El Nuevo Herald, the Spanish-language publication, was a major issue in the union campaign. The employees of El Nuevo Herald perform essentially the same work as the employees of the Miami Herald for considerably less pay.
"The spirit of brotherhood between el Nuevo Herald and the Miami Herald journalists emanating from this initiative is unprecedented in the long shared history between the two newsrooms, which in the past lived in tacit antagonism," said David Shoer Roth, a former Metro columnist for el Nuevo Herald who is now a web producer.
"It's so beautiful to witness this generational change that, although it has steadily developed in recent years, is culminating now with this collaborative project," he said.
Photo at top: Members of One Herald Guild stream out of the offices of the National Labor Relations Board after winning union recognition.