A contingent of NewsGuild of New York members protested Gannett CEO Mike Reed outside a Citi technology conference in New York City on Friday, blasting the nation's biggest news chain for laying off more than 400 employees while spending lavishly on executive compensation and stock buybacks. All this, despite the fact that the company received $16 million in taxpayer subsidies from the Paycheck Protection Program.
At the end of the protest, Reed came outside to talk to the union members. He said he was committed to settling contracts with NewsGuild units by the end of the year and that workers can hold him to it.
"We intend to do just that," said Adrian Szkolar, a producer for the Atlantic Digital Optimization Team and vice chair of the Atlantic DOT Guild. Core NewsGuild demands include strong salary minimums, increased staffing, and a real commitment to improve diversity, equity and inclusion.
The Guild members passed out hundreds of flyers bearing the headline, "Gannett CEO Mike Reed is killing jobs and killing newsrooms." They were joined by Scabby The Rat, a frequent participant at workers' protests.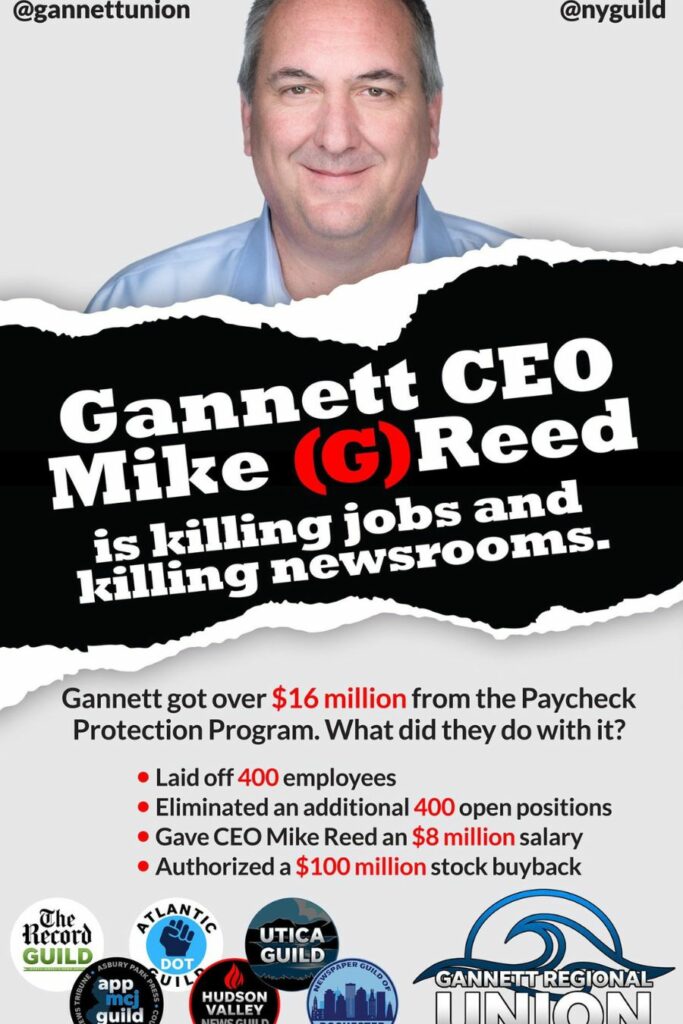 The workers outlined the basis of their complaint against Reed:
In 2020, citing the pressures of the pandemic, Gannett instituted furloughs, layoffs and buyouts, and cut employees' 401(k)s. But at the same time, the company awarded a $600,000 bonus to CFO Douglas Horne "in consideration of the extraordinary circumstances he faced" during the pandemic.
SEC filings revealed that CEO Reed earned $7,741,052 in 2021 – 160 times the median salary of a Gannett worker.
Gannett received more than $16 million from the Paycheck Protection Program. The company then authorized a $100 million stock buyback aimed at inflating stock prices — to which Reed's salary is tied. To date, Gannett has bought back $3.1 million in stock.
Meanwhile, instead of investing in newsrooms, Gannett sold $11.8 million in assets in the last quarter to pay down debt.
In August, after obfuscating for weeks, Gannett acknowledged that the company had laid off 400 employees and eliminated 400 open positions.
Despite austerity measures for journalists and other rank-and-file workers, management continues to spend money on expensive union-busting law firms that fight union efforts to challenge them on low wages, slashing newsroom staff and failing on diversity goals.
"Our company's financial statement mentioned how digital subscriptions have grown, and that's due to us, the journalists," Szkolar said. "But to make up for their own mismanagement and failings, our leadership would rather lay off those same journalists rather than cutting back on their own exorbitant salaries. I'm here today to let Mike Reed know that he can't destroy local journalism and expect to hide away from criticism."
"Gannett's journalists have lost faith in Mike Reed's ability to lead the company," NewsGuild-CWA President Jon Schleuss said. "Journalists hold all companies to account and that includes Gannett. We cannot let Wall Street continue to murder local news."