Oct. 11, 2019 – In a historic vote, newsroom employees at The Arizona Republic voted 64 to 30 to unionize as part of the NewsGuild-CWA on Oct. 10.
The workers' win follows one of the most aggressive anti-union campaigns in the industry in recent memory and prompted joyous celebration.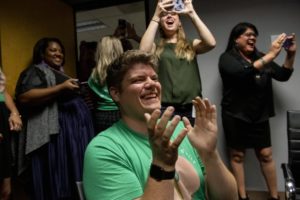 The Arizona Republic Guild's victory comes ahead of a pending merger between Gannett and behemoth GateHouse Media that threatens to cut $300 million from the combined companies.
The Republic becomes the first unionized newsroom in the state in this century and the first to win union recognition while under Gannett ownership. (About a dozen newspapers — including the Detroit Free Press, Indianapolis Star, Milwaukee Journal Sentinel, Kitsap Sun and Memphis Commercial Appeal — were unionized before Gannett purchased them.)
"This is a historic decision to protect local journalism," consumer reporter and organizing committee member Rebekah Sanders said in a press release announcing the victory.
That moment when the Arizona Republic got a union, 64-30. @azrepublicguild pic.twitter.com/l9fswdG9Fo

— Elizabeth thee Journalist (@EMontNews) October 11, 2019
"We have sent a powerful message to Gannett that we expect dignified layoff severance, fair wages and a voice in the decisions that affect our future."
Reporter Alden Woods, a member of the organizing committee, said, "Today our journalists won a collective voice in our future and the future of Arizona journalism. Tomorrow, we start putting that voice to good use."
"While this is a major milestone that deserves celebration, now the real work begins," the press release said.
The newly minted unit will immediately begin to form a leadership committee, a bargaining committee and a newsroom steward structure, and will work with Gannett to set a schedule of negotiations for a first contract.
The Guild vowed to seek input on the contract from all newsroom employees, regardless of how they voted, and to bargain for all employees.
"The company has told us over the last few months how much they value us as employees," said Richard Ruelas, a features reporter who served on the organizing committee. "So I expect they will treat us with respect at the bargaining table and allow us to enshrine that value in the contract."
The group's press release ended with a call to action: "The Arizona Republic Guild is only as strong as its members. All newsroom employees will be needed to fight for the pay, benefits and job security we deserve.
"Together, we win."
Photo at top: Savoring their victory off-site, shortly after the vote total was announced. Photo by Ben Moffat.