Oct. 16, 209 – After 15 months of bargaining, the Los Angeles Times Guild reached a tentative agreement with management on a groundbreaking first contract, the union announced today.
The agreement covering nearly 500 journalists is the first since the paper began publishing in 1881.
"This is what we fought for," said Carolina A. Miranda, co-chair of the L.A. Times Guild.
Under the terms of the agreement, most employees will receive raises of at least 5 percent the first year and 2.5 percent in the second and third year.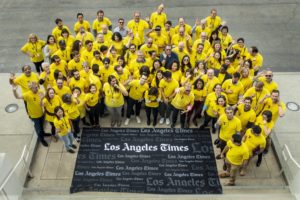 "Many people will get a lot more than 5 percent," said Anthony Pesce, co-chair of the unit. Pay increases will result in an immediate 12.5 percent increase to overall payroll throughout the newsroom and that raises will average more than $11,000 per person.
The contract also establishes pay minimums for all newsroom positions and step increases based on experience in the industry.
"The contract will mark a vast improvement for a newsroom where many journalists have gone for nearly a decade without a cost-of-living raise," LAT Guild wrote in a press statement.
In addition to pay increases, the tentative agreement includes job protections, such as a "just cause" standard for discipline, seniority in layoffs, at least 30 days' advance notice of layoffs, severance pay, voluntary buyouts, and limits on management's ability to subcontract or outsource work.
The contract also includes provisions aimed at increasing diversity in the newsroom, protecting quality journalism and defending workers' intellectual property rights. The Guild negotiated a stronger version of the NFL's Rooney Rule, requiring managers to interview, whenever possible, at least two candidates who are women or members of traditionally underrepresented groups, including black, Latino, Asian American, Native and LGBTQ journalists. The diversity provisions "will help make the newsroom reflective of the city we live in," Miranda said.
In addition, the  contract describes circumstances under which employees may withhold their bylines and object to assignments on ethical grounds.
The tentative agreement establishes a grievance-arbitration procedure to address disputes that may arise during the three-year agreement.
Union members are expected to vote on ratification in the next few weeks, following a review by the union's national headquarters and counsel.
Times journalists voted to unionize in January 2018 by a landslide vote of 248 to 44, ending the paper's notorious anti-union history and inspiring a wave of union organizing at print and digital publications large and small. They began contract negotiations in July 2018, soon after the paper was sold to Los Angeles billionaire Dr. Patrick Soon-Shiong.
"Congratulations to the Guild members of the Los Angeles Times," said NewsGuild President Bernie Lunzer. "A strong first contract will build a strong foundation for workers for generations."

Photo at top:  Guild members assemble at a lunchtime walkout, on April 10, 2019.  By Kent Nishimura