61 cents.
Aug. 19, 2019 – That's what black women in the U.S. earn for every dollar earned by white men.
And it's happening in the news business.
"It was stunning news," said Melanie Burney, a 19-year employee of the Philadelphia Inquirer, after learning that her pay was significantly lower than coworkers with less experience. Initially she considered it a personal concern, but she soon began to see it as part of a bigger fight.
"This is one of the most pressing civil rights issues of the day for women and journalists of color," Ms. Burnie said. "We want to be paid based on the content of our journalism and not the color of our skin."
She's pressing the point. Ms. Burney filed a grievance through the NewsGuild of Greater Philadelphia, where she serves on the Executive Board, and followed up with a complaint with the EEOC and the New Jersey Division on Civil Rights.
She's been speaking out, too, and says that although the battle can take an emotional toll, she feels empowered by the decision to publicly demand an end to the disparity in pay.
Speaking at a workshop on equal pay at the 2019 convention of the National Association of Black Journalists earlier this month, she said she felt greater peace now than she did before she decided to step forward. She encouraged the standing-room-only crowd of approximately 95 journalists to demand their fair share.
On Aug. 22, designated Black Women's Equal Pay Day, Ms. Burney plans to continue her quest. The date symbolizes the fact that black women must work roughly 234 days in 2019 to catch up to what their counterparts earned by the end of 2018.
A series of studies conducted by The NewsGuild-CWA over the last several years show that women and people of color are paid less on average than their coworkers at news organizations across the country – including at some of the nation's most prestigious publications. [Read more here and here.]
For workers in an industry that demands transparency and accountability from government and business, the discrepancy is hard to swallow.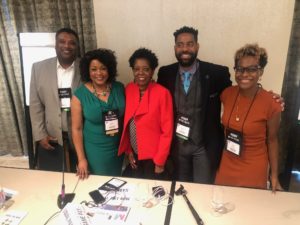 Errin Haines, a national writer on race and ethnicity for the Associated Press, said, "If this were any other industry, we would be exposing disparity in salaries. And we would be exposing it for the purpose of change. We should be doing that in our industry as well." She urged black journalists to demand recognition – and pay – for the perspective they bring.
A lack of diversity in newsrooms exacerbates the problem.
Speaking at the NABJ workshop, Ms. Haines said, "Instead of being grateful for being in the room, say, 'No you're going to pay this unicorn.'"
---

Black Women's Equal Pay Day

EQUAL PAY
TRANSPARENCY
HIRING POLICIES THAT PROMOTE DIVERSITY

NewsGuild members will highlight the disparities in pay by displaying desk signs at work, distributing the Guild's Equal Pay Now brochure, posting comments on social media, and demanding that their bosses eliminate the pay gap for women and people of color. Click here for sample tweets and graphics.

---
Photo at top: Melanie Burney shows off a flyer advertising the Equal Pay workshop at the convention of the National Association of Black Journalists.