By Martha Waggoner, TNG international chair
Organizing will be a main focus of national and local leaders when they gather for the 80th convening of The NewsGuild-CWA.
That's because TNG saw an unprecedented year of organizing in 2018. We organized more than 20 workplaces in 2018, which means more than 1,400 people, mostly media workers, have or will have the protections of union contracts.
"Media workers all over the country stood up last year in the face of increasing attacks on their work and demanded a voice on the job," said Stephanie Basile, TNG's coordinator of new unit organizing. "We look forward to continuing to organize for dignity and respect in 2019."
Activists who led efforts at newly organized units will participate in a question-and-answer session about organizing during the sector conference on Saturday, Jan. 26. The Q-and-A will follow a panel discussion on organizing.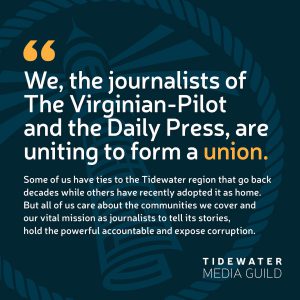 Those leading the panel discussion are:  Kristina Bui, Los Angeles Times; Danielle Smith, Law360; Tessa Duvall, Florida Times-Union; and Kiley Cruse, Omaha World-Herald.
Five other activists will join those four for the Q-and-A. They are: Lainna Fader, The New Yorker; Charlie Johnson, Chicago Tribune; Brock Vergakis, The Virginian-Pilot; Gary White, Lakeland Ledger; and Billy Cox, Sarasota Herald-Tribune.
In other business, delegates will nominate candidates for the three top offices – president, executive vice president and international chair – and the eight vice presidents who serve on the Executive Council.
Two vice presidents are not seeking re-election: Scott Edmonds, who represents Canada, and John Hill, who represents Region 2. When you see Scott and John, please thank them for all their work on behalf of the Guild.
The Executive Council meets Friday, Jan. 25, at the DoubleTree Hotel at the entrance to Universal Orlando. Registration will be held between 8 a.m. and noon Friday, and the conference begins at 2 p.m. Friday.
The conference is expected to end by 1:30 p.m. Sunday.