The outcome is a victory for organizing in the south.
Dec. 18, 2019 – The staff of the Southern Poverty Law Center won union recognition by a vote of 142-45 on Dec. 16, racking up an important victory for labor organizing in the south. The bargaining unit will encompass staffers across 11 SPLC offices in five states (Alabama, Florida, Georgia, Louisiana, Mississippi) and Washington D.C.
Workers at the organization were elated by the vote. "Let's just say that Solidarity Forever is a song that is catching on out here," said Esteban Gil, a program associate in the New Orleans office. "We all got together in the kitchen and celebrated," he said. The SPLC Union becomes the third-largest unit in Washington Baltimore Local of The NewsGuild-CWA and the largest non-profit in the local.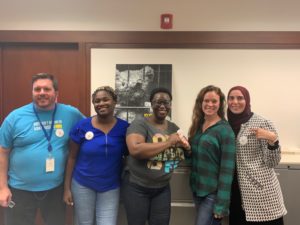 "At its core, this was a racial justice movement," said Danielle Davis, an attorney in the New Orleans office. "That was part of the reason we won by such an overwhelming number. We believe in racial justice. We believe in gender equity. We believe in equal access for people who are differently abled."
"Labor organizing is a tool by which we can ensure equity and inclusion in our workplace," she said.
Major changes at SPLC this year gave impetus to the union organizing campaign. Morris Dees, the group's co-founder and chief trial lawyer, was fired, and Richard Cohen, its president, left the organization in March amid allegations of mistreatment, sexual harassment, gender discrimination and racism, according to the Los Angeles Times.
The departure of Meredith Horton, a highly respected senior-level black woman who resigned in protest over the charges, spurred the drive as well. SPLC was formed in 1971 and is dedicated to  "fighting hate and bigotry and to seeking justice for the most vulnerable members of our society."
"There was frustration and an unwillingness to accept what we believed to be unacceptable," Davis said. "There was a recognition of the power that we had to change it."
After Horton's departure, more than 100 employees signed a letter calling out management and demanding answers, Gil said. "It gave people a chance to imagine what it could be like if they were in the driver's seat of the organization," he added.
Most of the people who participated in the organizing drive had not been members of a union before. Through the campaign, they began to recognize their power, Davis said.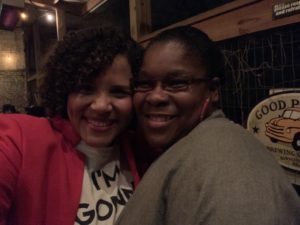 Lisa Wright, a corporate gifts coordinator in the Montgomery office who has worked at SPLC for 20 years, had no prior experience with unions. "But I knew it was very necessary," she said. "Management would never have changed on their own. We're going to have to be a part of this change."
Activists believe their victory has implications for union organizing throughout the region. Elizabeth Johnson, interim social media manager in the Montgomery, AL, office, said, "We're all very hopeful that we're reigniting the flame for a labor movement in the deep south, where unions have not traditionally been."
Workers were disappointed by SPLC's initial response to the organizing drive after management rejected their request for voluntary recognition and hired an anti-union law firm, but "look forward to working in the coming months to negotiate a collective bargaining contract that works for the benefit of all workers, regardless of race, color, religion, sex, sexual orientation, gender identity, physical ability, and national origin," the Organizing Committee said in a statement.
Bruce Jett, an organizer with the Washington Baltimore News Guild, said the organization's  decision to replace the anti-union law firm makes him optimistic. "I'm hopeful that this is just the beginning of a great working relationship," he said.
The next steps are to survey the entire unit to determine priorities and elect a bargaining committee.
Gil, who likes to study labor history, said workers are much better off now than they were 100 years ago, when union supporters were threatened with violence and even death.
"I have a feeling of gratitude for people who stood up in the past under much harder conditions," he said. Forming the union was hard, he said, "but you can do it."
Photo at top: Isabel Otero, Elizabeth Johnson, Anya Malley, Jeff Migliozzi, Raven Hodges, Danielle Davis from the Montgomery, Atlanta and New Orleans offices celebrated together.