July 27, 2019 – NewsGuild-CWA members at the Providence Journal and the Worcester Telegram & Gazette voted overwhelmingly to approve proposed contracts in separate votes Wednesday, ending years of difficult bargaining with GateHouse Media, the private equity fund that controls their newspapers.
The vote in Worcester, where the Guild represents 30 employees, was unanimous. In Providence, where the Guild represents 62, one person voted no and one person submitted an unmarked ballot.
The new contracts, which run to December 2020, reinstate most of the local's pre-GateHouse contracts that were thrown out when GateHouse bought the papers via asset sales, a strategy often used to void union contacts.
Local President Rick Eggleston, a copy editor at the Telegram & Gazette, credited the dedication of the local's members at both units for getting the contracts.
"Their willingness to not accept GateHouse's imposed conditions and to wait until they got a deal they could vote for was key," he said. The agreements restore contract language and protections that were years, even decades, in the making.
Eggleston also praised the support of 16 Guild locals at the chain's other unionized papers across the country. The effort was part of a concerted national campaign to win contracts at GateHouse publications, where it's become common to go years without new agreements.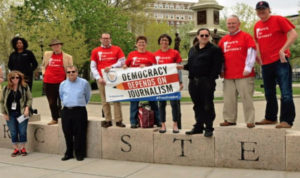 He thanked the Guild's national leadership for providing national staff to spearhead a year-and-a-half of off-the-record negotiations and thanked President Bernie Lunzer for pushing the national strategy "that has produced contracts here and at other locals."
The new agreement calls for a $500 signing bonus for full-time employees and a $250 signing bonus for part-timers. It restores pay scales that had been wiped out by GateHouse, which will mean approximately 30 percent of Guild members can count on step raises starting next summer.
It adds five more sick/personal days and restores the requirement that all employees covered by the Guild contract pay dues to the Guild.
A previously agreed-to 1.75 percent wage increase will take effect in October.
Photo at top: Providence Journal employees on May 3, World Press Freedom Day.