July 25, 2019 – The valiant efforts of the Northeast Ohio Newspaper Guild to save jobs at the Cleveland Plain Dealer weren't able to stop the unit from losing half its members, but the nearly six-month effort didn't go unnoticed by the Society of Professional Journalists Cleveland Pro Chapter.
At its annual meeting on July 24, the SPJ Chapter gave NewsGuild-CWA Local 1 and its Plain Dealer Guild unit its Distinguished Service Award.
"The Northeast Ohio Newspaper Guild, Local 1 is the first-ever entity, as opposed to an individual, to receive SPJ's Distinguished Service Award in the award's 47-year history," SPJ wrote in the program. "When management at The Plain Dealer announced that a number of newsroom jobs would be eliminated through layoffs and buyouts, members of the Guild began a public campaign to try to save the jobs, and thus protect local journalism."
Ultimately, 20 Guild members in the "pubhub" – where the paper was edited, curated and designed – lost their jobs when the work was outsourced. Another 15 members lost their jobs through mostly voluntary layoffs among reporters and photographers. The local managed to negotiate enhanced severance packages for the 35 members who lost their jobs earlier this year. That totaled slightly more than half of the PD Guild unit's members.
Accepting the award, PD Guild Unit Chairperson Ginger Christ noted that the Guild's effort to save the journalists' jobs was also aimed at saving journalism for the community.
Local 1 Executive Secretary Rollie Dreussi, who introduced Christ, also thanked the SPJ Pro Chapter for their action this past spring when they supported the Guild effort by returning a check the Local sent for an ad in the group's program book at an SPJ conference.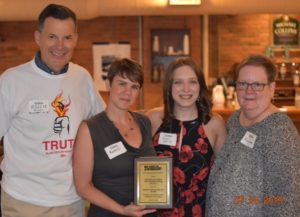 Photo, top: Jackie Mitchell, left, president of the Cleveland Professional Chapter of the Society of Professional Journalists, presented the group's Distinguished Service Award to Ginger Christ, chairperson of the Plain Dealer unit of the Northeast Ohio Newspaper Guild.
Photo, right: Members of the Northeast Ohio Newspaper Guild, are, from left, Rollie Dreussi, Local 1 executive secretary; Rachel Dissell, Plain Dealer Guild unit third vice president; Ginger Christ, PD unit chairperson; and Mary Lou Gillispie, Local 1 fourth vice president from the PD unit.