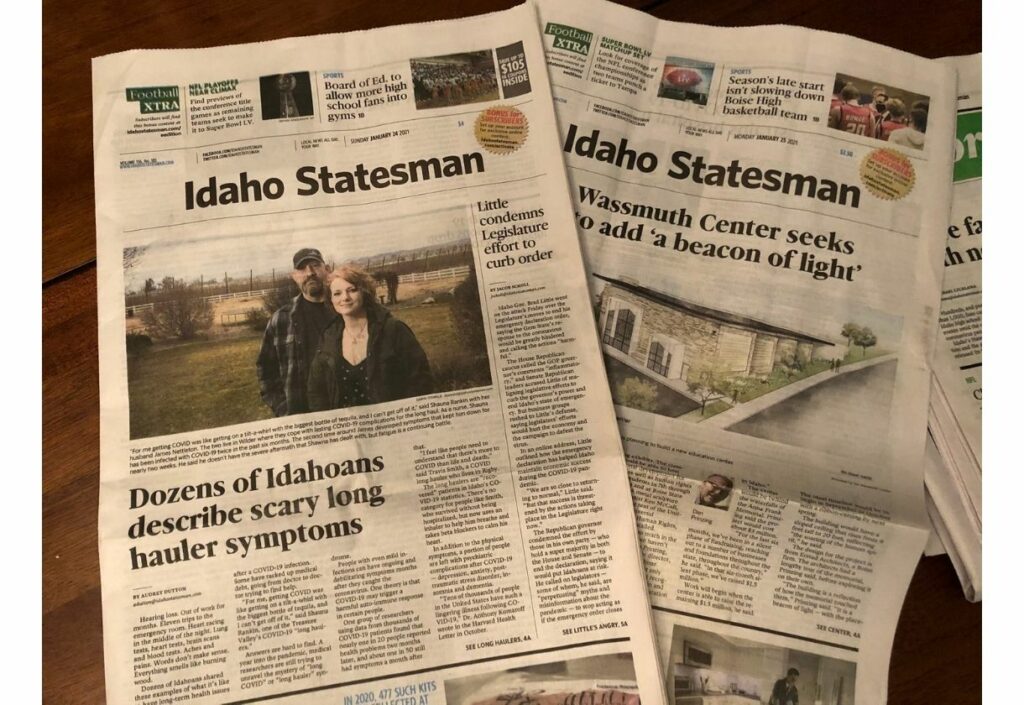 Idaho NewsGuild members stood up for their fired boss last week, protesting McClatchy's decision to abruptly fire editor Christina Lords.
Lords was terminated after tweeting how difficult it was for employees to get access to basic tools, including Microsoft Excel for an investigative journalist. She also urged readers to support the paper and subscribe. She later deleted the tweet.
As top editor, Lords was not a union member, but she had a reputation for going to bat for her staff and championing efforts to build the paper.
Following the blowback from Idaho NewsGuild and readers that garnered national headlines, management posted her job, along with listings for long-vacant positions for two reporters, a photographer and an advertising position.
While it's good to see long vacant positions posted, Lords got a raw deal and McClatchy must do better.

After a violent mob attacked the Capitol, the Guild sponsored a workshop on Covering the News in a Hostile Environment that won widespread praise. The presentation, which was open to Guild and non-Guild journalists, addressed best practices for assessing and mitigating risk in a dangerous situation.
It featured presentations by Cath Mossom, a security and risk management expert, and a panel of journalists who were at the Capitol on Jan. 6.
If you missed the workshop but want the tip sheet, email Sally Davidow at sdavidow@cwa-union.org. We've also posted other resources for covering chaos.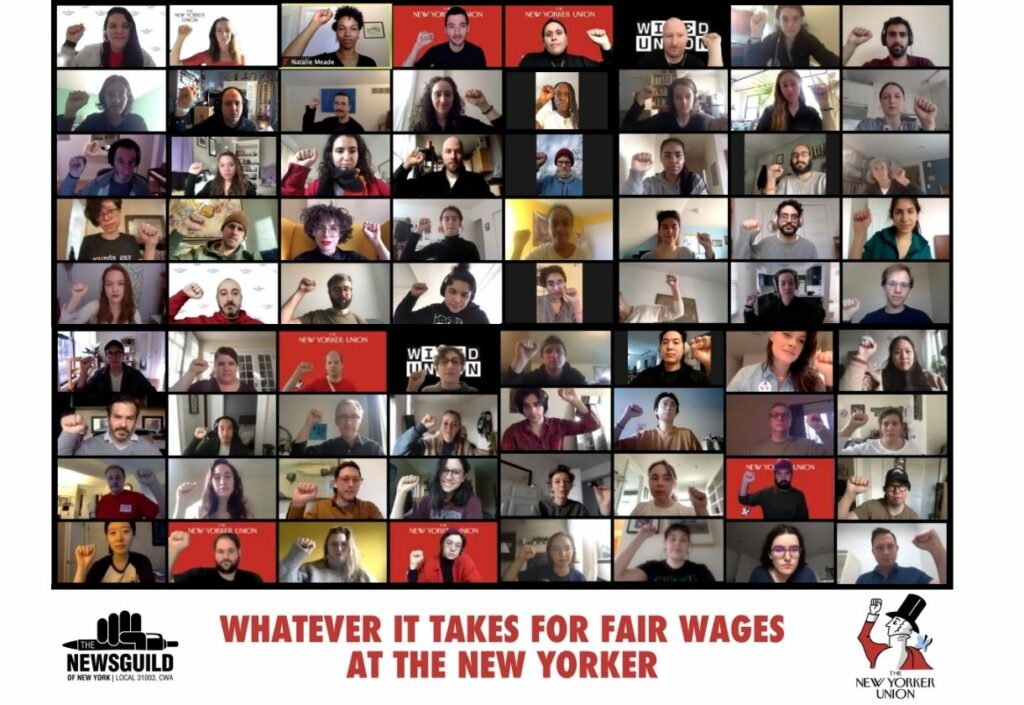 Members of the New Yorker Union engaged in a 24-hour work stoppage on Jan. 21, demanding fair wages and protesting management's insulting response to the union's wage proposal during contract talks.
"Salaries are a diversity and inclusion issue," said Naib Mian, a researcher at the magazine who sits on the union bargaining committee. "And a magazine that's at the forefront of the national discussion, especially around progressive issues, should not exclude those voices and should not be exclusive to the independently wealthy elite. But the status quo, and what management put on the table, enshrines that longstanding exclusion."
"Negotiations have gone on long enough," union members said in a statement announcing the walkout. "If management continues to reject basic concepts like competitive salary minimums and guaranteed annual increases, and refuses to swiftly bargain toward a contract that reflects the value of our members' work, we will take further action."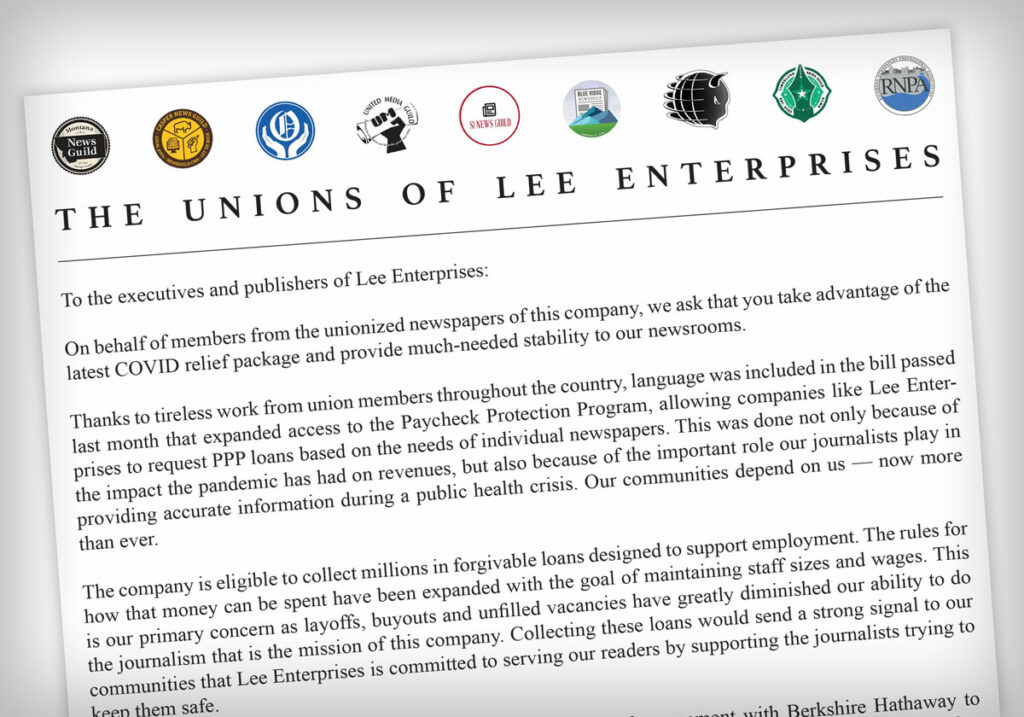 Union members at 10 publications owned by Lee Enterprises urged the company to take advantage of the latest COVID relief package to provide much-needed stability to their newsrooms last week.
We advocated and won a provision that allows companies like Lee to request forgivable loans through the Paycheck Protection Program. It expands eligibility for loans to newspaper companies with more than one location as long as the location doesn't have more than 1,000 employees.
"This was done not only because of the impact the pandemic has had on revenues, but also because of the important role our journalists play in providing accurate information during a public health crisis. Our communities depend on us — now more than ever," the workers wrote in a Jan. 26 letter to management.
Every local and unit should push their companies to take advantage of this program before time runs out.
Canadian Media Guild reps urged the commission that governs Canada's radio and television public broadcasting at a minimum to retain current levels of service and to invest more in local news, underserved communities, in-house documentary production and long-form journalism last week.
They also asked for the renewal of mandatory distribution of CBC News Network, Canada's 24-hour news channel, and ICI RDI, a Canadian French-language specialty news channel owned by the Canadian Broadcasting Corporation.
They said CBC/Radio-Canada should improve reporting on its hiring, retention, career development and promotions of equity-seeking groups, strengthen diverse content and drop branded content from its platforms.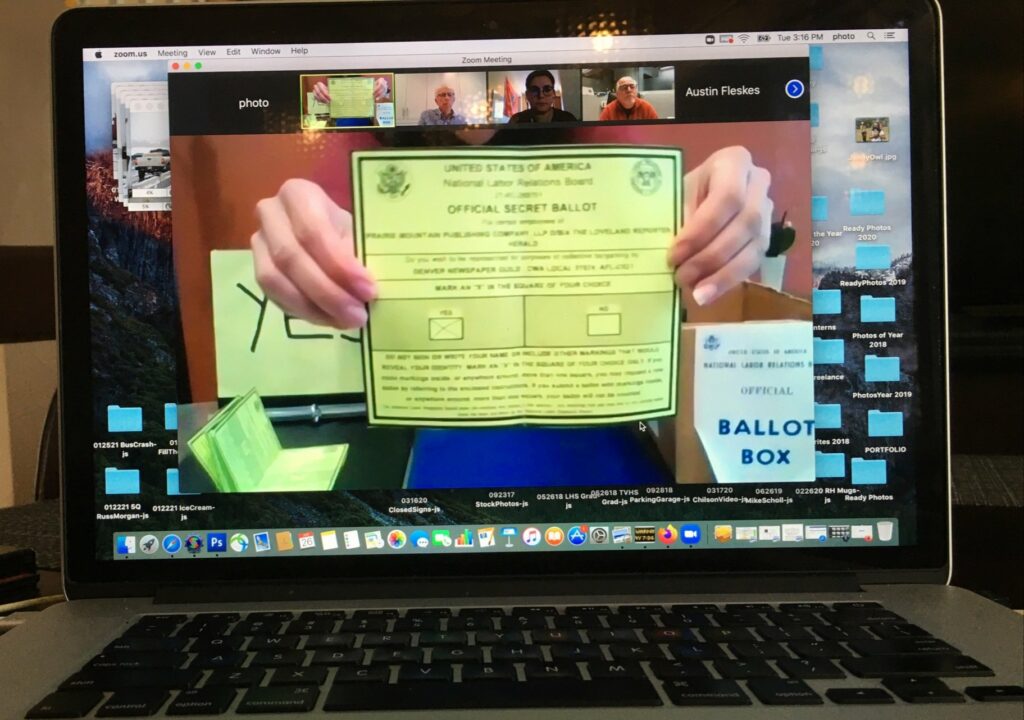 Journalists at the Reporter-Herald in Loveland, CO, voted in favor of unionizing with The NewsGuild-CWA as members of the Denver Local 37074 on Tuesday, becoming the first unionized newsroom in the state since the 1940s. It's become common for us to see vote counts over zoom these days. The journalists are the first to win recognition at The NewsGuild in 2021. Last year was another record organizing year, with more than 1,300 workers deciding to join the Guild at more than 40 workplaces.
The decision to form a union was the result of a very organic process, said city reporter Max Levy. In the spring, after a long series of cutbacks, the paper's entertainment reporter was laid off and remaining staffers got a 10% pay cut or were furloughed.
"We did some research and found that organizing would be our best option," Levy said. "We're thrilled. It's a big win for Loveland."
One more thing: a West Virginia newspaper filed an antitrust lawsuit against Google and Facebook, charging the platforms with monopolizing the digital advertising market.
Platforms have gobbled up digital advertising in the past decade as print advertising revenue collapsed. News publishers must become more innovative and we have to hold them accountable to retain jobs and invest in our core mission: delivering the news.
In solidarity,
Jon Schleuss
President, NewsGuild-CWA