Hundreds of NewsGuild members rallied in Chicago (right), Orlando (below), Virginia Beach, Hartford and Annapolis on Saturday in an effort to derail Alden Global Capital's planned takeover of Tribune Publishing. (A Baltimore rally was held in April.)
The rallies featured union members, readers, elected officials and community leaders, all determined to fight for sustainable sources of local news and against parasites like Alden.
The rallies were the latest in a series of actions: union members have built community coalitions, launched petition drives, sponsored community forums, written op-eds, created websites to support the campaign, encouraged the purchase of Tribune by civic-minded investors, and coordinated activities among NewsGuild-represented Tribune papers.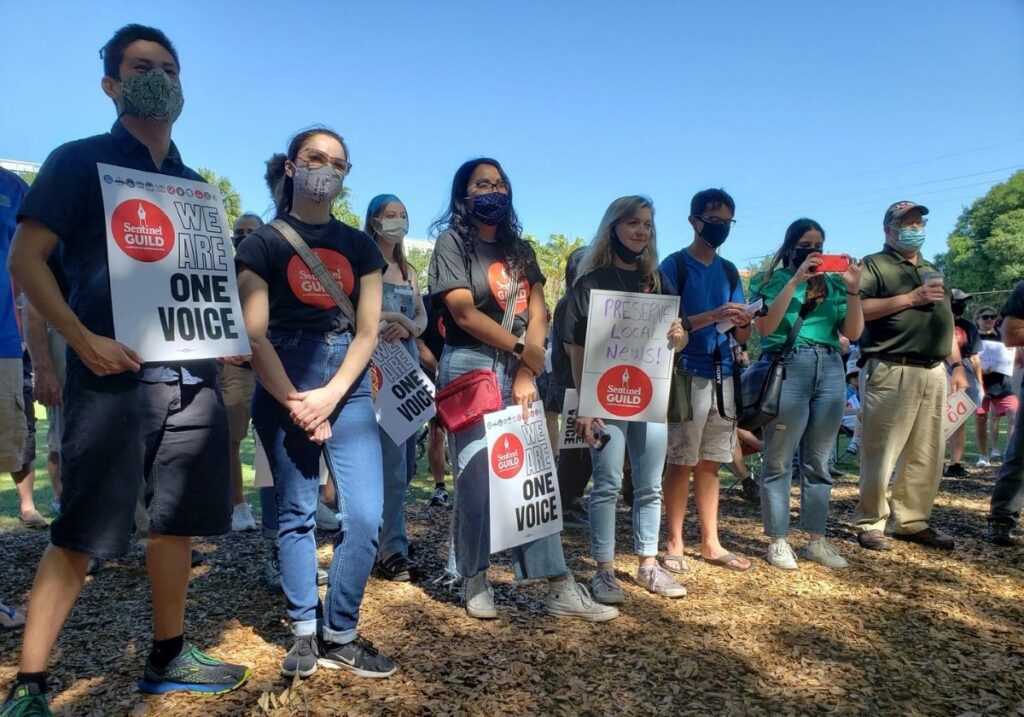 Trib shareholders are scheduled to vote on Alden's low-ball purchase offer on May 21, so at the national level we've reached out to shareholders to make sure they know why an Alden takeover would be bad for Trib business—and them—as well as for journalists and readers. We've talked to business reporters, posted letters to the SEC website, held webinars for shareholders and the media, and created a microsite.
We're determined to stop Alden, "the destroyer of newspapers."
We've had some amazing organizing wins in the last couple weeks!
Staffers at The Appeal had quite an eventful 24 hours: about 5 minutes after they notified management on May 10 that they were forming The Appeal Union, the CEO announced layoffs affecting approximately one third of the unit.
Workers denounced the move as retaliatory and illegal and urged management to recognize the union and rescind the layoffs. Condemnation of management was swift and widespread as critics pointed out that attempts to block unionization violates the ideals the nonprofit organization espouses.
Faced with an onslaught of criticism, the next day boss relented. Workers won union recognition and the layoffs were suspended. Not bad for Day 2!
Journalists at three Gannett-owned New Jersey publications—the Bergen Record, the Daily Record and the NJ Herald—voted 59 to 4 in favor of forming The Record Guild on May 7. What a blowout! I attended an early organizing meeting back in the fall of 2019 and I am so excited to see these folks join our union.
They're fighting for job security and for greater protections against unjust terminations and reductions in force, especially as Gannett and other chains slash staff. They're also advocating for greater diversity in hiring, coverage and engagement with their readers and respective communities. They're joining the NewsGuild of New York Local.
Journalists of the The Kansas City Star, a McClatchy-owned publication, announced on May 10 that they are forming the Kansas City News Guild.The 40 journalists will become part of the United Media Guild Local and will fight for a safe, diverse and vibrant newsroom.
They will "support and advocate for a safe, diverse and vibrant newsroom that delivers the high-quality journalism that this community expects and deserves, this community we live in and love." Recently McClatchy has accepted workers through voluntary recognition rather than fight up to an election, including at The State and Island Packet, both in South Carolina, and the Fort Worth Star-Telegram in Texas.
On Thursday workers at MinnPost, a nonprofit news site, marched on the boss last week and won voluntary recognition for MinnPost Union two days later. They're joining the Guild's Minnesota Local.
And then on Friday, the journalists of the Longview Daily News in Washington state voted unanimously in favor of informing the Longview NewsGuild. Welcome to the Guild!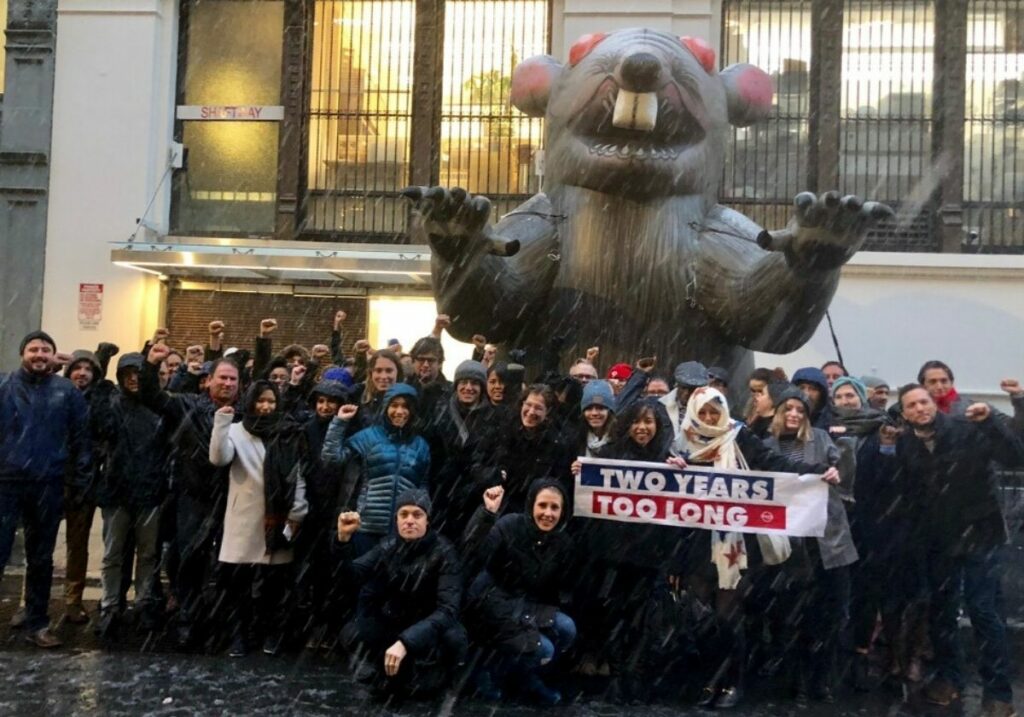 A new report by union organizer Jane McAlevey and researcher Abby Lawlor provides an inspiring and practical guide to mobilizing workers' power to win good collective bargaining agreements—and features case studies of two recent NewsGuild battles.
The work of members of Law360 Union and L.A. Times Guild in winning strong first contracts can serve as models for our many units—new and old—that are negotiating now or will be soon. Guild members Danielle Smith and Kristina Bui participated in a panel discussion announcing the report's release.
The report and the panel describe in detail how union members organized workers' involvement in negotiations, encouraged transparency and leveraged public pressure to negotiate contracts.
One Herald Guild, the unit that represents journalists at the Miami Herald and el Nuevo Herald, called out the bosses on Mother's Day for breaking the promise they made last year to grant paid parental leave. "Now, a new mom in our newsroom has had her baby and she is being denied paid leave," OHG reported. And here's the kicker: "The reason? @McClatchy said it sees our colleague as a bargaining chip in contract negotiations—an attempt to divide and pressure us into accepting the company's harmful proposals as we negotiate our first contract." What a disgrace! We're confident the journalists of One Herald Guild will win parental leave.
Reminder: Design the Guild's new logo! We've been so impressed with the creative logos we've seen from Guild units and locals that we're asking members with design skills to submit a pitch, idea or portfolio by May 31. The Guild Executive Council will review the submissions and hire (and pay) a member to redesign our logo to represent our union for the next several decades.
Congrats to the Pioneer Valley NewsGuild. They took their fight for a good contract to the people—and their representatives on City Council, where a resolution of support was adopted by a vote of 8-0.
Great news for the 17 faculty members at Point Park University who received letters telling them they would be out of a job when their term contract expires: An arbitrator ruled this month in favor of the Newspaper Guild of Pittsburgh, the local that represents full-time faculty, and rescinded the layoffs.
Check out this outstanding interview with Angie Kim about why she's helping organize the New York Times Tech Guild. Angie says, "I always want to be involved politically in some way, and I've realized that doesn't necessarily have to be something external or policy-focused. Building power within your workplace is a totally legitimate way to enact change that affects not only you and your coworkers, but the industry in general."
I'll be speaking on a panel sponsored by the International Federation of Journalists on Wednesday about unions across the globe fighting back against the threats to journalism—from killings to jailings, from internet shutdowns to job cuts and media closures. Join union leaders from around the world for a discussion of what we can do to stand in solidarity.
And finally, the next scheduled NewsGuild training is JUST CAUSE: How to Win Disciplinary Grievances, at 7:30 p.m. EDT on Monday, May 24. Find out more here and register here. See all Guild events here.
In solidarity,
Jon Schleuss
President, NewsGuild-CWA