There is so much amazing news from the last couple of weeks!
First up, about 1,000 workers have gone public with union drives in just the last week!
Tech workers at The New York Times announced last week that about 650 workers are joining the Guild, the largest group to organize with The NewsGuild in more than a decade. And, along with the Alphabet Workers Union, they are one of the largest tech unionization efforts underway anywhere.
The Times Tech Guild will cover engineers, product managers, project managers, designers, quality assurance staffers, data scientists and analysts, who build and maintain the digital products and systems the Times relies on to deliver its journalism to millions of readers and subscribers. They will join more than 1,300 editorial and business staffers at the Times who are already represented by the New York local.
As a journalist and programmer, I am so excited to have these workers join our union!
Then yesterday, more than 300 digital editorial workers at Insider (formerly known as Business Insider) launched a union effort, writing that they want to keep the company accountable and transparent around demographics and pay inequity. They're demanding a voice at the table with management. Follow them on Twitter, Instagram and…TikTok.
I'm pretty sure this is the first NewsGuild group on the viral video platform.
Three groups won voluntary recognition in the last week.
PPPA Union won voluntary recognition on Wednesday,three weeks after announcing they were unionizing. They're joining the NewsGuild of Greater Philadelphia. And just yesterday, journalists at The State, a South Carolina McClatchy-owned paper, won voluntary recognition, just a few weeks after they announced their union campaign. They're joining the Washington-Baltimore News Guild. And finally, staffers at Beacon Interfaith Housing Collaborative announced last week that they have decided to form a union as part of the Minnesota Newspaper & Communications Guild. By Friday, they had won voluntary recognition from management of the organization.
Workers have been voting by mail in several union elections, including The Record Guild. At a recent online captive audience meeting, members brought these great BINGO cards with them. "Open door policy"? "A union is a third party"? "We're a family"? Check, check, check. You'd think after 100 years of union busting, well-paid lawyers could come up with better anti-union lines. But they haven't, so now we play BINGO.
Members of the Ziff Davis Creators Guild, who produce Mashable, PCMag and AskMen, walked off the job for 24 hours last Thursday to protest the company's failure to agree to a living wage and to demand that management bargain in good faith.
After two years of negotiating for a first contract, union members were tired of the company's tactics to evade and undermine bargaining. They also filed several unfair labor practices charging management with unlawfully undermining negotiations by ignoring requests for information and circumventing the union by illegally "direct dealing" with employees.
Recently, staff members appealed to company leaders, telling personal stories about their struggle to live on paltry wages. One employee described relying on the company pantry for breakfast and dinner because they could not afford food after paying rent and other necessary expenses.
Members at The New Yorker, Pitchfork and Ars Technica need your support. After years of contentious negotiations for first contracts,they voted last monthtoapprove a strike if negotiations with management of their publications and their parent company, Condé Nast, break down further. You can support the workers by signing this pledge and by following them on Twitter.
The Guild at Bloomberg Industry Group released a pay study last week that suggests big changes are needed.
The median salary of women employees 40 and over is about $5,700 less than that of men in the same age bracket. Workers of color over 40 make about $7,000 a year less than white employees in the same age group.
The study also showed that overall, workforce demographics skew white.
Workers made a series of recommendations, including annual compensation audits, with results shared with the Guild, employees and the public. Managementshould immediately establish procedures to address hiring and retaining a diverse workforce and should create and maintain guidelines for hiring managers and recruiters, including sources (such as professional associations and colleges) through which diverse candidate pools can be drawn.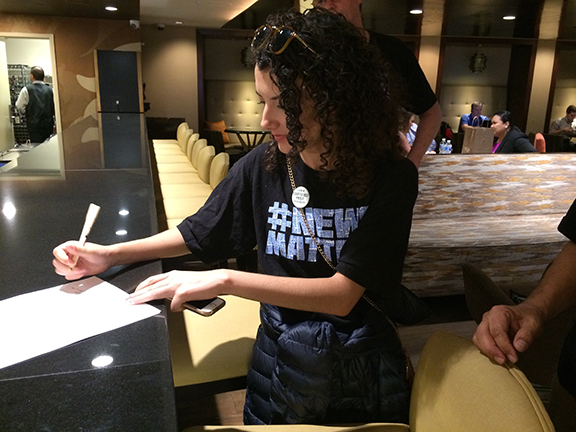 Members of the Denver Newspaper Guild are holding the Denver Post accountable – not just for the brutal cost cutting and layoffs we've come to expect from the Alden Global Capital-owned publication – but for the paper's role in perpetuating "systems of racism and inequality" and to find solutions.
Following the killing of George Floyd, a group of journalists – many of them women and women of color – obtained support from the local union for the effort and came up with action items. Denver's newsroom management and human resources staff were invited into the discussions, and, together, the group drafted a letter about the newspaper's strengthened commitment to diversity, which they planned to publish in print and on the website.
But they soon learned that Alden wouldn't allow the paper to publish it. Alden executives, who serve on the board of the Post's parent company, MNG Enterprises, wouldn't allow any mention of past wrongdoings.
Undeterred, the Denver Newspaper Guild posted a new version of the group's letter to readers on its website, and also described Alden's refusal to publish it, under the headline, "Long overdue: Denver Post union commits to diversifying newsroom, coverage."
"We did it anyway, as we always do," said Elizabeth Hernandez, one of the leaders of the effort.
"We are committed to reversing the inherent structures in journalism that have excluded marginalized communities for generations," the letter to readers says. "If Alden Global Capital won't let us use The Denver Post's platform to tell you this, the union will use its own."
The response from readers has been extremely supportive.
We recently launched a series of training workshops for union members, covering a variety of topics. At 7:30 p.m. EDT on April 26 we'll hold a session on Requests for Information, the first in a series on the legal rights of stewards. Upcoming topics include Just Cause on May 24 and Past Practices on June 28. Sign up here. On this front, Jane McAlevey is hosting a panel on May 6 with the UC Berkeley Labor Center to look at case studies of successfully building power. Workers from both Law360 and the L.A. Times will participate. Register here.
Mark your calendars! The CWA announced last week that its 2021 Convention has been rescheduled for Oct. 18-19, 2021, in New Orleans, which means The NewsGuild's Sector Conference will take place on Oct. 15-16. We're hoping that these new dates will allow people to gather safely in person. That depends on vaccination rates, variants and caseloads. I hope it will be safe enough for us to meet in person in the fall!
The HuffPost Canada Union is demanding fair severance for some long-term and contract workers after BuzzFeed bought and then abruptly shuttered HuffPost Canada's operations last month. As a result of the closure – just weeks after workers announced they were unionizing – more than two dozen workers lost their jobs and Canada lost one of its most highly regarded digital media outlets. Union members are calling on community allies to join them in demanding BuzzFeed honor the invaluable contributions of contract workers and workers with over eight years of service.
On the legislative front, the next likely bill to move is a bipartisan one that would provide tax incentives to retain workers, tax credits for subscribers and tax breaks for local businesses to advertise in local media. It's H.R. 7640 and will likely be reintroduced this year soon. We're pushing to strengthen it, especially when it comes to hiring and retaining local news employees.
Finally, yesterday we strongly condemned the attacks by police on journalists covering protests over the weekend in Brooklyn Center, Minn. Police defied a federal judge's temporary restraining order that prohibited police from arresting, threatening to arrest, or using physical force against journalists. Even after journalists identified themselves, police physically attacked and arrested them. This brazen behavior violates the U.S. Constitution and undermines the very fabric of our democracy.
Let us do our jobs.
In solidarity,
Jon Schleuss
President, NewsGuild-CWA