On Monday, Canadian Media Guild members at TVO, the Ontario public broadcaster, spent 10 hours in bargaining pushing management on the two major sticking points: wages and protections from precarious work. They didn't get a deal, but made progress.
Last Wednesday I flew up to Toronto to rally alongside our members and other unions calling on the Ontario government to Fund TVO "Like it matters!" I got to meet many of the 74 strikers in my trip and many have worked for TVO for years in either the journalism, education or kids departments. For folks who grew up in Ontario, many know TVO Kids as the station they grew up with.
So, you need to meet Polkarunion, the official mascot of the TVO strike.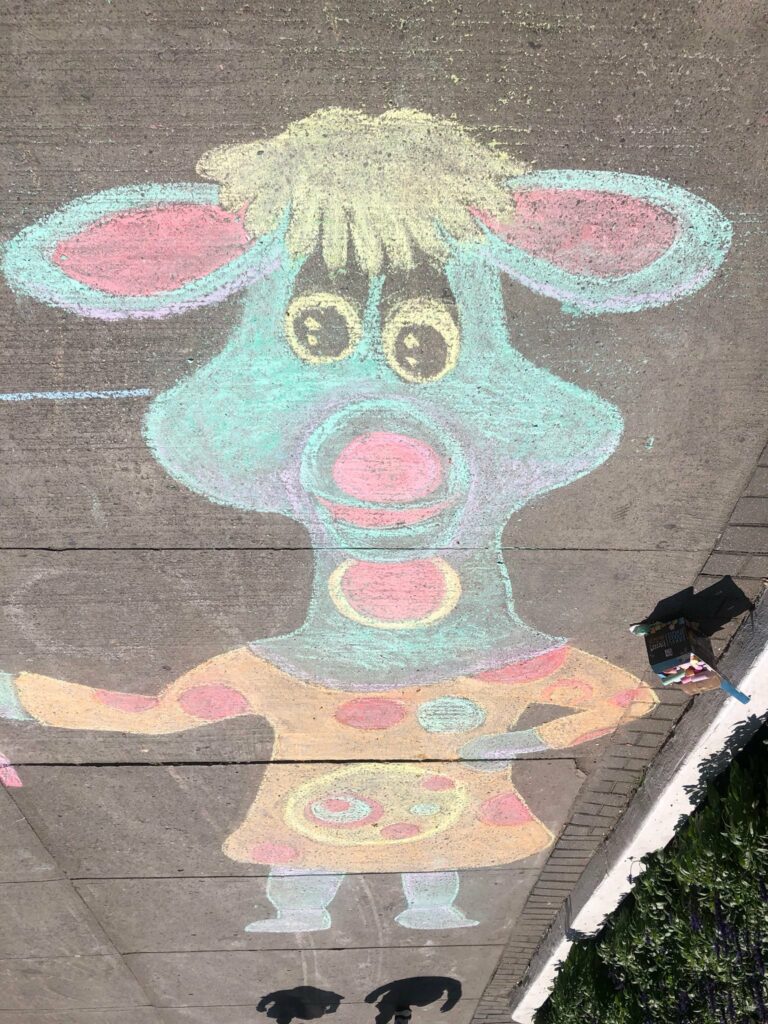 Polkarunion is Polkaroo, a tall, green animal resembling a kangaroo in a multicolored muumuu. The character appeared on the show Polka Dot Door from 1971 until 1993, and only spoke its name to communicate. Think "I am Groot" or "Hodor." In the early part of the show Polkaroo would appear when the show's hosts were absent then disappear when the hosts returned, with them asking "The Polkaroo was here?!?"
Monday's bargaining left members wondering, "where is TVO management?"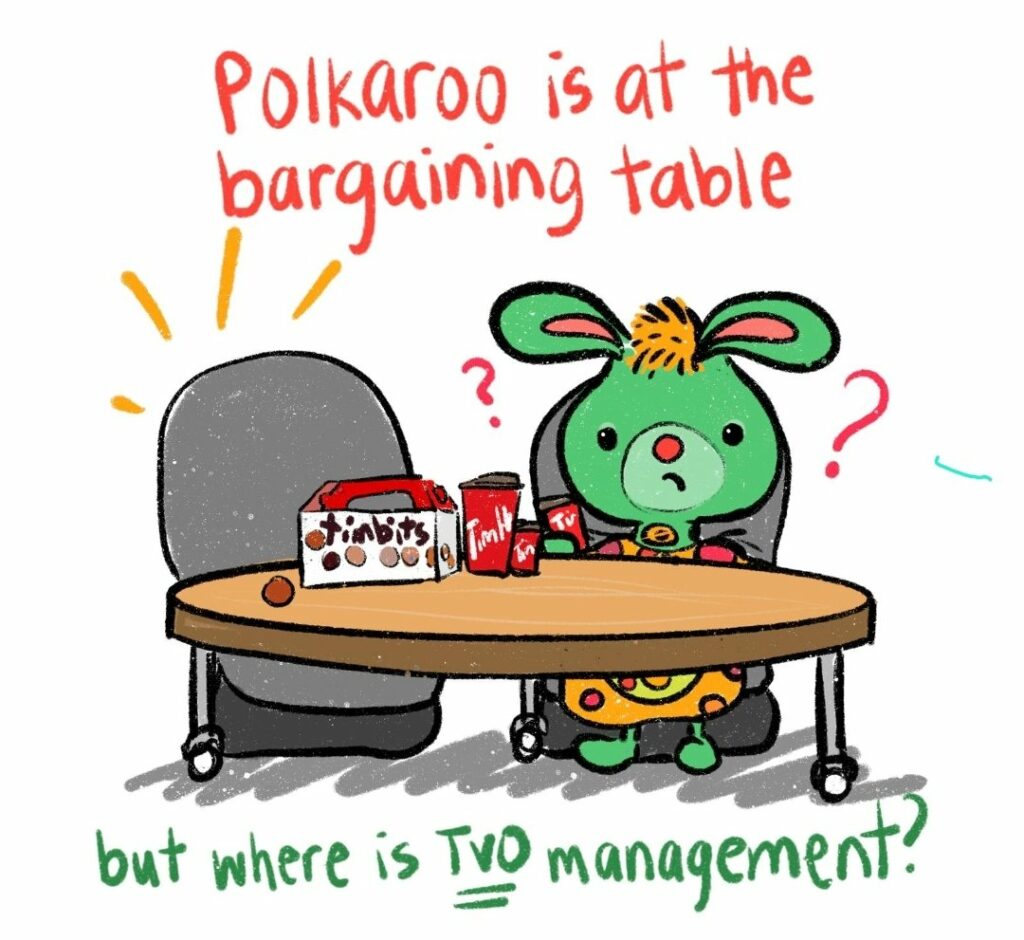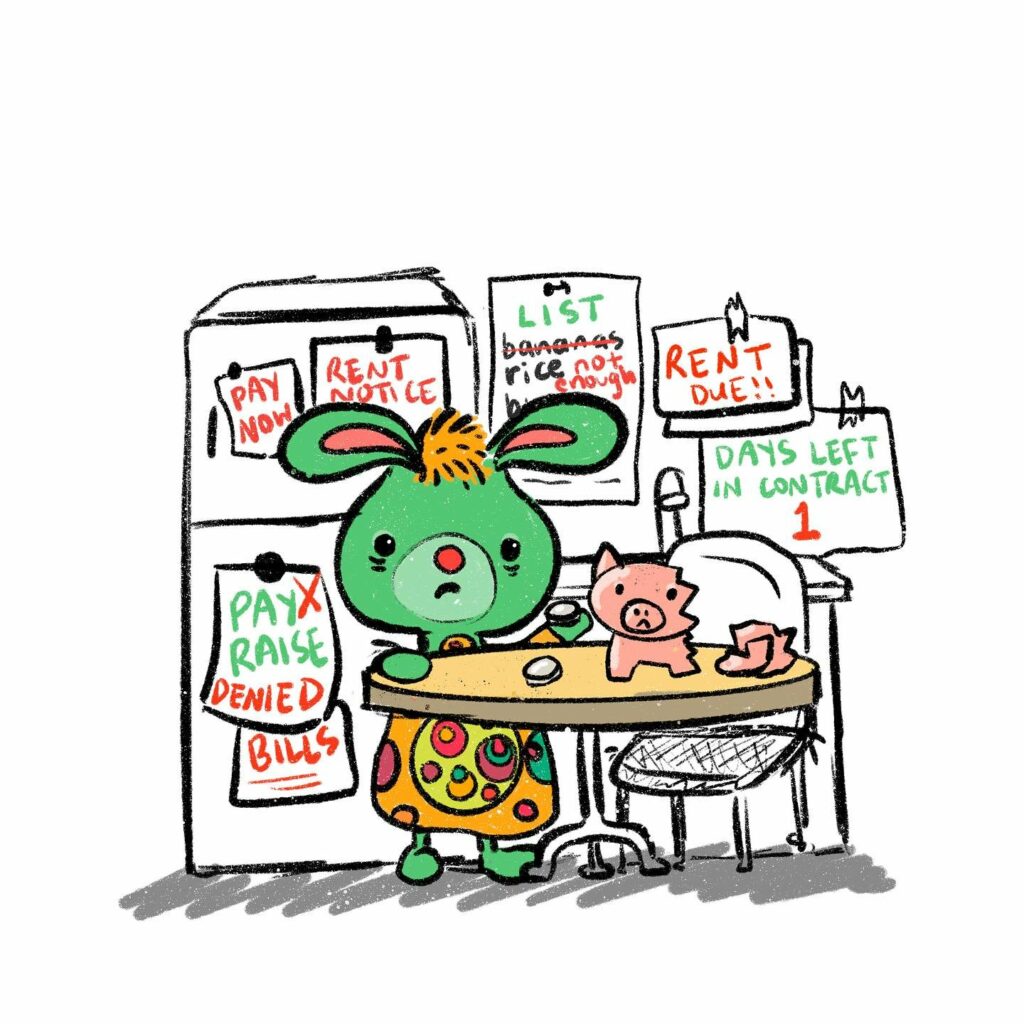 TVO management resisted moving on wage increases or dropping their insistence that temporary hires be kept temporary forever. Management has also refused to agree to binding arbitration to resolve these last two issues.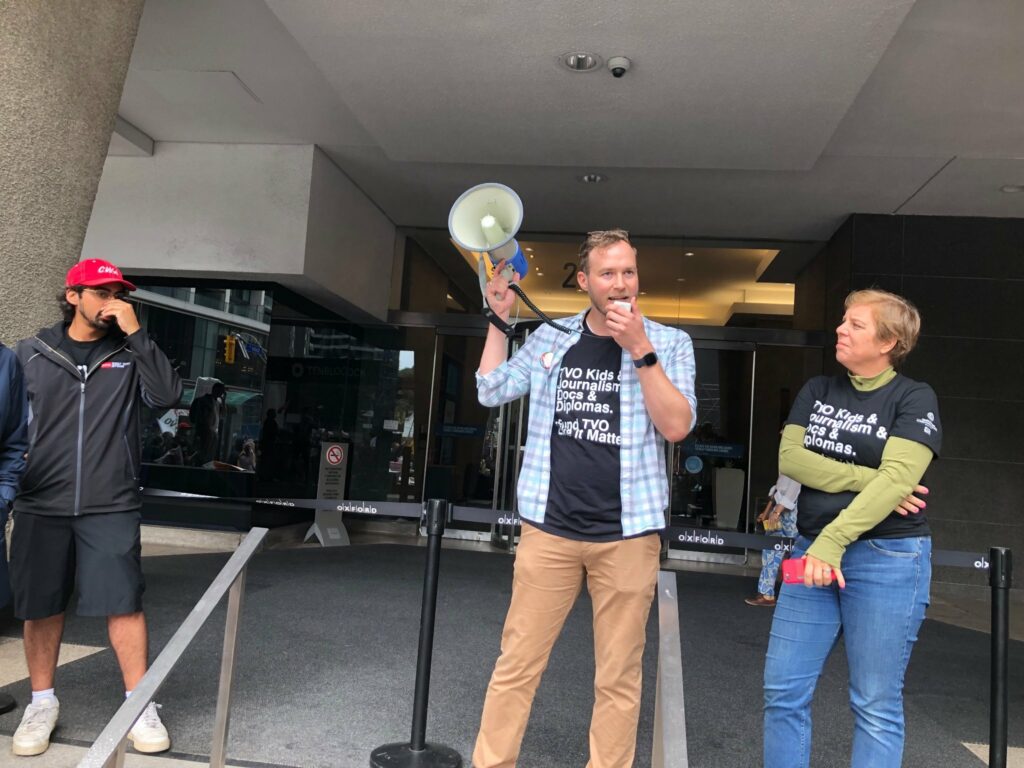 A big part of my message was about our shared struggle. That TVO's strike is the 28th strike of NewsGuild-CWA members this year and shows that journalists and media workers will do whatever it takes to get a fair deal. TVO workers joined the two dozen striking Gannett newsrooms, Insider, the Pittsburgh Post-Gazette and others, heading to the picket line.
Yesterday, I spoke with Justin Chandler, the Hamilton and Niagara reporter at TVO, who's been a "temp" for three years without benefits, and he was upbeat entering the second week on strike.
"I'm still hopeful that TVO management and members can come to a fair deal and I'm heartened that our membership has come together and shown unity and gotten really tremendous public support," he said. Last week TVO strikers were joined by strikers at Metro grocery stores, where more than 3,700 workers have struck since late July. At the rally I attended on Wednesday CMG President Annick Forest spoke alongside leaders from CUPE, the Society of United Professionals and other Canadian unions.
"We've got momentum and we're going to keep fighting for a fair deal for us and the future of the organization," Justin said. "What we do is really valuable and worth standing up for."
"We won't back down on important issues like job security."
Be sure to support TVO strikers by donating to their strike fund.
And thanks to Washington-Baltimore and the NewsGuild of New York for sponsoring striker lunches this week! If your local can sponsor lunch, please coordinate with Elyse Endlich by reaching her at eendlich@cwa-union.org.
Our members in Pittsburgh are entering the 11th month on strike soon to some big news. They've raised more than half a million dollars towards their strike solidarity fund. Thank you to everyone who's contributed! The official tally this week stands at $514,000 raised and just over $470,000 has been paid out to Guild, CWA and Teamsters members to cover everything from a broken gas line to monthly bills, pet food and rent and mortgage payments. We have made sure every striker has stayed in their home and remained protected during this strike. You can contribute through the Pittsburgh Union Progress.
Tomorrow I'm driving back to Pittsburgh this weekend to support our strikers and for a "throwback" fundraiser at Bottlerocket Social Hall Friday and Monday's Labor Day Parade. I hear it's one of the biggest in the country. We're continuing to push for a resolution here and our strikers are continuing to hold the Blocks to account for their blatant violations of federal law.
Labor Day in the states and Labour Day in Canada is Monday! Many Guild members are marching in parades or grilling out at a park. Workers from New York City to Toronto to Toledo and Pittsburgh will be marching. Find the whole list of activities for next week and let me know if I'm missing anything you are planning to do.
The National Labor Relations Board sided with NYT Tech again! Workers filed an unfair labor practice charge against Times management over them trying to force workers back into the office. The NLRB region found merit that the company violated federal law by not bargaining over the issues. Workers sent cease-and-desist letters to management over its new policies last week. And a hundred members of the unit participated in a Slack action three weeks ago demanding more bargaining time. The board will go to a hearing if management drags its feet and doesn't agree to a settlement with the workers.
"What we want is a RTO [return to office] plan, or lack thereof, that is bargained as part of a complete agreement with our contract," said Goran Svorcan-Merola, an iOS developer for the Times' games department, in speaking with Axios who got the scoop.
Grindr workers need our support. Yes, workers at the gay-dating app went public with their union campaign in July and management responded by trying to force everyone back into one of two offices in New York or Los Angeles. Many workers started working remotely during the pandemic and this is clear union-busting behavior. Workers put together a video explaining the situation and how its impacting their lives and their families. I joined their organizing committee to support them and let them know that this is the same union-busting behavior companies have used since the 1940s. We're seeing it at the New York Times, we've seen it at the L.A. Times and we see it at nonprofit employers too. Let's rally around these workers. Join me in signing their petition.
Our family at AccessMatters just ratified their first contract! Workers at the Philadelphia-based reproductive health nonprofit organized in December 2020 and have been bargaining for the last three years. AccessMatters workers won annual wage increases of 3.5% a year, sabbaticals, extensive racial justice, immigrant and disability rights articles, expanding the definitions and protections for those workers. They also better clarified workloads and supervision to make sure that management is holding up its responsibilities to the workers. Congratulations to the AcessMatters workers and The NewsGuild of Greater Philadelphia TNG-CWA Local 38010!
Minutes ago Education Week workers announced they're unionizing. Joining the Washington-Baltimore NewsGuild, workers wrote, "we believe that all children deserve high-quality education, and that Education Week empowers educators to make that happen."
"We also believe that having a strong, diverse, and unified company makes it possible for us to do our best work," they said. Be sure to follow them on Twitter. Yeah, I'm not calling it the letter.
I joined America's Work Force Union Podcast yesterday. Flash, the host, and I spoke about the inappropriate raid on the Marion County Record newspaper, the TVO and Pittsburgh strikes and how police have actively worked with management to try and break out strike lines. AWF is a great podcast covering the labor movement with many leaders speaking about issues happening across the continent. Be sure to give it a listen.
You need to see this front page by The Daily Tar Heel. The student-run newspaper at the University of North Carolina at Chapel Hill covered the shooting their campus experienced on Monday when a graduate student shot and killed his faculty advisory. They compiled text messages sent and received by UNC students. That led their cover.
Finally, the U.S. Treasury Department released a first-of-its-kind report on the BENEFITS of unions. Who knew, right? The report found that middle-class union workers raised their wages by 10% to 15% and improved other benefits like retirement, predictable scheduling and creating workplace grievance policies. That positive impact spills over to non-union workers, the department wrote, creating competition that raised wages and benefits for all workers. The government also said unions reduce the race and gender wage gaps.
Stay tuned for some really exciting news coming about a larger plan we've got to continue to fight for pay equity in the Guild and CWA.
Have a good week and make plans for Labor/Labour Day!