Earlier this month I wrote about NewsGuild Strong — a union-wide effort to make our union more democratic and member-driven. This is a progression of what I've been doing over the last year on the job.
If we plan to fully organize more workers and get first contracts we will have to practice the Organizing Model, which means every member must own their union. Stewards are key. We have to make sure there's an infrastructure and network across the entire Guild: one steward for every 10 members.
It also means we have to run aggressive contract campaigns that use collective action to build our power. And we must build up to be strike-ready. Too many companies are taking advantage of us: forcing concessions while they do deals with hedge funds and reward themselves with bonuses and wild executive pay.
And finally, we have to bring the community into the fight to protect journalism, building off the Save The News and Save Local News campaigns.
Read more about NewsGuild Strong here. I've worked with others to develop a list of definitions and FAQs so we can be clear what we're talking about when we say "member-led" or "steward network." Check it out and let me know what you think.

The Latino Caucus at the Los Angeles Times Guild held an open house for journalism students on Feb. 6 to rave reviews. Eight separate panels discussed sports journalism, arts and entertainment reporting, audience engagement, the art of writing and editing, politics, immigration, and more.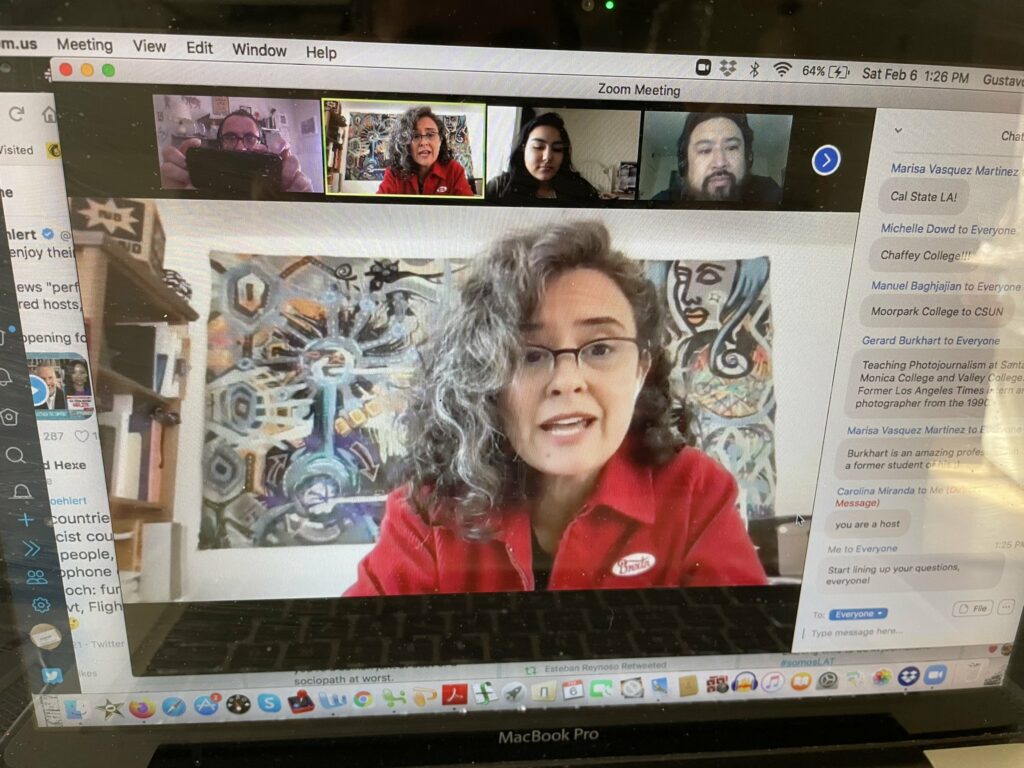 Tips from the three-hour event included pithy comments like this one from @marielgarzaLAT: "Kill the adjectives. It's all about the verbs." And this one from @StevePailla2: "Great reporting gives you great writing."
Follow the great work of the caucus @LATLatinoCaucus on Twitter.

What a few weeks it's been!
Employees at the progressive digital news site Daily Kos announced the creation of the Daily Kos Guild on Feb. 8, saying the organization's management had agreed to voluntarily recognize their union. They are joining the Pacific Media Workers Guild.
Employees of The Desert Sun in Palm Springs, Calif., voted to unionize last Wednesday. The Desert Sun NewsGuild, which is part of the Gannett chain, joins the Media Guild of the West local.
And several new groups announced union campaigns in the last few weeks.!
On Feb. 5, more than 80% of editorial workers at the New York Daily News, the city's iconic newspaper, requested voluntary union recognition from their parent company, Tribune Publishing. They'll be part of The NewsGuild of New York.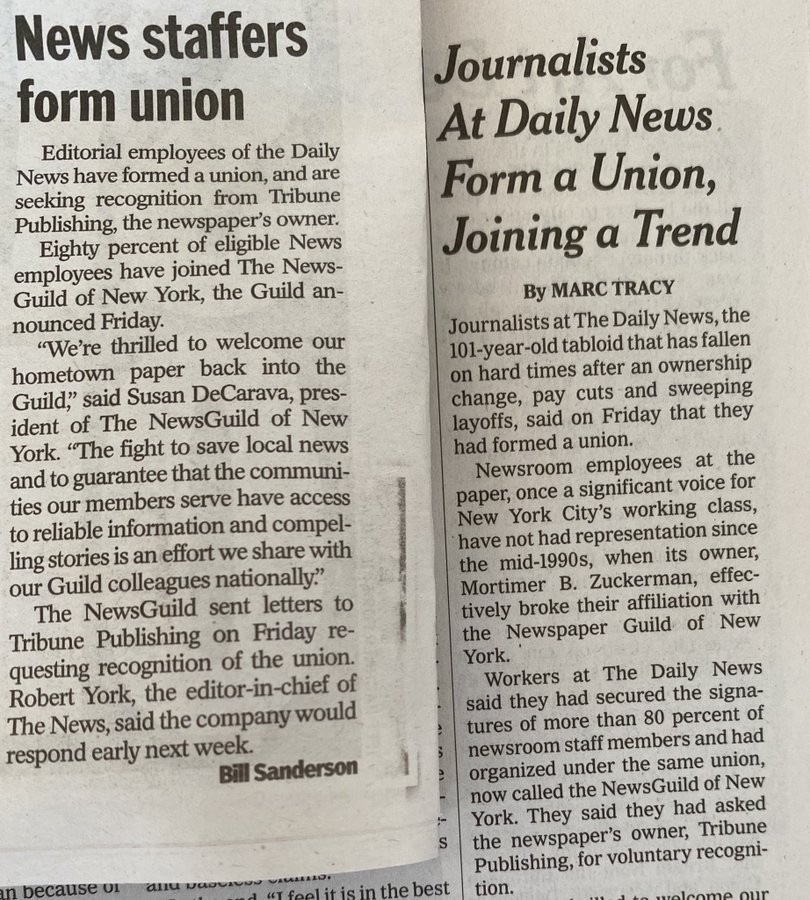 Daily News staffers were represented by the Guild until the mid-1990s, when then-owner Mort Zuckerman launched a concerted campaign to break the union, so this drive is especially exciting. The Daily News is a shadow of its former self, but the journalists are still fighting to keep New York's hometown newspaper strong.

Two days later, journalists at three Gannett-owned New Jersey publications — the Bergen Record, the Daily Record and the NJ Herald — announced that they are forming The Record Guild as part of the New York local. With nearly 90% of eligible staffers signed on, the Record Guild is seeking voluntary recognition from management.
On Feb. 16, comedy educators at the Second City in the U.S. and Canada announced that they are unionizing, with the Canadian contingent joining CWA Canada, which is part of The NewsGuild.
The staff of the ACLU of Missouri announced Feb. 17 that they are unionizing with the Guild, joining the growing movement of nonprofit workers fighting for sustainable, equitable workplaces.

Alden Global Capital, the hedge fund that is notorious in our industry as "the destroyer of newspapers," is pushing forward a takeover of Tribune Publishing and that's bad news for Tribune employees, readers, shareholders and the communities that stand to lose the high-quality reporting they rely on.
The one bright spot is that Alden agreed to sell a group of Tribune-owned publications, the Baltimore Sun Media Group, to the Sunlight for All Institute, a nonprofit led by Stewart Bainum Jr. The Baltimore group includes the Baltimore Sun, Capital Gazette in Annapolis, Carroll County Times and other local outlets.
The sale of the Baltimore publications to a local nonprofit is the result of a relentless 10-month "Save Our Sun" campaign by NewsGuild members, community leaders and philanthropists to protect their access to news. I applaud them all.
Other Tribune units launched similar campaigns and they continue to fight to protect their publications from the Alden predators. They are continuing to reach out to community leaders, readers and elected officials. At the national level, we will continue to support their efforts and fight to save the news.

The Canadian Freelance Guild is building a new form of unionism that's seeking to transform freelancing into a more collaborative, balanced, sustainable way to earn a living.
At a meeting earlier this month, members of the newly formed group outlined plans to form "communities" and adopted bylaws. They're also creating a network where freelancers can find out about opportunities for work and professional development.
Communities will have at least 10 members from a common geographical area or an area of interest, such as 'Food and Travel Writing,' 'Photography' and 'Non-fiction Authors.' The CFG also plans to set up teams to work on advocacy, equity, communications and membership growth.
The CFG is affiliated with CWA Canada, which is part of The NewsGuild-CWA.

In recognition of Black History Month, I want to highlight a Nieman Reports article, which looks at how the Black Lives Matter movement is changing journalism. We must bring issues of diversity, equity and inclusion into our union and our movement.

In solidarity,
Jon Schleuss
President, NewsGuild-CWA