Journalists at the Austin American-Statesman and its six community newspapers announced Wednesday that they are taking steps to unionize the 150-year-old institution.
A majority of the papers' reporters, photographers, columnists and other employees have joined in asking Gannett, the paper's parent company, to voluntarily recognize the Austin NewsGuild.
The effort is part of an industry-wide unionizing wave that has washed over the country – and the Lone Star State. In October, the Dallas Morning News became the first major Texas newspaper to win union recognition in recent history, followed by the Fort Worth Star-Telegram in November.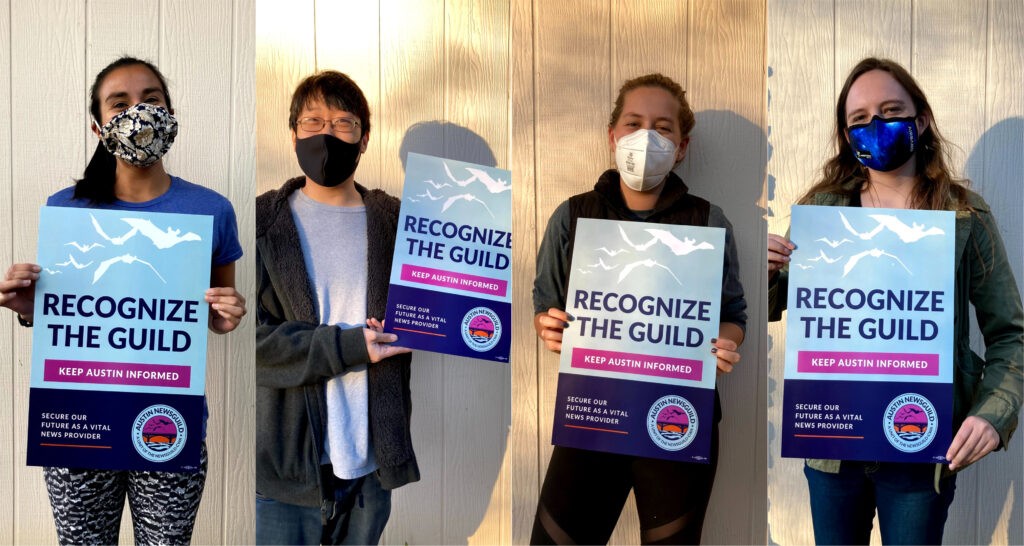 The Austin NewsGuild will work to create stability for the papers' journalists and strengthen the coverage they provide for readers in an increasingly unstable industry, one plagued by budget cuts, layoffs, a lack of diversity and dwindling resources, organizers said.
"No one has a more vested interest than the actual reporters and editors who put out the American-Statesman every day and who take such immense pride in the product," said Kirk Bohls, a sports columnist who has worked at the paper for 47 years. "We want to play a strong role in reshaping the business and hope to lend our creative energy and responsible input toward collectively joining with management to make the paper better on a daily basis for our valued readers."
Courts Reporter Katie Hall said she supports the Guild because it will help build a stronger publication for readers. "We love this paper and understand how important it is for our Austin community," Hall said. "We're ready to help shape its future."
Union members will advocate for increased staff positions, stable benefits, career growth opportunities, anti-racist practices and diverse hiring efforts to give employees the tools they need to produce quality journalism.
Reporters provide "an essential service for their community" and deserve to have their voices heard in their workplace, said Addie Broyles, the Statesman's food writer. "I've seen too many talented journalists take jobs elsewhere and listened to too many of my current colleagues voice frustration that their concerns aren't being heard."
Catarino Vasquez, sports bridge editor, said the loss of talent is precisely why he supports a union. "At the Statesman we work together every day, serving the community by telling stories that need to be told," he said. "It's time we work together to ensure, through unionizing, that we can keep telling those stories at a high standard. We're done losing veterans with institutional knowledge and promising young journalists without a fight."
Editorial Assistant Veronica Serrano, said a union is the best way for employees to speak up to corporate ownership and safeguard the newspaper's future.
"It is unconscionable that in the midst of a pandemic our company continues to cut staff, and forces remaining employees to take on additional responsibilities, many with no additional compensation," Serrano said. "Having a collective bargaining unit is the only way for us to have a voice to address these and many other grievous wrongs, and will give us a chance to fight for our newsrooms and restore the balance of power for future generations."
Follow the Austin NewsGuild on Twitter @AustinNewsGuild or visit their website, AustinNewsGuild.org.