Jan. 25, 2019 – An upsurge in union organizing among journalists and other news industry employees will be the focus of a panel discussion and a question-and-answer session at The NewsGuild-CWA Sector Conference on Saturday, Jan. 26. Video of the session will be aired at about 4 p.m. on Facebook.
"Media workers all over the country stood up last year in the face of increasing attacks on their work and demanded a voice on the job," said Stephanie Basile, TNG's coordinator of new unit organizing. "We look forward to continuing to organize for dignity and respect in 2019."
Activists who led efforts at recently organized units will discuss the lessons they learned, how they built momentum, how their campaigns affected relationships at work, what their victories mean for the future of journalism, and more.
The conference will "celebrate the courage of the newly organized, the resolve of long-time members and the fight for journalism and plans for the future," said NewsGuild President Bernie Lunzer.
The panel will feature:
Kristina Bui, a multiplatform editor at the Los Angeles Times who was a member of the L.A. Times Guild's organizing committee and is now a vice chair and bargaining committee member for the Los Angeles Times Guild.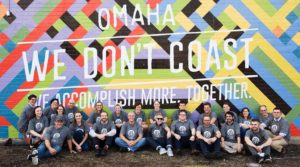 Kiley Cruse, a 24-year employee of the Omaha World-Herald who was a member of the OWH Guild organizing committee, which won union recognition last summer.
Tessa Duvall, a reporter at the Florida Times-Union who was active in the Times-Union organizing committee.
Danielle Nichole Smith, a reporter at Law360 who served on several union committees and helped lead the two-year fight to win a great first collective bargaining agreement.
The panelists will be joined during the question-and-answer session by:
Billy Cox, a journalist for 42 years who helped start the Sarasota Herald-Tribune Guild in September 2016, and whose unit negotiated its first collective bargaining agreement in November 2018.
Lainna Fader, who leads audience development at The New Yorker, was on the organizing committee of the New Yorker Union and is now one of the unit's vice chairs.
Charlie Johnson, a homepage editor at the Chicago Tribune, was the first person to broach the idea of unionizing the paper in 2017 and worked with other young staffers to get the effort off the ground.
Brock Vergakis, a reporter at The Virginian-Pilot in Norfolk, helped organize the Pilot, the Daily Press of Newport News and community publications into the Tidewater Media Guild, where he now serves on its executive and bargaining committees.
Gary White, a feature writer and general-assignment reporter at The Ledger, in Lakeland, Fl., was active in the Ledger organizing committee.