There's no denying it: 2021 was a bang-up year for NewsGuild union organizing. Journalists, staffers at nonprofits and employees of publishing houses stood up in record numbers and demanded a voice at work.
In all, 2,128 workers fought for and won union recognition at 42 new workplaces.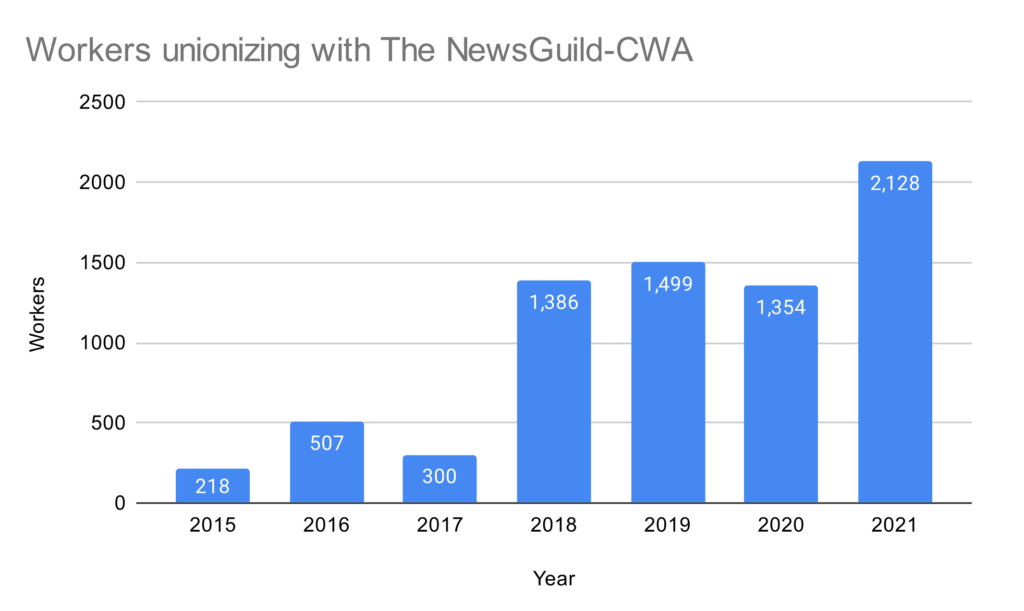 But the numbers don't tell the whole story. NewsGuild members embraced a new sense of empowerment, engaging in increasingly militant actions when management stalled, violated labor law or refused to bargain. 2021 was the year of workers demanding more respect and NewsGuild members played an active part.
After two years of negotiations, a spirited picket and a campaign to win public support, a five-day strike by members of the Wirecutter Union forced management at the New York Times back to the bargaining table and yielded a strong first contract.
NewsGuild members at The New Yorker, Pitchfork and Ars Technica reached agreement on historic first contracts with Condé Nast, the publications' parent company, after very nearly going on an open-ended strike. Before their strike vote, they mounted a long pressure campaign that included a one-day walkout in 2020, support from Sen. Elizabeth Warren and Rep. Alexandria Ocasio-Cortez, and a large noisy protest near the home of Anna Wintour, the fashion maven who is also the company's chief content officer.
The threat of a strike — with 97% of members of Ziff Davis Creators Guild voting to authorize the work stoppage — resulted in a first contract for workers at AskMen, PCMag, and Mashable.
After two years of negotiations the workers at the Daily Hampshire Gazette ratified their first contract, protecting against outsourcing and increasing wages.
There were other signs of elevated struggle as well: byline strikes, work-to-rule campaigns, wins at the NLRB, pickets, protests and progress building community alliances.
Throughout 2021, the Guild focused attention on organizing across the nation's biggest chains, such as Gannett, Tribune, McClatchy and Lee Enterprises. NewsGuild workers fought for proper overtime pay, a legit mileage rate, company cell phones. They also fought to protect jobs, defend local news and keep predatory hedge funds at bay. Organizing together is how we build our power and raise our standards.
We made big legislative strides in 2021, like expanding the Paycheck Protection Program to save thousands of jobs and winning bipartisan support for the Local Journalism Sustainability Act to further invest in local news jobs.
We continued the fight for pay equity and won contract language that will increase diversity in the workplace at several sites.
And we launched an ambitious training program for stewards, member organizers and activists. You can always find upcoming training on our calendar.
But there's still so much to do! Faced with an unforgiving pandemic, assaults on democracy, the near collapse of local news, and the persistence of owners who put profit over providing the news coverage our readers deserve, we will need to up our game in 2022!
Workers unionized at these places in 2021
Loveland Reporter-Herald
Desert Sun
Austin American-Statesman
Washington State McClatchy Papers: Tacoma News Tribune, Olympian, Bellingham Herald, Tri-City Herald
Second City Canada
America Votes
ACLU Missouri
Shape
People TV
Entertainment Weekly
Martha Stewart Living
Planned Parenthood PA
The State
Beacon Interfaith Housing Collaborative
Minnesota Council of Nonprofits
New York Daily News
Fair Vote Minnesota
Bergen Record
MinnPost
The Appeal
Longview Daily News
Kansas City Star
St. Paul Federation of Educators
The Atlantic
Institute for Policy Studies
Southern California News Group
Centro de Trabajadores Unidos en la Lucha
Insider
ACLU Minnesota
RAICES
Forbes
Democracy Works
Atlantic Digital Optimization Team
New Era Colorado
Washingtonian
Independent American
Journal News, Poughkeepsie Journal, Times and Herald-Record (Lower Hudson Valley)
Oxford University Press
San Francisco Chronicle Developers
Asbury Park Press, Courier News and Home News Tribune
Politico, E&E News
ACLU Virginia
And workers are still fighting for union recognition at these six workplaces:
Daily Kos
Colorado Legislative Aids
Duke University Press
New York Times Engineering & Tech
Kent Record-Courier
Change.org Canada
Big Green
Illustration at top by Tamara Chevlen, honorary NewsGuild member.