Updated Dec. 11, 2019, to include statement from Bernie Lunzer.
Dec. 10, 2019 – Jon Schleuss has won the election for NewsGuild-CWA president by a vote of 1,979 to 1,514, unseating incumbent Bernie Lunzer.
"I could not be more honored, humbled and inspired by the faith and trust my fellow Guild members have placed in me," Schleuss said in a statement, after the votes were tallied. "While I have won the office of President of the NewsGuild, the real winners here are the members who organized, mobilized, and claimed the future for their union and for themselves."
Ballots were counted on Dec. 10, following a re-run of an election originally held in the spring. Close to 3,500 votes were tallied, compared to 2,303 in May.
Results of the rerun were tabulated in New York City by the American Arbitration Association, which supervised the count.
"I plan to get to work tomorrow to bargain stronger contracts, organize more workers, provide more transparency, and better connect our members and leaders. And I pledge to work tirelessly on behalf of all Guild members, whether or not you supported me in the election," he tweeted after the results were announced.
"I want to thank @bernielunzer for his service to our union and our members. I look forward to working with both Bernie and Marian Needham, our executive vice president, to make this transition as smooth as possible," he added. His term begins immediately.
Schleuss is a member of the Los Angeles Times Guild, where he helped organize the union. The January 2018 union victory at the notoriously anti-union publication helped spark a surge in union organizing throughout the industry.
In the earlier race, Lunzer was declared the winner by a vote of 1,282 to 1,021. Schleuss challenged the election, as did Kamala Rao, president of the Canadian Media Guild local, and others. The Sector Election and Referendum Committee (SERC) opted to rerun the contest.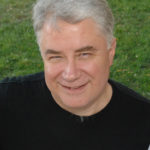 "I have been fortunate indeed to have served the NewsGuild in multiple roles over my career," Lunzer said in a statement issued Dec. 11. "I consider the Guild to be the best hope for the future of journalism and journalists, and all the other workers we represent. I worked to preserve the Guild's identity as a bottom-up, democratic union. Please continue to fight to preserve the Guild. I thank all of you for your support over my period of leading the Guild.
"I am especially thankful for all of the wonderful activists I have known, learned from and worked with. It's their spirit that always got me through. I will continue to help wherever I can in the continued pursuit of fairness, and the quest for justice. Best to you all as I move on."