In a pair of interviews with Midday on WYPR, journalism advocates warned of the dangers facing communities that lose access to local news.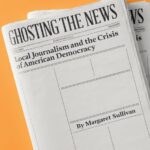 Margaret Sullivan, media columnist for the Washington Post and author of Ghosting the News, said that when the staffs of newsrooms are slashed, "You no longer have the people who can devote themselves to investigative projects," like the exposé of corruption by former Baltimore Mayor Catherine Pugh.
"You no longer have enough people to go to every municipal meeting and keep public officials honest," she said. "You no longer have the ability to write interesting feature stories or arts coverage."
You lose more than "accountability journalism," Sullivan said, you lose "the glue that helps to hold cities and regions together."
The threat to local news is, in large part, caused by hedge funds that own or control media companies, said NewsGuild-CWA President Jon Schleuss. "Hedge fund extract as much cash as possible out of news companies and dump the remnants of these amazing publications on the side of the road while cutting staff and reducing the coverage that communities depend on."
That's why journalists are trying to persuade hedge fund owners to sell their publications to local owners, Schleuss explained. Employees of the Baltimore Sun joined with community partners and foundations to launch the Save Our Sun campaign to pressure Alden Global Capital and Tribune Publishing to sell the paper to local owners, he noted. Alden controls Tribune Publishing, which owns the Sun and several other papers represented by the Guild.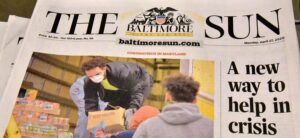 The NewsGuild is reaching out to community leaders and local politicians to advance efforts at the federal level, Schleuss said. The union will be pushing for legislation to provide carrots and sticks to get hedge funds out of the news business, he said.
In addition, he said, "It's critical that we focus on jobs because having journalists in communities is essential to those communities having a voice.
"National outlets can't cover the entire country," he said. It's essential that the people of Casper, Wyo., and Annapolis, MD, have a voice.
Websites devoted to securing local owners for Tribune Publishing-owned newspapers: saveourbaltimoresun.org
savemarylandnewspapers.org
saveourvirginianpilot.org
saveourcapitalgazette.org
saveourcourant.org
saveourdailypress.org
saveourmorningcall.org
saveourtidewaterreview.org
saveourvirginiagazette.org
saveoursentinel.org
saveourtribune.org