"According to NewsGuild, there was about a 500% jump in workers joining the NewsGuild union from 2017 to 2018."
Lauren Lindstrom saw the benefits of being part of a union during her four years as a reporter for the Toledo Blade, her first journalism job out of college, a recent study by the University of North Carolina reports.
"I learned first-hand from older journalists what working in a unionized newsroom looks like: Having each other's backs, having more say in your workplace, better working conditions for journalists who have been suffering for years," she said.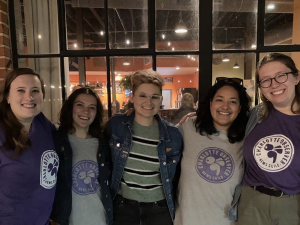 When she joined the staff of The Charlotte Observer, Lindstrom became one of the organizers for The Charlotte Observer News Guild. For her, it wasn't a specific management decision management that motivated workers to organize. "It really was (about) the bigger picture of the place and the precarity of the industry in recent years," she told researchers.
The report by the Hussman School of Journalism and Media analyzes the recent wave of newsroom organizing and focuses on the Guild's efforts over the last five years. More than 6,000 of the Guilds 26,000 members have joined since 2015 at more than 120 newly unionized publications.
"Through bargaining, contracts are able to guarantee union members certain benefits, such as an increase in pay, a guaranteed salary floor, better layoff policies and more," the report notes. Others won "just cause" protections, which require employers to justify decisions to terminate employees. Some have also been able to protect jobs that are often outsourced — such as photojournalists and videographers.
"Additionally, some guilds have used contract negotiations to push for greater commitment to diverse and inclusive workforces." The reports cites contract language won by the LA Times Guild, Montana News Guild and VTDigger Guild.
But the conclusion that captures the Guild's recent successes is this: "Unionization often offers a greater sense of community within the organization and a deeper connection to other journalists." After all, that's the essence of organizing.
"The journalism field is a small network with a lot of turnover — as a result, many journalists know each other. And unionization has lent itself to a more interconnected workforce, as it's common practice for those curious about unionizing to reach out to established unions," the report concludes.
Alison Graham, a reporter at The Roanoke Times and vice chair of the Timesland Guild, told UNC researchers, "A lot of my friends from college had gone to newspapers who had already organized. Personally, I was looking at the Arizona Republic (as an inspiration for unionization) — I had a friend out there telling us about how beneficial the union was."
The connection means that journalists across the country, across beats and across ownership status, can learn from each other and organize together.
As recently as March, when Alden Global Capital attempted to acquire Lee Enterprises,12 guild units representing employees at Lee papers wrote a joint letter to Lee's board opposing the sale, the report points out. The takeover was rebuffed.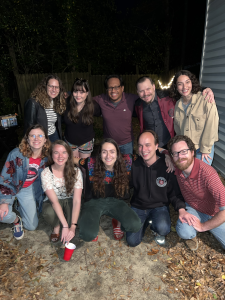 Josh Boucher, unit chair for The State Guild in South Carolina, told UNC researchers, "For journalists — especially for me as a photojournalist… the ability to have a say in the working conditions has been so helpful for us."
Challenges remain. "A union can't change the business model challenges that local news organizations face," the report notes. And staff reductions persist.
"At the end of the day, workers get to decide whether or not they want a voice in their workplace. If they want a voice, we — and that's thousands of journalists — are here to help them," NewsGuild President Jon Schleuss told researchers. "There aren't many journalists left who aren't talking about unionizing.
Photo at top: Members of the Timesland News Guild picketed to demand a fair contract, Monday, April 4, 2022.