April 30, 2020 – The staff of VTDigger, Vermont's largest newsroom, won union recognition on April 28, three weeks after nearly 90 percent of employees expressed support for forming the VTDigger Guild. Leadership of the nonprofit news outlet granted voluntary recognition.
VTDigger Guild members intend to strengthen the online publication as a sustainable model for local, high-impact watchdog journalism and policy reporting. They will join the New Hampshire Local of The NewsGuild-CWA.
The group announced their campaign on April 6, shortly after the outbreak of the coronavirus in the U.S. resulted in widespread stay-at-home and work-from-home orders.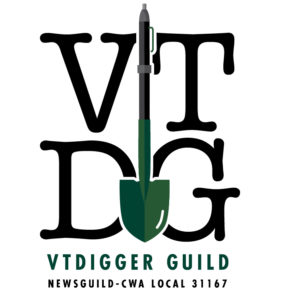 "It has never been more important for rank-and-file newsroom employees to have a voice in the workplace," said education reporter Lola Duffort. "These are extraordinarily difficult times, and we want to partner with VTDigger's board and management as we navigate our way out of this crisis."
Eighteen full- and part-time reporters, photographers, interns, and columnists are a part of the only unionized Vermont-based newsroom.
The group is part of a surge in union organizing among journalists and was the second of three union wins in a two-day period, following the Timesland News Guild, covering the Roanoke Times, and preceding the Idaho News Guild, covering the Idaho Statesman.
Follow them on Twitter @VTDiggerGuild or visit their website, VTDiggerGuild.org.