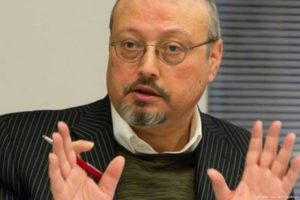 From the Rachel Maddow Show last night: Eric Swalwell was interviewed by Joy Reid on the murder of Khashoggi at Saudia Arabia consulate in Istanbul. 
We now know that the White House cancelled a congressional meeting that was planned to share American intelligence with Congress earlier this week. Swalwell is a member of the House Intelligence Committee. Swalwell called on the Saudis to return Khashoggi's remains to his family and fiancé. He said Congress deserves more information. He said that the FBI should conduct an investigation using its legal attachés in Turkey and Saudi Arabia. He said there should also be a suspension of arms sales to the Saudis until this is resolved. 
Joy Reid pointed out that there are people in Washington on the right that our smearing Khashoggi and Swalwell pointed out that it may originate with the White House. (Personal note – I have seen attacks on the left questioning Khashoggi's past as well.) 
Swalwell reminded viewers that President Trump had praised his congressional colleague Representative Richard Gianforte for "body slamming" a Guardian Reporter and Guild member last year. He pleaded guilty to assault. He reminded Joy that he introduced the Journalist Protection Act earlier this year to protect reporters and that others in congress are seeking ways to protect journalists. (The NewsGuild and CWA supports the Journalist Protection Act.) 
Meanwhile the Saudis continue to say that the killing of Khashoggi was an accident even though a team of 15 Saudis had arrived in Turkey prior to Khashoggi arriving at the consulate. They had a "forensics expert" among them who came with a bone saw. Intelligence chatter shows that Khashoggi was lured to the consulate where the Saudis had planned to "detain" him. 
Journalists continue to be harmed or threatened worldwide with impunity, but this case shows a direct state-sponsored murder of a reporter.