Subscribe to the Guild's newsletter here.
Workers at the Chicago Reader took to the streets to save their publication. Last Tuesday they tweeted "We won," after co-owner Len Goodman stepped down, ending his attempt to delay the publication's transition to a nonprofit.
Workers channeled their outrage and mounted a strong campaign to win support from readers, community leaders, artists and others they cover.
"Within the next few weeks, what remains of the for-profit Reader will run out of money," they wrote in an April 14 op-ed in the Chicago Tribune. "Most of the Reader's 35 workers make around $45,000 per year, and now a rich man thinks we should fear for our jobs because we dared try to correct his mistakes."
They also drummed up an impressive number of signatures for two open letters and petitions. The letter from journalists netted more than 400 signatures. And the workers organized a rally outside Goodman's home that got big participation and extensive coverage in the local news.
Reader workers proved that collective action gets the goods!
Arizona Republic Guild's April 25 bargaining session was an impressive show of solidarity with more than 230 folks showing up from across Gannett to support them.
Members presented their pay proposal and delivered powerful testimonials about the challenge in trying to stay at a Gannett newsroom while being paid so little. Some journalists drive for Lyft or work nights bartending.
One job should be enough.
"We're not asking for anything other than fairness," said columnist Greg Moore, after a series of slides showed there's been no reduction in pay disparities for women and people of color since last year's pay study.
The Guild's presentation showed that 60 journalists – roughly 50% of the Republic newsroom – had left in a little more than three years. "It's not some grand mystery. We don't need to put our investigative reporters on this… If we're looking for the answer to retention, it's to pay people what they're worth," said reporter Joshua Bowling.
Staffers at the Pittsburgh Post-Gazette won big when the NLRB's regional office issued a long-awaited complaint against P-G and its parent company, Block Communications, for bad-faith bargaining last week.
The board said the company "bargained with no intention of reaching agreement" by "insisting upon proposals that are predictably unacceptable to the union." It ordered the company to attend a hearing before an administrative law judge in September to respond to the charges.
The ruling substantiates what we've been saying for years: The Block family has not bargained in good faith. They prefer to spend millions of dollars fighting with their journalists than investing in them.
Los Angeles County's sheriff violated the U.S. Constitution in announcing an investigation into an L.A. Times reporter, before dropping it after pressure. L.A. County Sheriff Alex Villanueva announced at a press conference that he was investigating LA Times reporter Alene Tchekmedyian for reporting on allegations that he ordered a cover-up of an incident where a deputy kneeled on the head of a handcuffed inmate. (That's Alene he's pointing at in the photo below.)
The sheriff walked back his accusations after outrage from the Media Guild of the West, many press freedom groups and newsroom management. MGW built a coalition with other journalism associations to push back against the sheriff. The Reporters Committee for Freedom of the Press also hit the sheriff with even more organizations pushing back.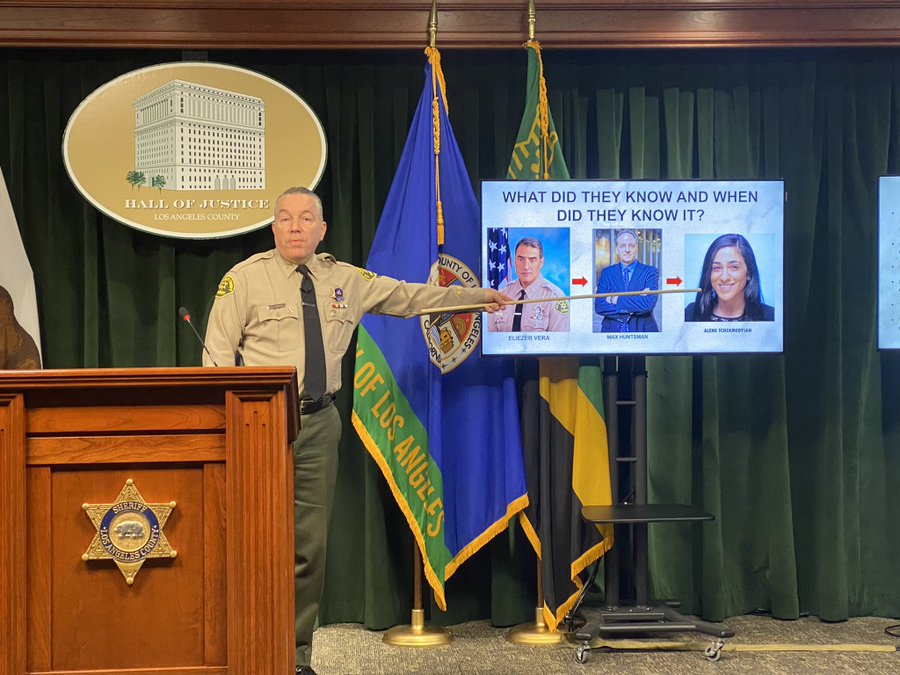 Our request to the Pulitzer Prizes gained a lot of traction! Ten days ago, more than 50 journalism organizations joined us in asking them to make reporting on newsroom diversity a requirement for award eligibility.
And then on Friday we announced that 100 more organizations had signed on, in addition to more than 220 individuals, which included former winners and judges.
We've asked the Pulitzers to announce their intent on or before the unveiling of awards on May 9. That will give the group more than a year to figure out how to implement the new requirement. We also offered our help to make it a reality.
So if diversity and transparency in our news organizations matter to you, please sign on now. Add your name here.
Congratulations to Idaho NewsGuild members! Last week they tweeted, "Two years ago tomorrow, we watched the NLRB tabulate the unanimous votes by members of the @IdahoNewsGuild to join a union. Tonight, our bargaining unit reached a tentative agreement with @mcclatchy and recommended approval by our membership. Voting will take place in May!"
They secured:
At least 9.9% raises for every full-time member
Every current journalist will earn at least $48,000 a year Guaranteed raises in the second and third year of the agreement
Strong protections against outsourcing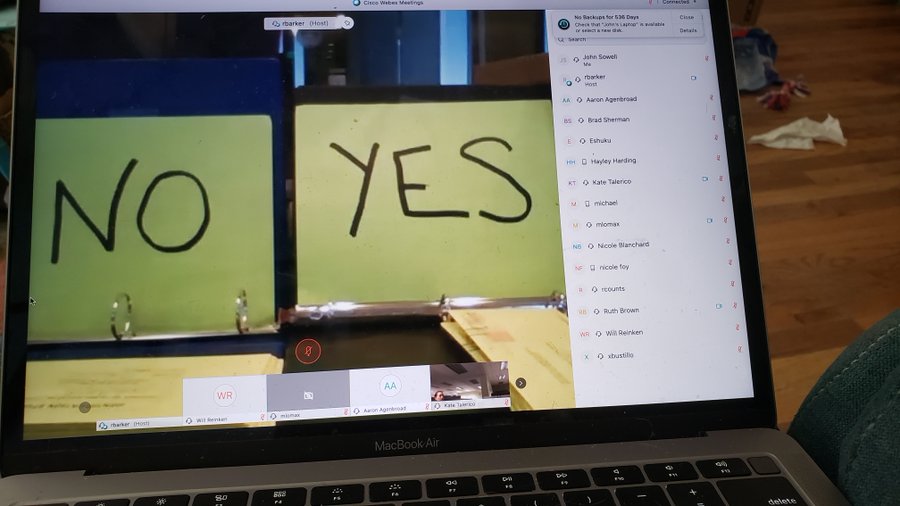 Texas' three unionized newsrooms logged off for a one-hour lunch break last Tuesday to demand fair first contracts together.
Although they're owned by different companies, workers at the Dallas Morning News & al Día (Dallas News Corp), Austin American-Statesman (Gannett) and Fort Worth Star-Telegram (McClatchy) are facing similar stalling tactics from management: delays at the bargaining table, rejected proposals without thoughtful counters and ignored union rights. Management is working from the same playbook.
But our playbook is leveraging power through solidarity or, as the Texas units called it, y'allidarity! That's why we unionize with others in the first place, because we are stronger together!
Members of the Newspaper Guild of Detroit have been raising awareness about their fight for quality local journalism and a fair contract. Over the weekend they passed out flyers at a documentary film festival produced by the Detroit Free Press. Workers at the Free Press, Detroit News, and Observer & Eccentric are telling Gannett to invest in their journalists. Support them by signing their petition.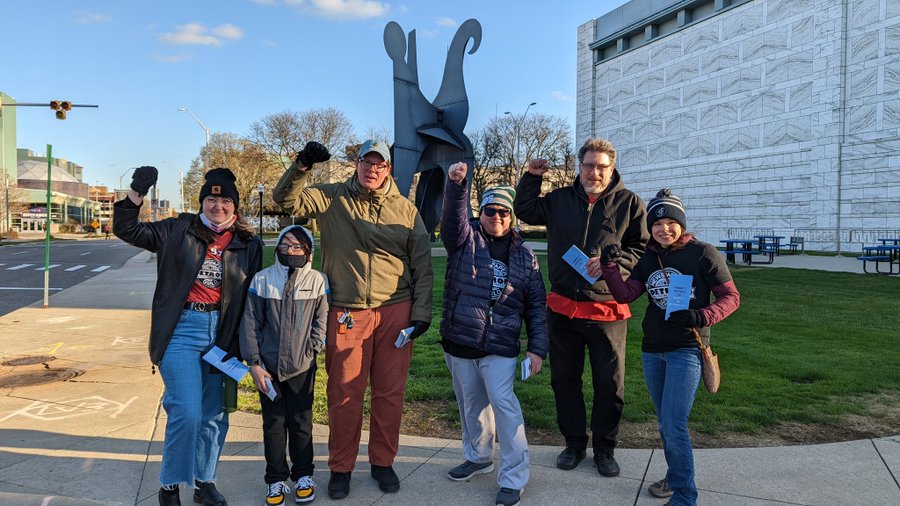 500+ workers across Condé Nast's iconic brands — Allure, Architectural Digest, Bon Appétit, Epicurious, Condé Nast Traveler, Glamour, GQ, Self, Teen Vogue, them., Vanity Fair, and Vogue — delivered a petition to management demanding voluntary recognition of Condé Union one month after they announced their organizing campaign. More than 15,000 people have signed. If you haven't already signed, it's not too late!
Consolidation is killing local news. It was Gannett & GateHouse in 2019, Alden Global Capital and Tribune Publishing in 2021, with more mergers likely on the horizon.
So, we submitted comments to the Federal Trade Commission and the Department of Justice last week as they plan to revise the way they evaluate mergers to improve government oversight and prevent anti-competitive deals. We called on them to review news industry megamergers by examining how they negatively impact workers, readers, the communities we serve, local reporting and U.S. democracy.
We've some great training sessions scheduled over the next two months. Check them out! See all events on our calendar.
Steward Training Module 3 – A Communication and Educator, 6-8 pm ET, Tues, May 3. (You can sign up for this and upcoming modules even if you missed the previous ones.) Register here.
Moving Your Coworker to Action, 9-10 am ET, Tues, May 3. Register here.
Effective Meeting Facilitation, 6:30-7:30 pm ET, Wed, May 11. Register here.
I'll be at Labor Notes! Will you? If so, let us know by filling out this brief form so we can stay connected before and during the conference. Learn more about the conference here.
Guild members were in the news last week — here's a roundup of stories about the fights we've been waging.
In solidarity,
Jon Schleuss
President, NewsGuild-CWA