Subscribe to the Guild's newsletter here.
First, I hope you have been staying safe! After about two years of avoiding COVID, I came down with it along with several others (in unrelated gatherings). The pandemic is still very much here. Please take steps to get vaccinated, boosted, test yourself regularly if you can and wear a mask if you're around other people indoors. I luckily healed quickly, but know many who are still suffering from the lingering effects of the virus. So, please take care of yourself and each other.
Could the chance to win a Pulitzer motivate news organizations to be transparent about diversity – or the lack of diversity – in their newsrooms? That's the question Meredith Clark, Sisi Wei, I and others have been asking for awhile.
And we were motivated to start asking it publicly after Nieman Lab reported "crushing resistance" to an annual survey by the News Leaders Association, which has been collecting demographic data for more than 40 years. Just 303 of 2,500 print and online news organizations responded for this year's report.
So we started working on a letter and collected signatures from news organizations. We sent that letter to the Pulitzer Prizes on Friday morning. We started with 50 organizations and are now past 120 supporting the effort, including NABJ, AAJA, NAHJ, SPJ, the Ida B. Wells Society, the Writers Guild of America, East, LION Publishers and many many more.
If diversity and transparency in our news organizations matters to you, you should sign as well.
Add your name to the letter here.
Washington Post Guild members released a whopping new pay study and the conclusions are disturbing: "The Washington Post still operates with systems that perpetuate inequalities." The report is full of the outstanding journalism you'd expect from the reporters of one of the country's top news organizations, with plenty of rich context. The study's top-line findings:
While The Post has made some progress closing the pay gap, women and people of color are still paid less compared with their male and white colleagues.
Though the company seems to be making a concerted effort to hire more people of color, it is not retaining them. In 2020 alone, more than 1 in 3 workers who left the newsroom were Black. Fewer than 1 in 5 of those hired that year were Black.
Post staffing has expanded exponentially over the past several years, but from 2016 to 2021, Black employees declined as a share of the business side of the company by 8.3 percentage points, and as a share of the newsroom by one percentage point.

A report from the Post Guild's Black Caucus is packed with powerful and moving testimonials. It begins with the following:
"In the summer of 2020, White America finally woke up. The murder of George Floyd by police on camera forced a painful and uncomfortable reckoning across the country. Our newspaper, The Washington Post, documented those who were protesting and marching and demanding that the nation honestly confront its history of anti-Blackness and racism, then act to dismantle those harmful systems.
"But as Black employees of The Post, we also knew we were not exempt from those systemic injustices — not in our own lives and not in our workplace. We were asked to tell the stories of Black people at an institution that had never fully invested in us."
The report includes more than a dozen recommendations, which Post Guild members plan to bring to management during bargaining. I urge union members to check out both reports. We must continue to expose and demand action on pay disparities and on workplace cultures that fail women and people of color.
Staffers at The Reader are fighting for the future of the iconic Chicago alt-weekly. For the past two years, the Reader has worked to secure its future by transitioning to a nonprofit. But since December, when editors asked to publish a fact check of a column by co-owner Len Goodman, he has stalled the sale of the publication to the new nonprofit formed to carry it forward.
Workers at the Reader aren't having it. "Within the next few weeks, what remains of the for-profit Reader will run out of money," they wrote in an op-ed in the Chicago Tribune. "Most of the Reader's 35 workers make around $45,000 per year, and now a rich man thinks we should fear for our jobs because we dared try to correct his mistakes." They rallied last week and have garnered an impressive number of signatures on an open letter demanding that Goodman allow the sale to go forward. Follow their updates here.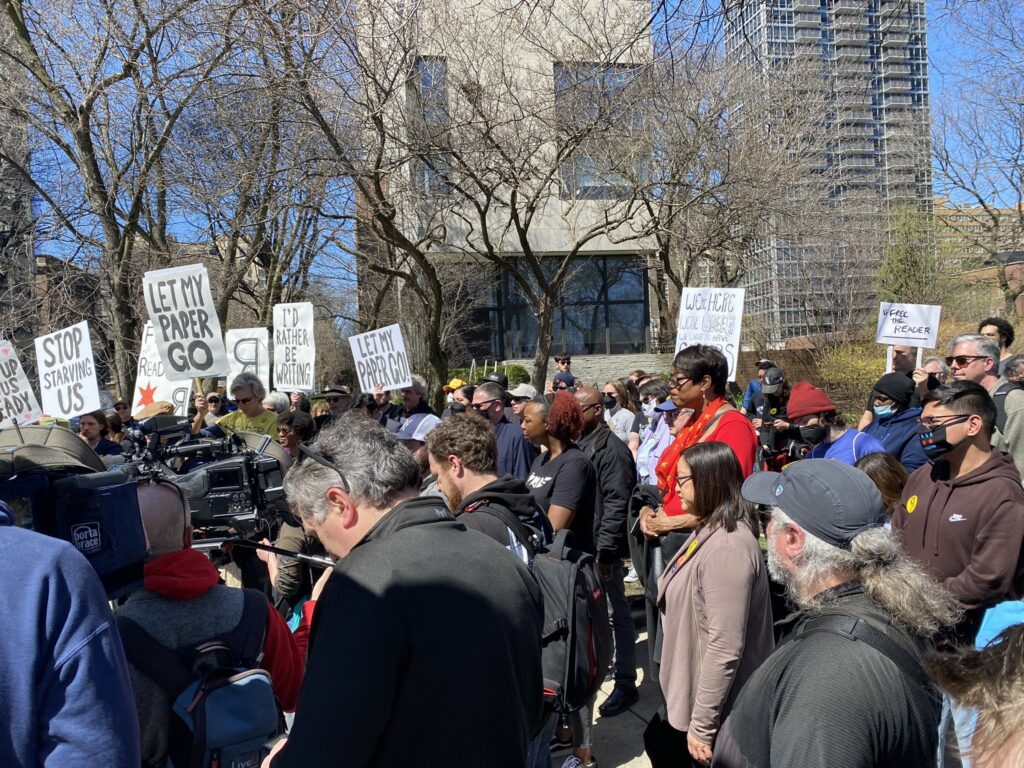 Members of the Consumer Reports Guild voted 192 to 4 to ratify a new collective bargaining agreement this month.
The contract includes:
14% (compounded) in guaranteed wage increases over the life of the contract
A $3,000 ratification bonus
Up to 12 weeks of parental leave at full pay
Creation of a joint labor-management committee on Diversity, Equity and Inclusion that will include attention to hiring and recruitment
Expanded use of paid sick time to cover additional personal and family medical obligations
"From the start, we fought back against management's retrogressive proposals and piddly wage offers," said Richard Handel, test project leader. "We can't wait for all our union colleagues to benefit from the strong policies they've collectively fought so hard to win."
The journalists of The Roanoke Times and Laker Weekly have ratified a new contract with Lee Enterprises.
The Timesland News Guild's two-year agreement includes an increase of almost 12% in the minimum salary, across-the-board pay raises of 2% in both years of the two-year agreement, and adjustments to correct pay inequities. It is the second contract for the newsroom union, which formed in 2020, and covers about 30 people.
The new contract also includes better layoff policies, additional parental leave and expanded paid time off.
"Thanks to the public's advocacy for local news, as well as the efforts of our members, we arrived at a contract that makes important strides and helps make it possible for us to continue serving our readers," said Alicia Petska, Guild chair and a member of the bargaining committee.
The announcement of the agreement's ratification came one week after workers and supporters picketed outside the former home of The Roanoke Times in downtown Roanoke.
Community members rallied with journalists during a petition campaign earlier this month. Collective action gets the goods!
Members of the BuzzFeed News Union reached a tentative agreement on a first contract this month after more than two years of bargaining. The news came the day after members took their concerns to the company's board and shareholders.
They reminded investors and board members that workers had taken an emergency strike authorization vote at the bargaining table, which passed with more than 90% approval. "We do not want to strike," they said, "but we are ready and willing to do so if we must."
"Our dedicated audience has repeatedly shown they will stand with us during union efforts, offering to boycott the site or cancel their memberships," they warned, and they called on BuzzFeed management to negotiate a fair contract.
Collective action gets the goo—wait, did I already say that? Escalating up actions with your colleagues builds your power at the bargaining table. Congrats to the Buzzfeed and Timesland workers!
Staffers at One Fair Wage won voluntary union recognition last week as part of The NewsGuild of Greater Philadelphia. The nonprofit organization works to end subminimum wages for workers who rely on tips.
Workers at Common Cause also won voluntary recognition, signing with management on April 15. The group just went public April 7 and is a bargaining unit is about 60 workers, who work to make government more accountable.
Close to 150 staffers at RAICES, the largest immigration legal services non-profit in Texas, staged a sick-out this month to protest the appointment of a new CEO by the organization's board of directors.
After promising to conduct a transparent, nationwide CEO search, the board failed to post the job publicly or engage a search firm to find the best candidate.
Members of RAICES Union questioned how the board could justify appointing an attorney with 30+ years of experience in real estate law – but not immigration law – to lead the immigration services organization. They're demanding the board remove the CEO and reinstitute the search. Their opposition to the appointment was supported by management of RAICES.
Support their efforts by signing a letter to the board. RAICES staffers won voluntary recognition of the RAICES Workers Union last July. They're part of the Washington-Baltimore News Guild Local 32035.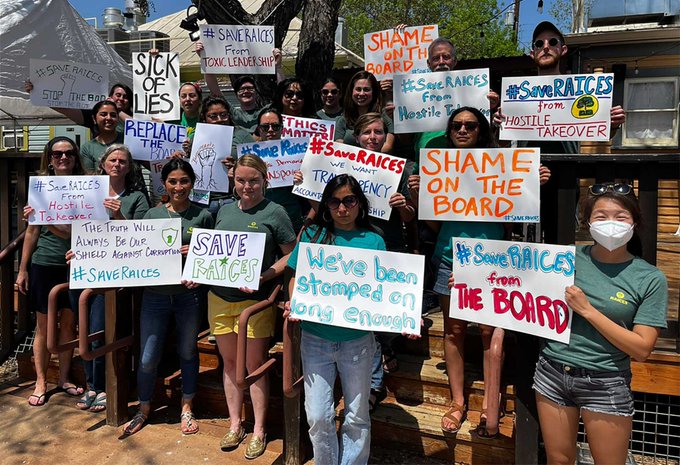 STRIPPED FOR PARTS: American Journalism at the Crossroads is the story of Alden Global Capital, the secretive hedge fund that is plundering America's newspapers.
But it isn't only about the havoc wreaked by Alden. It's also about the journalists who oppose them, says Oscar-nominated filmmaker Rick Goldsmith.
"Individually and together (with the support of the NewsGuild union), they are fighting for the preservation, and re-imagining, of vibrant local journalism in America. It is that notion that I want to highlight, above and beyond the devastation caused by the hedge fund."
Click here to see the trailer and click here to help defray production costs.
We've some great training sessions scheduled through June. Check them out! See all events on our calendar. Next up: Two steward trainings. (You can sign up for them and upcoming modules even if you missed Module 1.)
Steward Training Module 3 – A Communication and Educator, 6-8 pm ET, Tues, May 3. Register here.
Effective Meeting Facilitation, 6:30-7:30 pm ET, Wed, May 11. Register here.
Guild members made news in the last two weeks — here's a roundup of articles covering our fights.
In solidarity,
Jon Schleuss
President, NewsGuild-CWA