June 27, 2019 – Members of The NewsGuild of Greater Philadelphia protested impending layoffs in blistering heat on June 26, chanting, "Save local news!" Turnout was tremendous, President Diane Mastrull wrote on the local's website.
"Now we wait to see if wisdom and true innovation prevail."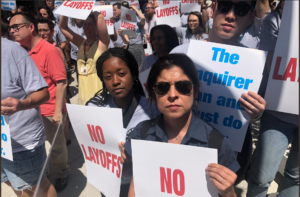 Union leaders will meet with managers on June 28 and expect to find out if they plan to proceed with layoffs at the Philadelphia Inquirer.
Twenty-two members have opted for buyouts, but the company wanted to eliminate 30 positions.
Under the local's collective bargaining agreement, the company is required to give 15 days' notice of a layoff. Following a notice, the union can file an appeal.
In the meantime, the union is asking members to encourage their family and friends to send emails to Terry Egger, publisher of the Inquirer, and urge him to "do the right thing for journalism and this city" by preserving the jobs.