Feb. 2, 2019 – The NewsGuild-CWA will have a contested election for President this year, after delegates nominated both current President Bernie Lunzer and Los Angeles Times journalist Jon Schleuss as candidates Saturday, Jan. 26, at TNG's 80th Sector Conference.
Lunzer's running mates, International Chairperson Martha Waggoner and Executive Vice President Marian Needham were elected by acclamation, as they were the only nominees for their positions.
Lunzer, 61, worked at the St. Paul Pioneer Press before becoming Administrative Officer of what was known then as the Newspaper Guild of the Twin Cities. He was elected as TNG Secretary-Treasurer in 1995 and then to President in 2008.
Schleuss, 31, was part of the organizing committee for the newly formed bargaining unit at the Los Angeles Times, one of the biggest organizing victories in the Guild – or any other union – in recent years. The unit won an election by an overwhelming margin in January 2018 and is now bargaining its first contract.
An Arkansas native, he graduated from the University of Arkansas in 2013 with a major in Editorial Journalism and a minor in Graphic Design. Later that year, he started at the Times, where he is a Data and Graphics Journalist.
Schleuss also serves as adjunct professor at the University of Southern California, teaching data visualization. Attending his first Sector Conference as a guest, he became a member in good standing immediately prior to the start of the sector conference, as allowed by TNG's Constitution.
During a two-minute statement to the delegates on Sunday, Jan. 27, Schleuss acknowledged the importance of the institutional knowledge of the NewsGuild, adding that "we learned from people in this room" how to mobilize and build their union.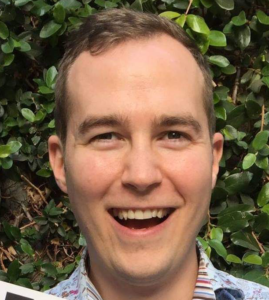 "I clearly have a lot to learn," Schleuss said, "but I think that's healthy. When we started the movement in Los Angeles two years ago, we had a lot to learn."
Lunzer thanked the people in the room including "the new people who are changing our union." He pledged to keep on fighting within CWA for resources to double the Guild's organizing efforts, which have already resulted in organizing wins for 2,717 employees working in 51 shops since the beginning of 2015.
"I've been fortunate to do this work," Lunzer said. "I love the work and I have work left to do."
Lunzer received a standing ovation from most of the delegates from that address, but Schleuss received support from two of the larger TNG locals. Grant Glickson, president of the NewsGuild of New York nominated Schleuss, and Yogita Patel, president of IAPE Local 1096, seconded. (See editor's note below)  Both spoke of how elections can re-invigorate unions.
"Elections can do just as much to mobilize our members," Glickson said. "I know this may bring some tension to the room, but tension is good."
After the conference, Lunzer said he was running again to continue the momentum TNG has had in organizing, in gaining contracts and wages for members, and to secure a place for media workers in CWA.
"I will continue my work on a stable business model for media that sustains quality journalism and quality journalist jobs," Lunzer said.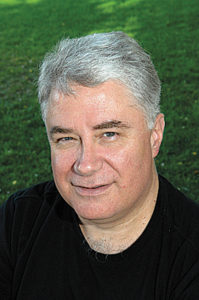 Schleuss said he was running because the Guild needed to capitalize on the "surge of grass roots organizing" that he saw as part of the Los Angeles Times campaign.
"We need to modernize the Guild's organizing efforts, its methods of engaging and supporting our members and its means of promoting the union's mission in the communities we serve," Schleuss said. "There is a tremendous opportunity to expand our numbers across the media industry."
Two new vice presidents were also elected by acclamation: Diane Mastrull, the President of the NewsGuild of Greater Philadelphia was elected to Region 1 Vice President, replacing John Hill of the Providence Newspaper Guild, who is retiring. Bill Baker was elected to Region 5, replacing Eric Russ, who declined to run again. Baker and Russ are both members of the NewsGuild of New York.
"Diane's many accomplishments as an outstanding leader, co-worker, volunteer and inspiration to the readers of the Philadelphia Inquirer have prepared her to take on a bigger role to champion the initiatives necessary to grow and represent the voices of our Guild members," said Bill Ross, executive director of the Philadelphia local, who nominated Mastrull.
Tony Barone, 2ndVice President for the NewsGuild of New York, said that Baker's experience as the New York Times unit chair and as trustee on the Times Health and Pension Funds would make him invaluable.
"I know Bill to be a fair-minded individual, as I have worked alongside him as an Executive Committee member at our local," Barone said. "That's why I think he will serve this cabinet well."
A seven-member Sector Election and Referendum Committee was elected at the conference to oversee the election process. Longtime vice president Scott Edmonds was elected by the committee as its chair. The SERC will provide detailed information to all locals regarding the conduct, rules and calendar for this election; balloting will be conducted April.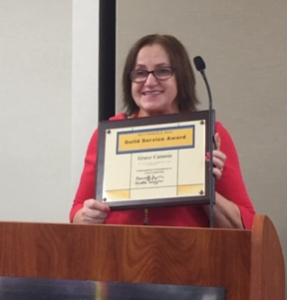 Chicago President Grace Catania won the 2019 Charles B. Dale Guild Service Award. Catania, an interpreter working in the Cook County Courts, was nominated by her local in a submission from local treasurer Andy Grimm.
"The Chicago Guild has so many successes to celebrate during Grace's term as president of the local, landmark victories that the entire CWA-Guild family can draw inspiration and pride from," Grimm wrote. He cited the local's success recruiting union investors to back the purchase of the Chicago Sun-Times and Reader, which required raising almost $12 million. He characterized that feat as "an unprecedented deal that should be a model for struggling newspapers across the nation."  That achievement was followed a year later with a successful organizing drive at the Chicago Tribune, which will add 300 members to the Guild.
"Grace's contribution to a renewed energy in Guild operations cannot be overstated," Grimm wrote. "Grace herself is a tireless volunteer to Guild activities, and her boundless enthusiasm for the Guild and labor causes is contagious."
The award is presented at each Sector Conference and comes with a scholarship of up to $2,000 for a course in trade-union education.
In other business:
The delegates voted to approve changes to the Guild Constitution, eliminating the Regional vice president for Canada and substituting a seat for the president of CWA/SCA Canada, who will become a voting member of the board. Those changes will become effective in late July, at the end of the current term.
The delegates voted to approve a resolution that TNG demand the United States ensure the prosecution of the murderers of Jamal Khashoggi; to press for action on threats to journalists and their ability to report without fear of attack; and to press for regulations to prevent hedge funds from gutting media properties.
The delegates voted to approve a resolution to incorporate CWA Strong contract goals into the Bargaining Program by advancing proposals intended to support union work, such as union orientation sessions for new members conducted on company time and employer-paid wages for bargaining team members during contract negotiations.
The delegates unanimously passed a resolution honoring and thanking Melissa Nelson, TNG's director of contract bargaining, who retired in April 2018.
The delegates also voted to approve a resolution stressing that locals should conduct pay equity studies. Conference information included an update on pay equity bargaining efforts in several Guild locals and a memo from the CWA research department explaining the process and the information that can be gleaned from that exercise.
Editor's Note February 15, 2019: The Board of Directors of IAPE, TNG-CWA Local 1096 provided the following information to The NewsGuild on February 15, with a request that it be appended to this story. "Ms. Patel acted in her

individual

capacity as a NewsGuild delegate at the January convention without involvement of the IAPE Board of Directors. IAPE takes no position on the election for guild president."