We've hit a record of organizing in our union — again. More workers have joined The NewsGuild in 2021 than in any year stretching back decades.
So far more than 1,500 workers have joined our union and there are still five months left in 2021.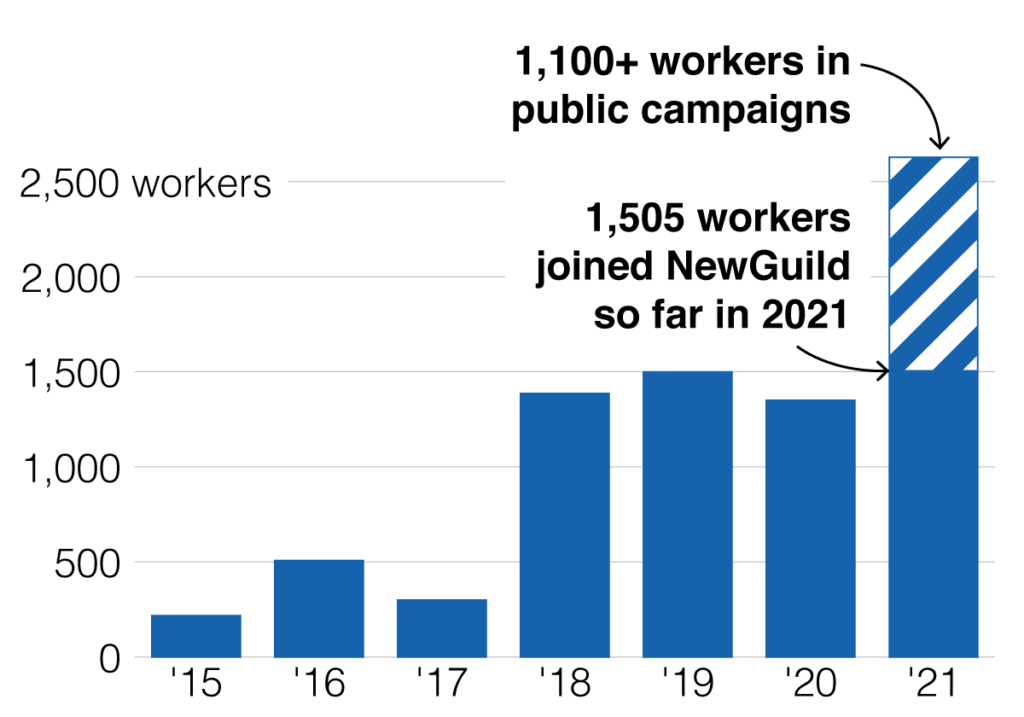 "We are dedicated to organizing media workers and activists all across North America," said NewsGuild President Jon Schleuss. "The time is now to unionize millions of workers and I am so proud of everyone who has joined the Guild in the last few years."
Here's the big list of recent organizing victories for 2021 so far:
Forbes, July 27
RAICES, July 7
Insider, June 27
Southern California News Group, June 11
Institute for Policy Studies, June 10
The Atlantic, June 7
St. Paul Federation of Educators (Organizing Staff), June 7
Kansas City Star, June 2
Longview Daily News, May 14
The Appeal, May 11
MinnPost, May 11
Bergen Record, Daily Record, NJ Herald, May 7
Fair Vote Minnesota, April 30
New York Daily News, April 30
Minnesota Council of Nonprofits Union, April 30
Beacon Interfaith Housing Collaborative, April 26
The State (SC), April 19
Planned Parenthood PA Advocates, April 14
Shape, PeopleTV, Entertainment Weekly, Martha Stewart Living, March 25
ACLU MO United, March 8
America Votes, March 2
Association on International Comedy Educators, Feb. 25
Tacoma News Tribune, Olympian, Bellingham Herald, Tri-City Herald, Feb. 25
Austin-American Statesman, Feb. 24
Desert Sun, Feb. 17
Reporter-Herald, Jan. 26
And more than 1,100 workers are currently fighting for recognition to have a voice in their workplace. Take a moment to follow them on Twitter and support their efforts.
Photo at top, clockwise from top left: Jack McLoone, Jai-Leen James, Joseph Jacquez, Jessica Limonchi, Melanie Balakit and Hartriono Sastrowardoyo of the Atlantic DOT Guild.