Members of The NewsGuild of Philadelphia from across the country have overwhelmingly ratified a new three-year agreement with Restaurant Opportunities Centers United.
Highlights of the agreement for workers from Philadelphia, New York, Washington, Los Angeles, Chicago and Oakland include a 5 percent pay increase, effective immediately, and 3 percent raises in years two and three.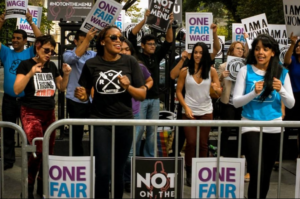 The contract includes: continued fully paid health care by the employer; nine personal days and 11 paid holidays; carryover of sick time from year-to-year, maxing out at 20 days; two weeks of severance pay for each year of service in the event of a reduction of force to a maximum of 12 weeks; and increases in cell phone and transportation costs monthly to $100.
"ROC came to the bargaining table ready to improve the lives of their employees," said Bill Ross executive director of The NewsGuild of Philadelphia. "ROC's level of cooperation, and understanding of their employee's demands, is not something we often see at the bargaining table these days."
Guild-represented members at ROC train and educate restaurant workers, and lobby for worker-friendly laws in major cities across the country.