Subscribe to the Guild's newsletter here.
Did you notice the new logo at the top of this email? I unveiled the new design at our Sector Conference last week to rave reviews.
The design, which was selected by our Executive Council, is forward-looking while paying tribute to our proud history. Several features — the unblinking eye, protective shield, radiating lines — are adapted from logos we used decades ago. They symbolize the watchdog role and illuminating effect of journalists and media workers.
The new logo was designed by NewsGuild member Akiko Spencer, a graphic designer at the Chicago Sun-Times. We'll be in touch soon with info about how to order pins, T-shirts and (yes!) bomber jackets, with the new image.
It's been about a week since the 2021 Sector Conference and it was a lively affair despite being six hours on Zoom!
Our union has rapidly expanded and is one of the fastest growing unions in the United States. In the last four years we've grown by more than 32% and there are no signs we will slow down soon.
We adopted sweeping changes to the way we run elections — ensuring every member gets a chance to vote — and we adopted many resolutions such as requiring local officers to take anti-harassment training and to form a committee for global solidarity. I pinpointed the highlights in a post last week. There were a lot of lively discussions and a shout out to Dan Gabor, who was elected as the Region 2 Vice President.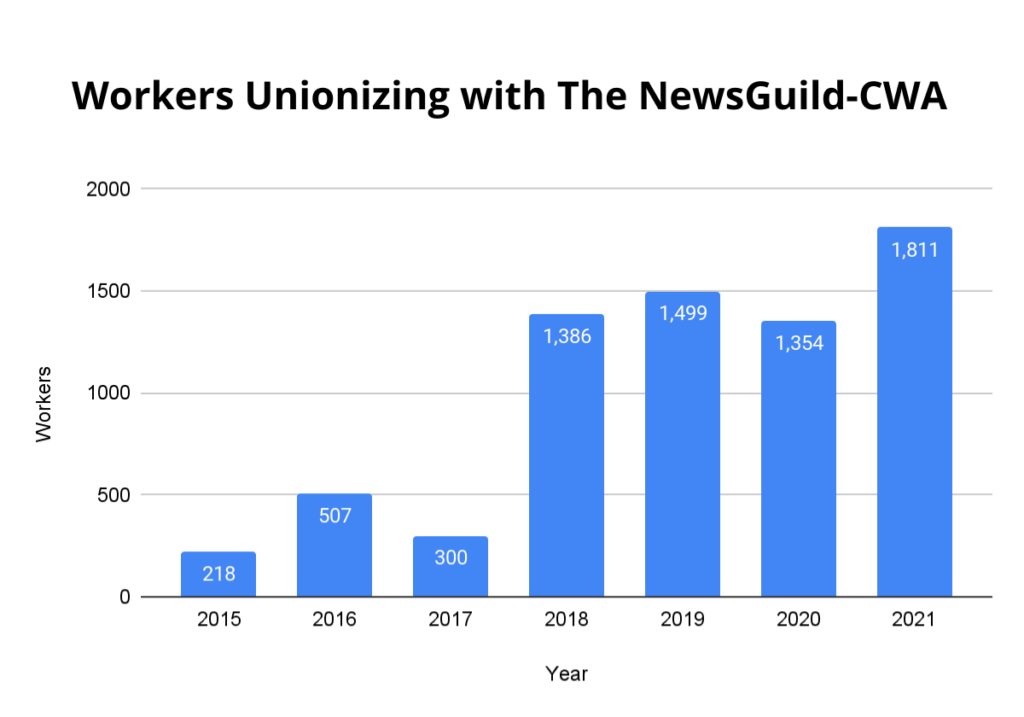 Staffers at the ACLU of Virginia announced Wednesday that they are unionizing, becoming the 10th ACLU affiliate to join our thriving labor movement.
The ACLU of Virginia United will join the ACLU chapters in North Carolina, Kansas, Missouri, and Minnesota, which are part of the Guild, and affiliates in New York, Northern California, Southern California, Maryland and Georgia. They will become part of the Washington-Baltimore News Guild, Local 32035.
Workers said that the ACLU of Virginia prioritizes justice, equity, transparency, and inclusion in its work and called on the organization to prioritize those qualities in its self-governance.
All Fort Worth NewsGuild members worked from home last week to protest the fact that parking near the office now costs between $146 and $275 a month. That's up to $3,300 per year!
By organizing collectively to work from home, workers delivered a message to McClatchy, the publication's owner: No one should have to pay to go to work.
In a letter to management workers wrote, "We demand that the company take our concerns seriously at the [bargaining] table, and provide accommodations that are safe, accessible and affordable for everyone in the newsroom."
Staffers at BuzzFeed Canada voted 87.5 percent in favor of ratifying their first collective agreement, which was more than two years in the making.
The three-year deal includes gains in pay and workplace protections, provisions on editorial independence and improvements in benefits and hiring practices. The editorial staffers at BuzzFeed's Toronto operation became members of CWA Canada Local 30213 (the Canadian Media Guild) in March 2019 and began negotiating three months later.
Buzzfeed News workers unionized in Canada and the U.S. at the same time and workers in New York are still fighting for a first contract.
California journalists won strong protections against interference while covering protests and civil disturbances after Gov. Gavin Newsom signed SB 98 this month. This is an important victory for press freedom — one I hope other states will emulate.
At the national level, the Guild joined the Reporters Committee for Freedom of the Press and other media organizations to call on the city of Medford, OR, to drop all charges against April Ehrlich, a reporter for Jefferson Public Radio. Ehrlich was arrested in September 2020, while she was reporting on police removal of campers from a public park. The campers had been displaced from their homes during a rash of catastrophic wildfires and sought shelter in the park.
The U.S. Press Freedom Tracker reports that 142 journalists were arrested or detained in the United States in 2020. That compares to just nine such arrests the previous year. Of the 142 arrests, Ehrlich is among only 11 journalists who currently face criminal charges.
Our training programs continue to garner great praise! Use the links below to register:
Building to a Strike to Beat the Boss: How The New Yorker Union Won Their Contract, 6:30 – 8 p.m. ET, TODAY, Mon, Oct. 25. Register here.
COVID-19 Vaccines: What You Need to Know, 6 – 8 p.m. ET, Tues., Oct. 26. Register here.
Steward Training Module 5: Rights of a Steward, 6 – 8 p.m. ET, Wed., Oct. 27. Register here.
Gannett Guilds Contract Campaign Training, 6:30 – 8:30 p.m. ET, Thurs., Oct. 28. Register here.
Member Organizer Orientation, 11 a.m. – 1 p.m. ET, Sat., Oct. 30. Register here.
And finally, if you haven't read it yet, check out The Men Who Are Killing America's Newspapers by McKay Coppins in The Atlantic.
In solidarity,
Jon Schleuss
President, NewsGuild-CWA