Journalists of the Miami Herald and el Nuevo Herald condemned the publications' parent company at a press conference on Saturday, accusing McClatchy of stalling on contract talks, perpetuating pay disparities, and using a pregnant staffer as a bargaining chip in bargaining over parental leave. Contract talks began almost two years ago after workers at the largest newsroom union in Florida organized.
"McClatchy needs to do better," said Joey Flechas, co-chair of One Herald Guild. "McClatchy has not agreed to a wage system that would address longstanding inequalities between journalists at el Nuevo Herald and Miami Herald." Veteran journalists at el Nuevo Herald, some with several decades of experience, earn far less than their counterparts at the Miami Herald, he said.
"El Nuevo employees have been hit the hardest by the gross pay gap for years, said reporter Sarah Moreno. "So we're asking that our work be recognized in a community that is largely Hispanic and to which we give a voice.
"The increase in salary and job guarantees by the company would help to retain the talent we already have and attract new journalists who we hope will stay with the Miami Herald and el Nuevo Herald for years to come," she said.
Workers also want to keep their journalism local – produced by members of the community. "McClatchy wants unchecked power to outsource," Flechas said.
One Herald Guild has launched a letter-writing campaign so that members of the community can support journalists' fight for a stronger investment in local journalism.
NewsGuild President Jon Schleuss pointed out that the union drive at the Herald in November 2019 was part of a wave, with journalists across the country standing up and demanding a voice in their newsrooms. In the last four years more than 6,300 workers have joined the Guild. "There's an electricity in the air," he said.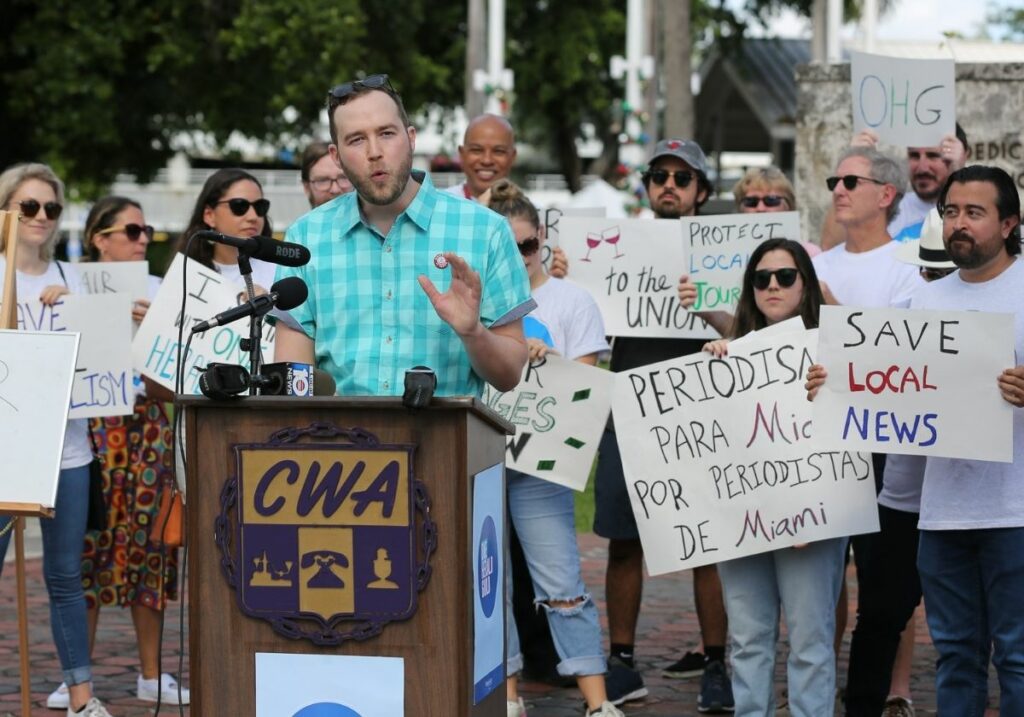 Schleuss refuted management's claim that they can't afford to pay decent wages, reward experience or end pay disparities. McClatchy secured a $10 million grant from the Paycheck Protection Program in February and stands to receive about $127.5 million over the next five years in tax credits, as result of NewsGuild's support for those provisions in Paycheck Protection Program and the Local Journalism Sustainability Act.
"They've got the money and they need to share it," Schleuss said. "That money needs to go to support local news jobs and invest in local news."
Linda Robertson has been a reporter and columnist at the Miami Herald since 1983, "back when South Beach was known as God's waiting room, cocaine cowboys ruled the city, Miami Vice was a hit TV show and the Miami Herald was at its apex as one of the coolest newspapers in the world with a large newsroom and a robust circulation."
"I'm here to tell you that things are no better for veteran journalists than they are for rookies at the Miami Herald and el Nuevo Herald. Young or old, we are all underpaid, underutilized, unappreciated," she said.
"You'd think our working conditions would have changed over the course of three decades. But no, they've only gotten worse. Twenty-four years after I received zero paid parental leave after the birth of my first child, the Herald still offers zero paid parental leave," she said
"As for salaries, they are more pitiful than ever considering the high cost of living in Miami. Many of us have not had raises in years. Our bosses earn bonuses, but we never do. We pay most of the cost for our own cell phones, which are used primarily for work.
Robertson's salary was slashed 33% several years ago when her job as one of a handful of female sports columnists in the United States was eliminated along with six other Herald and el Nuevo Herald columnists, she said. All those affected were female, Hispanic or both, she said, and were award-winners who had brought acclaim to the Herald.
"I have reincarnated myself as a local news reporter, which has been mostly great," Robertson said, "but I'm making what I was making when I was 38 years old and I will never get back to my previous pay level."
The Herald has lost most of its staff over the years and readership has been decimated, Robertson said. And the decline has been accelerated by shortsighted personnel decisions, ill-conceived strategies and a business model that consists of solely of cutting expenses.
This matters to readers, she said, "Because we cover your community and we uncover what's wrong with it."
"We have worked so hard the past 18 months covering the coronavirus pandemic, the Black Lives Matter movement, the 2020 elections and the Surfside condo collapse. During that same period of time, our parent company has often been unresponsive and ignored our contract proposals. They've been playing the stall game.
"Enough of the hypocrisy that goes against everything we stand for as journalists. If we lose, if more good journalists leave the Herald and the Herald can't attract good journalists to replace them, you lose.
"Support us," Robertson implored. "Help us help you and the place you call home."
You can support the journalists at the Miami Herald and el Nuevo Herald by sending management a letter.
Photo at top: Reporter Joey Flechas, co-chair of One Herald Guild, says McClatchy has not agreed to a wage system that would address longstanding inequalities between journalists at el Nuevo Herald and Miami Herald. (Courtesy of Emily Michot, Miami Herald photographer, NewsGuild-CWA Local 3108.)