July 20, 2020 – The journalists of the Dallas Morning News and its sister paper Al Día took a major step toward forming a union Monday, making their newspaper staff the biggest in more than two years to join the wave of union organizing.
With a strong majority of workers backing the effort, a delegation of newsroom employees at The Dallas Morning News and Al Día asked A.H. Belo Co. to recognize the Dallas News Guild as a unit of The NewsGuild-CWA.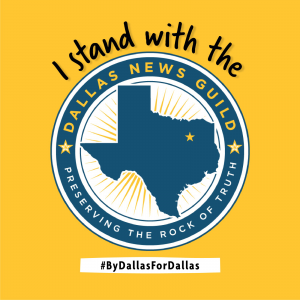 If successful, they would become the only unionized newspapers in the so-called "right-to-work" state. The Dallas News Guild would cover more than 100 journalists across all departments of the newsroom.
Dave Tarrant, a longtime Morning News reporter, said, "We are under no illusions about the difficulties faced by newspapers today. We believe that by uniting as partners with management, we can keep the paper and its many platforms alive and serve our readers and audiences across Texas and beyond in meaningful ways for years to come."
Organizers say they seek voluntary recognition of the union to begin working immediately to solidify the news institution's future and begin contract negotiations.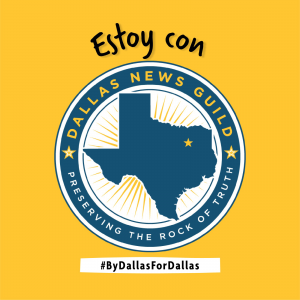 Cassandra Jaramillo, a reporter covering public safety, said, "The loss of dozens of reporters, through layoffs and attrition, in recent years directly affects the quality reporting at The Dallas Morning News. We want to work with management to make sure our newsroom is not a revolving door, but a place where we can retain and invest in talented journalists."
Organizers say they feel fortunate that the Morning News is one of the last remaining family-owned regional newspapers, led by a chief executive officer with decades of experience devoted to the institution. "Our goals are one and the same: keep local journalism alive," they wrote in a Mission Statement.
The group's motto is "Preserving the Rock of Truth." For decades the stone facade – nicknamed the Rock of Truth – on the exterior wall of the publication's former offices presented its goals of fairness and objectivity chiseled in stone.
"Build the news upon the rock of truth and righteousness," the facade says. "Conduct it always upon the lines of fairness and integrity. Acknowledge the right of the people to get from the newspaper both sides of every important question."
Keep up with organizing efforts on Twitter – @DallasNewsGuild – and at DallasNewsGuild.org.