Oct. 26, 2020 – What is a news organization without a physical room to meet in and how are cuts to local papers hurting communities?
That was the question asked by Brian Stelter, host of CNN's Reliable Sources weekly program, on Oct. 25.
What is a newsroom without a physical room to meet in? And how are cuts to local papers hurting communities? I traveled to the battleground state of Pennsylvania to talk with reporters at the Morning Call, which has lost its Allentown newsroom pic.twitter.com/wFqoiEsILX

— Brian Stelter (@brianstelter) October 25, 2020
"When I started in 2007, I did not have a desk because there was no room for me to have a desk," said Jennifer Sheehan, a features reporter and NewsGuild activist at Allentown Pennsylvania's Morning Call.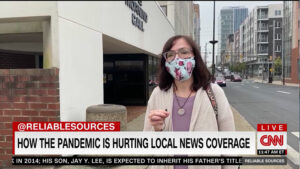 By March, before the pandemic led to the closure of the newsroom, she was surrounded by empty desks.
Michelle Merlin, a Morning Call reporter who chairs the Morning Call Guild, blames the hedge fund that owns a stake in Tribune. "They're looking out for their bottom line," she said, speaking of Alden Global Capital. "They're known for stripping news organizations to the bone and getting rid of them."
Despite the paper's location in a critical battleground state, political coverage has suffered too, with fewer reporters available to cover campaigns, Stelter said. A bipartisan group of lawmakers have expressed support for the newsroom, but Tribune does not appear to be budging.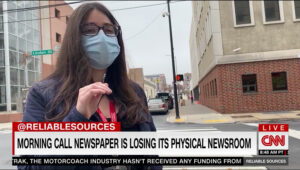 "I don't think people really understand the quite the crisis that we're in," Merlin said.
"The pandemic has sped up the slow-motion decline of local news," Stelter said. "With advertising dwindling and social media gobbling up attention, these empty offices have become a symbol of what is being lost."
"It's a detriment to our newsroom, it's a detriment to the staff and it's a detriment to our readers," Sheehan said of the loss of the physical newsroom. "Because we need to have a home base. We need to have a place that we can come to collaborate."
Tribune is not the only company giving up on physical newsrooms, Stelter pointed out. Gannett has been taking some of the same steps and it's happening at local markets across the country, he said.
"The bottom line is that local news sources need your support more than ever."
For information about The NewsGuild's campaign to Save The News, visit SaveTheNews.org.