This article first appeared on June 3, 2019, on DFMworkers.org.
By Julie Reynolds
June 4, 2019 – Legislative efforts to save local news continue in Washington after New York hedge fund Alden Global Capital's failed takeover of the Gannett newspaper chain.
Sen. Sherrod Brown (D-Ohio) has vowed to "continue watching Alden closely."
"I don't love Gannett, but at least they're a news corporation," Brown told DFMworkers. "I stand with Gannett when they're threatened with extinction."
He said he wants Alden executives to know Congress is paying attention to what they're doing to hurt local news organizations. "I think these companies don't really care about how they look — but they kind of do care," he added.
Brown and 20 other senators sent a letter to Alden on the eve of the May 16 shareholder vote that sent Alden's proposed board slate scurrying for the exits. Soon after the defeat of its takeover slate, which included Alden president Heath Freeman, Alden dumped 3.7 million shares of Gannett stock, diminishing the hedge fund's ownership stake from 7.5 percent to just over 4 percent.
Brown acknowledged that the Republican-controlled Senate hasn't fostered bipartisan efforts to examine the local news crisis. He said the House has much more potential to try to rein in what he calls corporate "bigness."
"When we saw this, that Gannett was about to be bought, (we) realized this is what Alden does," he said. "It's going to mean generally lower wages, fewer workers, laying off reporters and shedding papers. They think of workers simply as a cost to be minimized.
"I know how important these papers are."
He said that despite constant cuts and layoffs, local news reporters continue to "comfort the afflicted and afflict the comfortable," as the old journalism maxim goes.
He's right about momentum in the House of Representatives to address what has finally gained recognition as a national crisis in local news. For example, the House Financial Services Committee, chaired by Rep. Maxine Waters (D-CA), is starting to look into private equity firms and news ownership.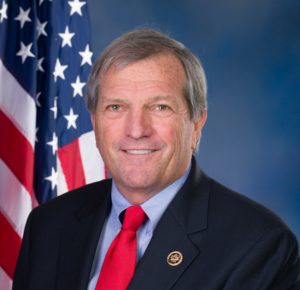 "Maxine Waters has a gavel and can subpoena," Brown said. "We can't really do that in the Senate. No Republicans signed the (Alden) letter. I just don't know of any Republicans that would have." The 21 signers included senators Chuck Schumer, Elizabeth Warren, Dianne Feinstein and Cory Booker. Still, the letter succeeded in sending a message — not only to Gannett shareholders, but to other lawmakers.
"That letter is a good catalyst," said Northern California Rep. Mark DeSaulnier, who added that Brown is an inspiration to him: "I wish he'd run for president."
DeSaulnier agrees there's not as much support for this issue in the Senate, but in the House he's pulled together a bipartisan team of representatives and community experts to form a working group charged with finding ways to support and strengthen local news.
"It's pretty informal," he said. Former San José Mercury News editor Neil Chase, now CEO of the nonprofit CalMatters news site, "is very active with the group." (The "Merc" is one of hundreds of Alden-controlled newspapers that make up the Digital First Media chain.)
The working group has also reached out to Northeastern University professor and media expert Dan Kennedy. Kennedy says he offered advice on one of DeSaulnier's bills and has been in touch with congressional staff. He's especially interested in "looking for tax incentives and other ideas to help nonprofit and for-profit (news) start-ups."
DeSaulnier's bill would expand IRS exemptions for "written news articles" by nonprofit news organizations, and is undergoing several revisions now.
He also co-authored a bipartisan bill that would ease anti-trust restrictions on newspapers. Rep. David N. Cicilline (D-RI), chair of the House Judiciary Antitrust Subcommittee, and Doug Collins (R-GA), ranking member of the Committee on the Judiciary, introduced the bipartisan "Journalism Competition and Preservation Act," modeled after laws protecting the music industry. It would allow normally competing news groups to band together to negotiate fair compensation from social media outlets for their reuse of news content.
But DeSaulnier has been frustrated by a lack of cooperation from top social media sites.
"We're not getting a good response from Google, Facebook and Twitter," DeSaulnier said.
Asked what, exactly, that response was, he replied: "Nothing."
"I really think they've done a huge disservice to democracy in this country," he said. "A couple years ago it was my hope we could have a discussion and they'd be forthcoming."
It hasn't happened.
He said he's also explored writing a new rule to ensure legal notices are only published by papers that have local ownership, but said that one was nixed by legislative counsel.
Still, the fact that he's been able to reach across the aisle to try to save local news inspires hope.
"There's very little bipartisan work in Congress right now," he said, but his working group shows it's possible. "The group is interested in expanding."
He said the group is very keen to hear ideas from constituents for possible legislation.