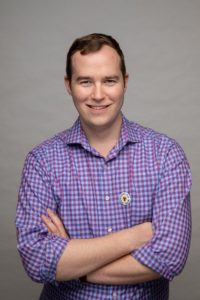 I'm running for International NewsGuild President because we need a modern, energized and more democratic union that will protect our members, strengthen our contracts and grow our numbers — even as we meet the challenges of the rapidly changing media landscape.
Guild headquarters was forced to scrap the results of last May's presidential election and hold this re-vote. You're getting a second chance to cast your ballot because I and other local Guild leaders pointed out that headquarters conducted the election in a way that disenfranchised thousands of our members.
That debacle alone demonstrated the urgent need for reform at the top of our union, but there are many other compelling reasons.
I played a key role in the historic Guild campaign at the Los Angeles Times, which triggered a wave of successful organizing drives in newsrooms across the country. Our team unleashed the strengths we all have as media professionals, and our efforts were at once old-school grass-roots and cutting-edge sophisticated.
Now, in large part because of a strategic campaign I helped lead to apply pressure on management, we're putting the finishing touches on one of the best first-time contracts our industry has ever seen. Negotiating stronger contracts is the most effective way to strengthen the Guild overall and increase member participation at the local level.
We need at Guild headquarters the same kind of fresh thinking, tactical smarts and deep engagement with the rank and file that made possible our recent victories in L.A., New York, Chicago, Casper, Jacksonville and elsewhere. For far too long, the International leadership had presided over a decline in our union.
Our union should be the first choice for media professionals who want to organize. Every media worker in the United States and Canada should view the Guild as a vibrant enterprise that promises its members a more secure future.
The International Guild must develop a more robust program for training and assisting our members in the art and science of bargaining contracts.
And Guild headquarters needs to finally get in step with the digital revolution reshaping our industry. We must dramatically expand the use of the Guild website, social media and other forms of digital communications. The International leadership has fallen so far behind the curve that we don't even have an e-newsletter.
The International Guild should have a deft communicator as its president, including in the public arena, on all matters important to our members. We must have an authoritative voice that drives the larger conversations about our industry.
Our communications should always foster an open exchange of ideas, a diversity of viewpoints and ultimately a unifying message for our members.
And we must do more to promote democracy and transparency in our own house. Much of what Guild headquarters does — as the botched election in May showed — is opaque and distant from the membership. We must encourage every member in good standing to participate in our elections, and casting a ballot should be as simple and as secure as possible.
All of this will strengthen the Guild's position in the CWA. We need a more effective advocate within our parent union — a leader who knows how to make the Guild change and grow and prosper.