Updated April 16, 2018 to include more press clips.
April 9, 2018 – An act of defiance by the editorial board of the Denver Post has thrust a powerful hedge fund's destruction of local news coverage to the front pages of publications across the country.
Editors of Colorado's biggest newspaper took the extraordinary step of blasting Alden Global Capital, owner of the Denver Post and 200 other newspapers, online on Friday, April 6, and in print on Sunday, April 9.
"News matters," the headline blared. "Colo. should demand the newspaper it deserves." The editorial denounced "heartbreaking instructions" to cut already severely diminished staff with 30 more layoffs. Accompanied by multiple signed columns, the feeling of a rebellion was unmistakable.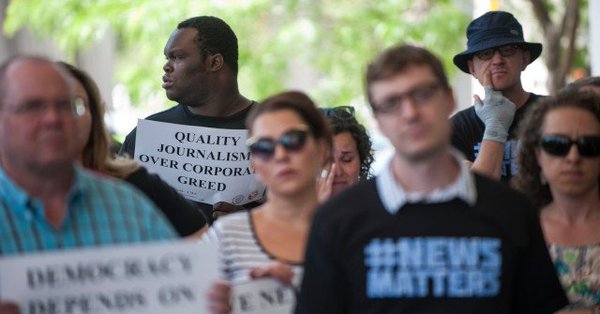 After two years of relentless reporting by Julie Reynolds and others on the DFM workers website, the story of Alden's disastrous effect on the newspapers it owns or controls is finally breaking through.
"Media experts locally and nationally question why our future looks so bleak, as many newspapers still enjoy double-digit profits and our management reported solid profits as recently as last year," the editorial board wrote. They issued a plea to Alden — owner of Digital First Media, one of the largest newspaper chains in the country — "to rethink its business strategy across all its newspaper holdings."
"Denver deserves a newspaper owner who supports its newsroom. If Alden isn't willing to do good journalism here, it should sell The Post to owners who will."
The editorial board's bold move generated extensive media scrutiny.
"As a secretive hedge fund guts its newspapers, journalists are fighting back," was the headline in an April 13 article by Paul Farhi in the Washington Post. "The conventional analysis of newspaper decline has been replaced in Alden's case by a narrative about 'vulture capitalism,' the notion that Alden's draconian cutbacks are designed to sustain profits without regard for the newspapers' long-term future.
"Two things about the newspapers Alden owns are clear: They're profitable, and they've been hit with far steeper cutbacks than other newspapers," Farhi wrote.
"Denver Post Rebels Against Its Hedge-Fund Ownership," the New York Times reported on April 7. "Angry and frustrated journalists at the 125-year-old newspaper took the extraordinary step this weekend of publicly blasting its New York-based hedge-fund owner and making the case for its own survival."
"The move at The Post followed a prolonged, slow-burning rebellion at The Los Angeles Times, where journalists agitated against the paper's owner, the media company Tronc. Newsroom complaints about Tronc's leadership helped lead to the sale of the newspaper to a billionaire medical entrepreneur, Dr. Patrick Soon-Shiong, who had been a major shareholder in Tronc."
"In the editorial pages of the Denver Post, a rebellion against its 'vulture capitalist' owners," was the headline in the Washington Post on April 9. "The opinion articles were both a rebuke of Alden Global Capital's 'money-over-everything' tactics and a call to action, both to Alden and to the paper's readers."
Joy Reid, host of AM Joy on MSNBC, tweeted,"So proud of the editorial staff of my former hometown paper, which we had a weekly subscription to as long as I can remember, growing up in Denver. #SaveTheDenverPost nyti.ms/2HgrVH8."
"In An Extraordinary Act of Defiance, Denver Post Urges Its Owner to Sell the Paper," the Huffington Post reported on April 6. "In a move described as both extraordinary and brave, the editorial board of the Denver Post publicly skewered its hedge-fund owner in a searing article published Friday. The message was plain: Sell the paper before it's too late."
"Denver Post revolt," reported Politico's Morning Media newsletter, edited by Michael Calderone, on April 9. "Just as the Sinclair controversy informed local station viewers how top executives in Maryland influence what they see on air, the Denver Post's editorial and corresponding 'News Matters' package showed readers how the decisions of hedge funders thousands of miles away can result in less news coverage and fewer editorials, photos and videos. … The Denver Post faces an existential threat, Plunkett believes, which demanded shining a light now on the situation for a local and national audience. 'If we don't speak now,' he told me, it'll be 'no time at all we're writing our own obituary."
"Silence from the Denver Post's owner,"  reported Reliable Sources, the email newsletter from CNN Money's Brian Stetler on April 9. "I've been emailing Alden reps for comment… But so far I have not heard back… Meantime, the editorial remains the most popular item on the Post's website," he wrote. The newsletter also quoted Dean Baquet, executive editor of the New York Times, on the matter: "This is a major city, Denver. This is a newsroom that now is on the verge of having fewer than 100 journalists. That is unbelievable. That means things won't be covered, school boards aren't being covered. This is a crisis in American journalism."
"The Denver Post's protest should launch a new era of 'calling B.S.,'" wrote news industry analyst Ken Doctor for Neiman Lab on April 9. "As the paper's editorial board, led by Chuck Plunkett, fired a fusillade of public protest on Sunday — publishing six pages decrying the paper's owner, to the social congratulations of the news world — we may have reached a new point in local American journalism's descent into oblivion. … By standing up for themselves and the value of their work, the Post's journalists stand up for their community."
"Notes on an insurrection at the Denver Post," was the headline of an April 10 article in Poynter. "What is the Newspaper Guild's role in the fight? Substantial. Investigative reporter Julie Reynolds (whose credentials include work for the International Consortium of Journalists) has published several pieces on the situation and the suit in the Guild's newsletter. The Guild has used deep newsroom cuts to organize at several papers and flag the issue of adequate news staff at others like the Post where its representation was already established. Is it possible that the turmoil itself prompts a sale? That is the hope of the insurrectionists. At the Los Angeles Times, where staff was up in arms about a series of awful management blunders, owner Tronc is exiting by selling to local billionaire Dr. Patrick Soon-Shiong — albeit at the extremely attractive price of $500 million."
"'We Have Nothing to Lose:' A View From Inside the Denver Post's Newsroom Rebellion," was the headline in an Esquire article by Colin St. John. "Denver Post journalists are the latest to mount an insurgency against their owners. Staff at both The Los Angeles Times and the Chicago Tribune have openly criticized parent company Tronc. (And its name. Oh, God, that name.) Both newsrooms have endured brutal cuts to their reporting and editing ranks, and, in February, Tronc agreed to sell the Times to billionaire Patrick Soon-Shiong. Similar scenarios are playing out across newsrooms in America, where vital institutions are being decimated. …
"In its quest for profits, Alden Global is suffocating the Post. News analyst Ken Doctor estimates that Alden Global — a private company that is under no obligation to disclose its finances — is still pulling in 20 to 25 percent profit margins," St. John wrote. "(Yes, the Post is profitable, a fact that doesn't conveniently fit into the go-to narrative that all print publications are somehow responsible for their own demise.)
"Not only is Alden, and its 37-year-old president Heath Freeman, intent on strip-mining the Post, but also the firm is taking the cash from the cuts to cover other, poorer investments. Investing in and buying distressed companies, only to distress them further, is the firm's stated intent. And it does so surreptitiously. (I called Alden Global seeking an interview with Freeman, but my request was declined.)"
As journalism jobs disappear, democracy is increasingly at risk, Frank Pine, executive editor of the Southern California News Group, wrote. "Our business model is not just distressed or struggling. That's putting it too lightly. It's broken," he said. "A shift to nonprofit status may be an option."
El Pais (Spain): El Diario 'The Denver Post' se rebela contra sus dueños ante la destrucción de la redacción. "El diario The Denver Post se rebeló este domingo contra sus propietarios a través de la sección de opinión. En nombre del periodismo de referencia local, el diario de Colorado publica un editorial en el que denuncia que la compañía propietaria de la cabecera va a arruinar el periódico a base de recortes y pide ayuda a posibles inversores que quieran salvarlo. La inédita revuelta de un periódico en sus propias páginas es el último capítulo de la progresiva destrucción del periodismo local tradicional en Estados Unidos en la era de Internet."
Time published a column titled, "Only You Have the Power to Save Your Local News from Corporate Vultures," which said, "But beyond the initial burn of the word "vultures" in the headline and sentences like "Denver deserves a newspaper owner who supports its newsroom," Plunkett makes a pointed appeal to the only people who can truly save newspapers today: the readers."
"These journalists working for a hedge fund—and, frankly, virtually any journalist who works at a for-profit operation—remain at the mercy of the bottom line. It's profits first, news last," wrote Sandra Fish in "The Excruciating Death of Local News" for the Daily Beast."That's bad not just for journalists, but for citizens who need a reliable source of information more than ever before in our democracy."
It didn't happen overnight. Below are links to several articles that appeared in the weeks leading up to the Denver Post's editorial package.
Local news isn't dying out: It's being killed off by corporate greed. March 23
Is this strip-mining of journalism? 'Sobs, gasps, expletives' over latest Denver Post layoffs.' March 15.
Massive job cuts coming to the Denver Post. March 15.
The media today: Denver Post cuts fit a disturbing pattern at hedge-fund owned papers. March 16.
Follow the latest developments on Twitter at #AldenExposed and @dfmworkers on Facebook at dfmworkers.