By Martha Waggoner, Guild International Chair
Another newsroom has chosen to join The NewsGuild-CWA to give its journalists a voice in their working conditions.
The journalists of The Virginian-Pilot in Norfolk and the Daily Press in Newport News have announced that they're joining TNG -CWA as they fight to ensure wage equity, fair hiring practices and diversity in the workforce.
In a letter posted Tuesday on their new website, the members of Tidewater Media Guild said they care about the community they cover "and our vital mission as journalists to tell its stories, hold the powerful accountable and expose corruption."
"And while we all strive for the highest standards, the lack of stability we face is making our vital work even more difficult. This is why we are forming a union."
Forty journalists signed the letter. More than 75 percent of the two newsrooms had signed authorization cards to join TNG — a sector of the Communications Workers of America — by Tuesday morning.
The journalists celebrated their new voice in the newsroom with cupcakes and cookies and signs that read "Union Strong" and "Celebrate Local Journalism."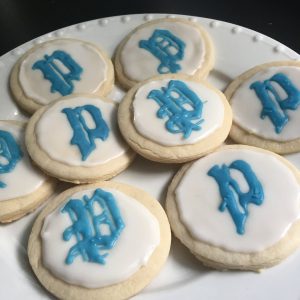 "Seriously, our newsroom has never looked better," journalist Amy Poulter tweeted along with pictures of the signs.
"It's important to note that newsroom workers across the country – even in the South, which has a well-earned reputation for being anti-union – are demanding that their voices be heard," said TNG-CWA President Bernie Lunzer. "And unions have always been the best way for workers to speak to management."
In May, the Chicago-based media conglomerate Tronc bought The Virginian-Pilot for $34 million. It has owned the Daily Press since 1986. Tronc also owned the Los Angeles Times during a TNG-CWA organizing drive there, then sold it to a local owner. It also has agreed to recognize the union at the Chicago Tribune.
The Tidewater Media Guild is asking Tronc to voluntarily recognize the union, citing overwhelming support from the staff. The reporters, photographers, copy editors, designers and editorial assistants announced their plan to organize on the same day that a management plan to effectively combine the two newsrooms went into effect.
"Our union will work to improve the conditions of our newsrooms and will urge our owners to invest in us and the work we do," the letter from the Tidewater Media Guild says. "These local institutions and their corporate owner are profitable, and we believe we should share in that success."
TNG also has organized three Gatehouse-owned newspapers in Florida: The Ledger in Lakeland, Sarasota Herald-Tribune and the Florida Times-Union in Jacksonville.
Follow Tidewater Media Guild on Twitter here. Also, check out the unit's' new video here.